These days most people know what a brand is. Or they think they do. People globally recognise the shape of a Coca-Cola bottle, the phrase 'I'm loving it', or the Nike Swoosh.
But as all marketers know, brand goes far deeper than a logo or image and in this article we will explore exactly how to create brand consistency, which in turn will help to foster an on-brand culture. We will also look at why this is so important, how you can use brand management software to achieve brand compliance, and the risks if you don't get your brand culture on point.
What's in a brand?
The logo is just the start – any company needs a clear set of brand guidelines covering everything from use of images to tone of voice and as marketers you will know that there is a lot of detail needed in between — you will need clear direction on how to present dates and numbers, logo placement, use of punctuation, and more.
When you have effective brand guidelines and brand assets — including campaign information and design templates – the marketing team will know exactly how to use words and imagery to communicate your brand consistently and to convey the right look and feel.
Why is brand consistency important?
In today's competitive business landscape, establishing a strong brand identity has become more crucial than ever before. With countless options available to consumers and rapidly evolving market trends, companies need to find ways to stand out from the crowd and make a lasting impression. One key strategy you can't ignore is by being on-brand – at every touchpoint.
When your brand elements, such as your logo, colour palette, and typography, are consistently applied across all platforms, your audience can quickly identify and distinguish your business from others. This recognition fosters trust and familiarity, making customers more likely to choose your brand over competitors.
And, when you are maintaining brand consistency across all elements — from visuals to messaging — this can significantly impact your business' success and help you build a loyal customer base. What's more, being on-brand helps showcase your unique selling proposition which enables you to differentiate yourself from similar businesses.
Ultimately, a strong brand identity sets you apart and gives potential customers a reason to choose you over other options. Just make sure you have software that ensures your people actually implement the brand guidelines you worked so hard to establish.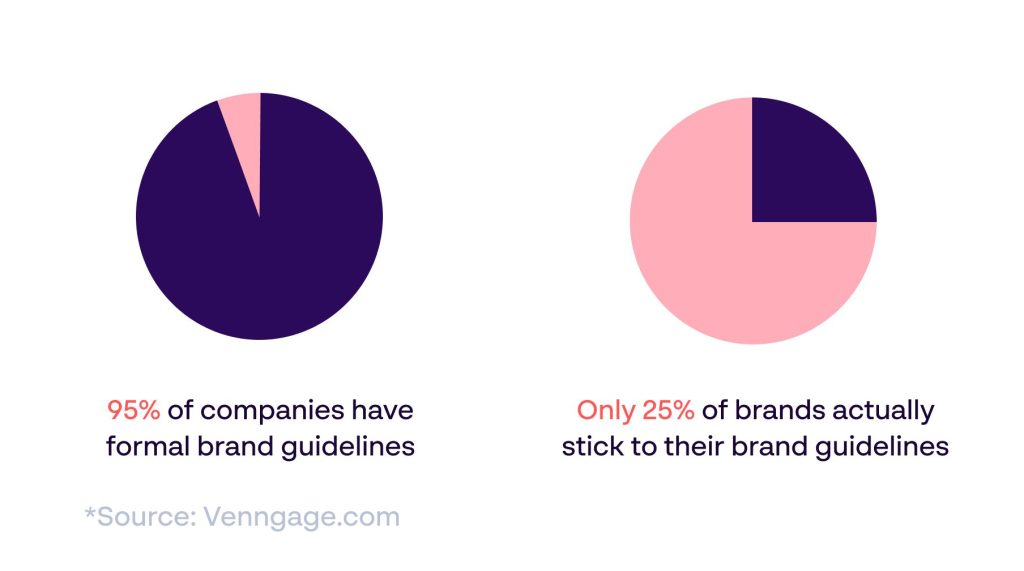 Being on-brand creates customer loyalty
When customers encounter a brand that delivers a consistent experience, it creates a sense of reliability, dependability and trust. They come to expect a certain level of quality and value, which helps build a strong reputation for your business.
Without this, your company will not come across as professional and credible. It's that familiarity which brings reassurance to the customer that your company will deliver on its promise, regardless of the product or service you offer. You need every image to be precise and the tone accurate, otherwise your customers will find your competitors more attractive.
The benefits of a deeper connection
When your brand consistently communicates its values, personality, and purpose, it creates an emotional resonance with your target market. By tapping into their aspirations, desires, or pain points, you can forge a deep connection that goes beyond transactional relationships.

When customers feel emotionally connected to your brand, they are more likely to become loyal advocates. They become brand ambassadors, sharing their positive experiences with others and fostering word-of-mouth marketing. Consistency in your branding ensures that these advocates have a clear and compelling message to convey, further strengthening brand loyalty — whether they engage with your brand online, visit your physical store, or interact with your social media accounts, they should feel like they are part of a unified brand ecosystem. This consistency not only enhances customer satisfaction but also fosters positive associations with your brand.
Connecting with staff as part of an on-brand culture
An on-brand culture goes beyond look and feel and is not just about your customers. It's about values and this ties into how your employees feel, about what makes your staff, and therefore your company, tick. Think of the brand guidelines – the imagery and tone – as the skin of the company, whilst the culture is the heart. You want everyone to embody the same positive attitude, so ask yourself what it is that has drawn your employees to working for you? What values and beliefs are we tapping into, and what's your ethos?
It's all about employee engagement. Modern working culture frequently sees staff look for a company perspective on diversity (particularly Gen Z) and sustainability, rather than simply the product or service you offer – they want something that chimes with their value system.
This links to your Employee Value Proposition as employees, and your audience, will be looking at what sets you apart from your competitors, when considering working for, or leaving your company. The danger here is that they may find your competitors more attractive as without a consistent brand and an on-brand culture you will not achieve salience.
Plus, you want them to become brand ambassadors and promote your company favourably and consistently too. All of this is part of a strong employer branding strategy, and a brand management software should support your teams to help you become an employer of choice for the best talent.
Going global while staying local
Last but by no means least, you need to consider the international nuances for your brand, both in terms of look and feel but also tone and language. This is where you need some expert translation to ensure that your message lands well with your audience, wherever they are internationally, and always remains on-brand.
You will want to ensure that you respect and acknowledge the differences between global and local audiences, whilst still communicating the core brand identity across cultural, regional, and local nuances and languages.
If you want to build an on-brand culture across your enterprise, a brand management platform provides a foundation for your teams worldwide. As part of the Papirfly Platform, you can create this foundation as you educate your people and maintain control. Your brand portal solution is Point, as the starting point of our full suite of products which includes a DAM to manage and access all your brand assets – plus on-brand templating to enable you to achieve brand consistency in all asset creation, salience and in turn, a global on-brand culture.