The powerful story you tell about why people should want to work for your brand is like any other captivating narrative – it will be strong in its beginning, middle and end. Hopefully, if you tell it right from the very beginning, the best talent will start to believe your company is the best place for them, want to be right in the middle of your exciting growth plans, and end only after a long and exciting career with you. Making the right choices today could see you soon retelling the story of how you mastered your employer brand strategy – to attract, recruit, and retain top talent.
In this article, we're going to look at why employer branding is so important, how to achieve success with your strategy, and why not having these elements in place is a mistake. Previously we have explored the 13 steps to developing your employer branding strategy but here we are going to distil them into just three steps – Persona, Positioning, and Proof.
What would happen without an employer branding strategy?
With sites like Glassdoor and Indeed, potential employees now have a range of tools at their disposal to assess companies when job hunting, to see if the business and culture, among other things, are a good fit for them. 84% of jobseekers consider the reputation of a company important and 52% will look at social media channels to get a feel for the company culture.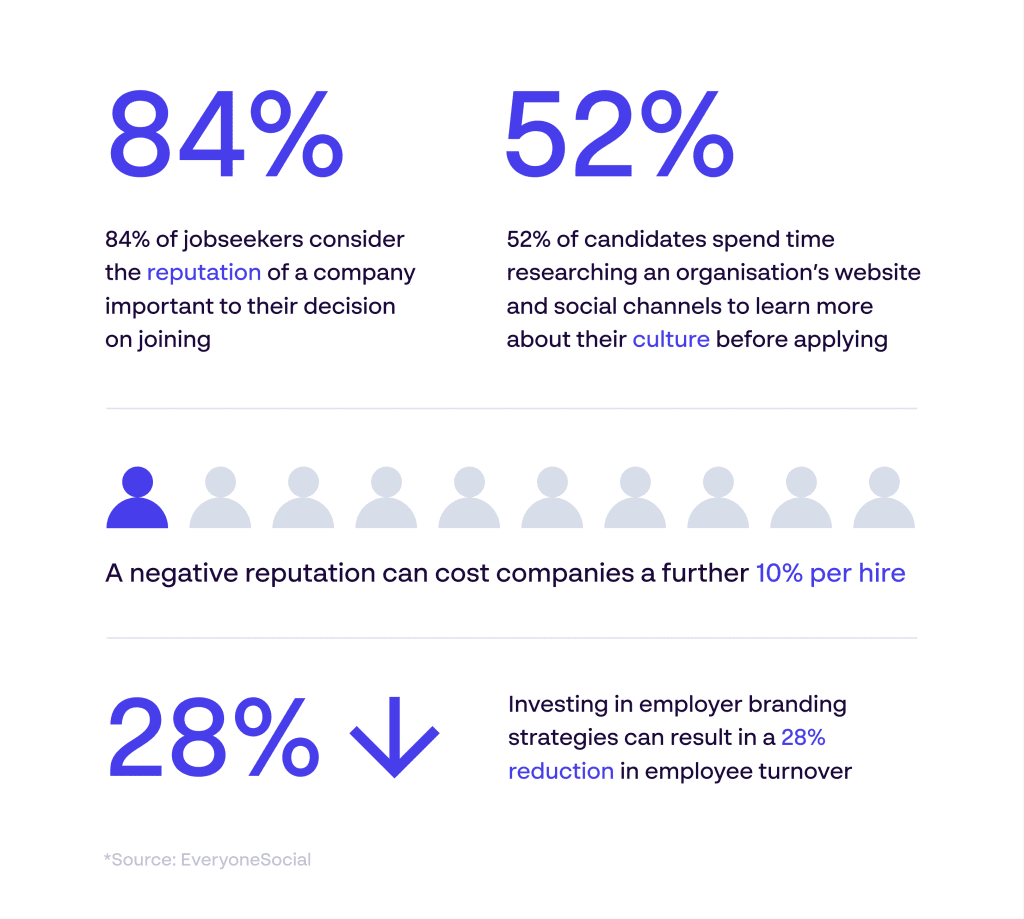 Consider that without an employer branding strategy you will experience low talent retention and good staff are expensive and timely to replace if the competition looks more attractive to them. And following the pandemic, talent are considering hybrid roles and flexibility far more keenly – so companies who want to tap into this finite resource will need to be transparent, flexible and competitive with their offer.
Persona
First and foremost, you need to audit how your audience perceives your brand. The best way to do this is by assessing social media, company review sites, Google alerts and internal employee feedback. Listening is a vital skill in any communications strategy, and you need to be aware of your reputation if you want to build brand equity.
From here, you want to assess the persona of your target audience and build a profile of your ideal candidate. What sort of personality do they have? What motivates them? Where do they look for their next role and who influences them? These are important considerations if you want to build up that persona to truly get inside the skin of your audience.
What you're really aiming for is to clearly establish what makes your brand unique. When you truly understand who your audience is, you can then establish what it is about your brand that will tick their job-hunting boxes. It feeds into your employer brand strategy as it tells you why they would choose you above the competition. Is it that your values align with theirs, your company culture, or your social responsibilities? The more your goals resonate with your employees, the more engaged and motivated your workforce will be – which will always have a positive impact on the bottom line.
Positioning
So, what about positioning? Once you know exactly who you are talking to and what message you need to share, it's time to consider how you will reach them – what marketing channels will work best for your strategy?You will know the type of social media channels which fit the demographic, which career sites they use and where to advertise. Video is worth considering as it is a powerful medium which can enable you to show familiar faces of the company. You need to post regularly and authentically, considering localised nuances if you are a global company.
Central to your positioning is your Employee Value Proposition or EVP. This tells you exactly how you align your values against those of your employee, with them at the heart. Include here what motivates them. Is it healthcare benefits, flexibility, or bonuses for example? It will be a mixture, and you need to ensure you communicate these messages throughout the recruitment and onboarding processes, and are always available to current staff. Your business will benefit when brand guidelines are all housed within one , – helping you to ensure you're communicating a strong, consistent brand, which is as much about values as it is about logos.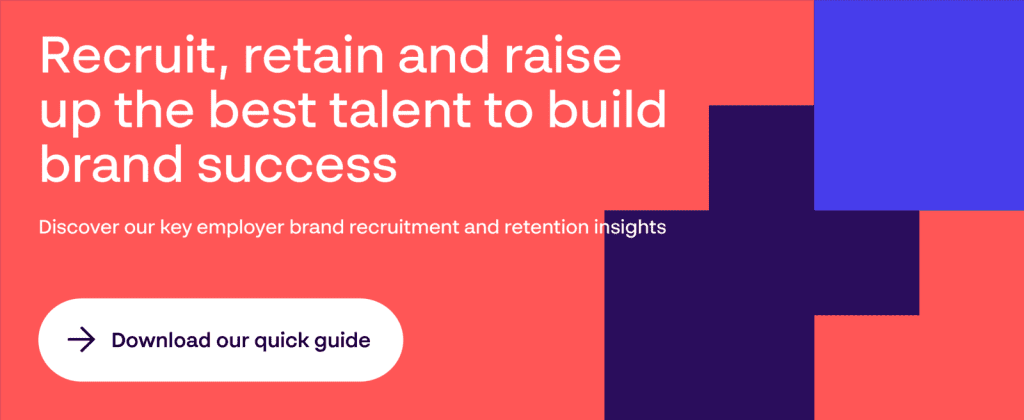 Proof
What happens if you don't take these steps? Research shows that staff are 20% more likely to leave a workplace within a year if there is no investment in their future, which is why training and development is absolutely essential, and you have to mean what you say and demonstrate this clearly. It's one thing to show that your values align, but to truly demonstrate this you need to offer opportunities for growth and in this way you will nurture brand advocates – they will tell their friends and promote your vacancies.
Throughout this process of developing your employer branding strategy, you need to evaluate success. Any successful communications strategy has an internal review at the heart. If you set a benchmark and continue to assess how well your strategy is performing, this can inform your future communications. This includes seeking buy-in across the board. HR professionals, board members, staff, and candidates, all need to be included. Then you can fine-tune against your KPIs and conduct focus groups, so the strategy is continually evolving.
Implementing your employer branding strategy means putting people at the heart of everything you do, as they can be your biggest asset and opportunity for growth, with the right approach. They will become your champions. With Papirfly's brand management platform, empower your employer branding team to attract, recruit and retain the best people – and celebrate building and being part of a team of champions for your successful global brand. In fact, you can read all about how we helped Unilever deliver employer brand perfection with our platform.