While reaching target audiences has always carried its challenges, cutting through the sea of noise amid the millions of competing organisations in today's hyper-competitive market is one of the most difficult tasks for any business.
In addition, according to a recent study, only a quarter of stakeholders can differentiate between individual brands. With no stand-out qualities, it is likely that success for these enterprises is down, at least in some part, to chance.
Naturally, relying on the luck of the draw to attract customers and clients to a brand is no basis for ongoing success. But, how can you improve your brand, take control and truly shine? It all comes down to effective brand communication.
The role of brand communication
Winning business communication involves the use of many different techniques and mediums to convey a consistent, appealing and attractive image of the business to target audiences and shape positive perceptions.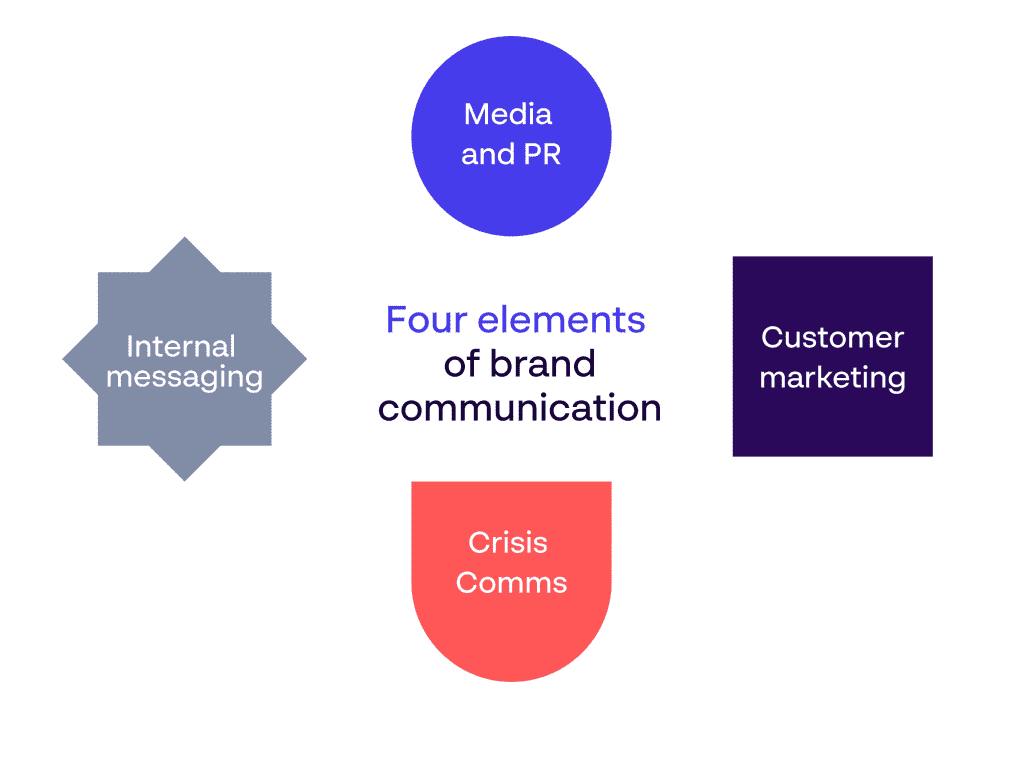 Over time, as content imparts valuable information to customers and stakeholders, people begin to associate this enterprise with trust and value, boosting brand equity. If done successfully, robust brand communication can turn an uninformed prospect into a returning customer.
Think of some of the most well-renowned brands in the world, like Coca-Cola and IBM – you'll likely associate these enterprises with positive terms, like 'professional', 'expert' and 'trusted' even if you've never been a customer.
This is the power of effective brand communication. It's what differentiates generic cola drinks from Pepsi, and what helps keep the name of organisations ringing in the minds of the public for years.
As well as customers, communicating your brand effectively can also be an excellent way to better establish your brand, engage prospects and attract top talent in today's connected world.
Now, more than ever, a strong brand has to be three-dimensional and stand up to the scrutiny of customers and candidates on the outside of the business, as well as existing employees on the inside. To do this, internal and external communication must be:
High-quality
To keep teams in the office productive and customers engaged, it's crucial to communicate your brand, its values and its merits outwardly.
Consistent
While customers and employer brands are often regarded separately, the lines between both are blurry, making business continuity a must.
Authentic
With social sharing ubiquitous today, portraying a transparent and honest brand is key in retaining the admiration of employees and clients.
How to improve your brand communication strategy
Brand communication is one of the most important elements of an overarching marketing strategy. It's how a brand portrays itself, how it forms deep connections with prospects and how it stands out in a saturated market.
But because this area is so complex and valuable, it can seem illogical to constantly update and refine your approach. However, the world of marketing is fast-paced. Platforms change. Customer and staff expectations shift. Best practices evolve.
To keep up, it's vital to implement brand communication strategies as living, breathing entities.
Choose the right media channels
To shape how your brand is perceived by its employees and customers, your brand should strive to have a presence in the places where your prospects will be, whether that's in physical destinations or on platforms like Facebook and TikTok, for example.
This is crucial because as many as 13 touchpoints are needed to turn a prospect into a customer, or an employee into an ambassador. If this content isn't within reach, how can you expect your brand to leave an impression?
By carefully considering where content is placed across multiple channels, not only is marketing more effective, but promotional efforts are more likely to generate a greater ROI for your company.
Nail a consistent look and feel
In order to boost the equity of a brand, and ensure prospects can recall the business, it's important to maintain brand consistency on a global scale with a unified look, feel and brand voice.
Although your collateral could be ticking all the right boxes and addressing the audiences' specific pain points, if people aren't able to attribute that goodwill to your unique brand, that positivity and trust are lost.
By nailing a consistent look and feel across your website and social media channels with the help of purpose-built Brand Activation Management software, a brand can become more recognisable and stand out from the competition. In the real world, this can improve revenue by as much as 23%.
Embrace crisis communication management
Brands dread the day when things go wrong. And while there is a small percentage of companies that have managed to dodge controversy, maintaining a spotless image – especially within a large or well-established business – is near impossible.
All it takes is a single brand ambassador to misrepresent the brand with a poorly worded post or a typo in a piece of corporate collateral to dent your reputation. While this is detrimental on its own, word can travel fast on social networks and magnify blunders small and large quickly.

To plan for every eventuality, a robust crisis communication plan is a valuable component of every effective messaging strategy. While these documents will vary from brand to brand, a good crisis plan should:
Note who has the authority to activate the plan under what circumstances
List the employees responsible for each task throughout the process
Draft messages for the possible crises your business could face
Collate the contact details of people and services valuable during an emergency
With a contingency plan in place, your brand can control the narrative in an adverse situation, and create a less stressful environment for workers both in and outside of the office.
Adapt brand personality for multiple scenarios
While a business must have a consistent brand voice, it's important that this isn't taken too literally. In order to appeal to candidates and customers on different platforms, the core message must be adapted to suit different spaces.
By taking a middle-of-the-road approach to brand voice, and failing to adapt the personality of the brand to different scenarios, messaging can seem stilted, irrelevant or unengaging as the content is not entirely relevant to the platform or audience.
Carefully tailoring internal and external communication using insight gathered from a strategic brand communication audit can drive better performance, as 74% of marketers say targeted personalisation generates greater engagement.
A brand is a complex and incredibly valuable asset for any organisation, and it takes more than just an excellent customer communication strategy to form an image that employees, candidates and customers all look up to. To develop a well-rounded brand, it's important to seek answers to the following:
What does your brand identity look like?
What values does your business image reflect?
How does your branding strategy align with overall business objectives?

Propel your messaging to new heights with BAM by Papirfly™
Messaging is a broad, vast and incredibly important topic when it comes to brand building and communication. From how you talk to your employees to how you market your products or services, this strategy is an integral part of your brand.
Due to its breadth and importance, it's crucial to have a solid company communication strategy in place before embarking on a new campaign. By taking a gung-ho approach, you could risk compromising brand continuity, authenticity and quality.
However, developing a corporate communications plan that ticks all of the boxes is no easy feat – marketing is a fast-paced sector, and deadlines come and go quickly. To keep on top of your daily duties without compromising on quality calls for a dedicated brand activation solution, such as BAM by Papirfly™.

As well as featuring a suite of time-saving marketing tools, BAM is ideally suited to corporate communication because:
It allows teams the ability to develop quality, on-style content with confidence across several mediums, such as social media, leaflets, emails and more
BAM's intelligent templates allow in-house teams with no design experience to effortlessly craft collateral that adheres to brand guidelines
The built-in DAM allows crucial documents, like crisis communication plans, to be shared globally with ease, allowing increased agility
Our all-in-one technology allows existing designs to be quickly adapted for new platforms or localised to different regions in just a few clicks
If you would like to learn more about BAM and explore how else it can help take your brand to new heights, get in touch with our team, or book a demo to see our solution in action.
The best way
to manage your brand.
See it in action.
Boosting revenues
Doing more for less
Activating brands on a global scale