As the need for brands to produce more and more content to keep audiences engaged grows ever stronger, as well as balancing this with the desire to stay consistent across all channels, the emphasis on a well-built, organised marketing team is more pressing than ever before.
But, what is the ideal marketing team structure? As the responsibilities and functions of marketing continue to expand, knowing the roles you need when building your marketing team is critical to covering all bases and guiding the growth of your brand.
Explore our insight into the role of marketing for an organisation and how to structure your team to deliver the most effective output.
What is the role of a marketing department?
So let's start with the million-dollar question: what does a marketing team actually do? The specifics of this will vary from company to company – what you consider the role of your marketing department could be very different from another company in your industry.
But, as a broad summary, we can define the role of a marketing department as the promoters of your brand to your audiences worldwide.
It crafts the face of your company. It reaches out and attracts leads to your company, its products and its services. It plans, creates, and coordinates the materials that represent your brand. In many ways, your marketing team is the bridge between your brand and your customer.
Due to this weighty responsibility, a marketing department's functions are often extensive and demand specialists drive them. So, before you can consider the roles and structure of your ideal marketing team, you have to first establish what functions they need to fulfil…
Establishing your marketing department functions
Here is a snapshot of the various functions today's global marketing teams are expected to perform to connect audiences to their brand:
Define and manage your brand
One of the key roles of a marketing department is to establish exactly what your brand stands for – its values, characteristics, visions – so you can translate this to your audience.
Develop marketing strategies
From determining the price of your products/services to cementing what channels your brand should focus on, marketing teams should make data-driven decisions to inform your overall strategy.
Plan and oversee campaigns
As part of your overarching strategy, the marketing team will also take responsibility for individual campaigns and initiatives – the resources required, how long they will run, the milestones across this timeframe, and analysing the results.
Research your target market
The best marketing teams understand their target audience inside-out, and conduct thorough research into the demographics, behaviours and motivations of your market, as well as what your competition is doing on this front.
Produce assets for your marketing channels
A critical function of the marketing department will be developing content and assets across the spectrum of your marketing network. Social media, email marketing, blogs, print and digital adverts – it's a long list (and is only getting longer).
Drive traffic to your website
One of the most important marketing team goals is to generate more high-quality leads towards their brand and nurture these for as long as it takes to score those all-important conversions.
Coordinate your social media presence
Everyone needs to be on social media nowadays, so an increasingly vital marketing role is managing and monitoring these platforms to keep these up-to-date and protect your brand's reputation.
Identify and utilise advertising opportunities
Marketing teams should be actively locating opportunities to advertise their brand, be that through digital or print platforms, and communicating with organisations that can afford them that space.
Organise internal communications
As well as connecting customers with your brand, marketing departments are also responsible for keeping employees continuously aware of the organisation's values, goals and priorities.
Act as your media liaison
When your brand is mentioned in the media, either in a positive or negative light, a marketing team member will often be in charge of coordinating with the media and preparing communications on these platforms.
Planning and handling events
When you host an event, seminar or webinar, it will typically be your marketing team that will organise and manage these.
Manage third parties
Particularly for small or mid-sized businesses, marketing departments will need to work closely with outside vendors, be they agencies, PR companies, influencers or freelancers, and ensure they produce work in-line with your brand's values.
Defining your marketing department roles
With a clearer perspective of the functions of modern marketing team structures, you will be in a stronger position to outline the roles you need to build your marketing team.
Of course, the breadth and of your marketing team positions will depend on the scale of your company. The marketing team structures for a large, globally recognised organisation will be far different from a smaller company. Smaller firms will typically have more dual-role positions and generalists in their marketing teams, supported by specialist agencies and freelancers.
Meanwhile, larger organisations will often have a range of specialists in-house to fulfil the functions mentioned earlier. However, they may face greater challenges collaborating across locations, and still may look to support from external agencies and freelancers to deliver work.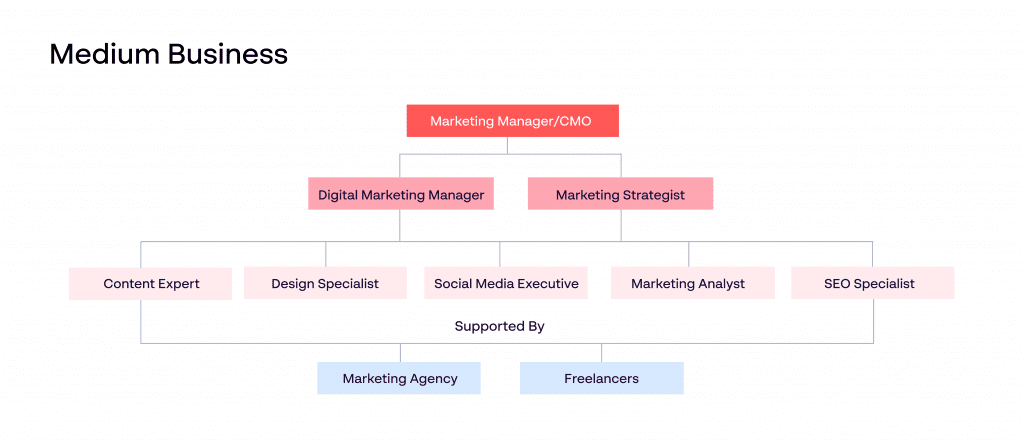 In order to cover the broadest range of marketing roles here, we will focus on the largest of these marketing structures and the individuals you could expect to find within it.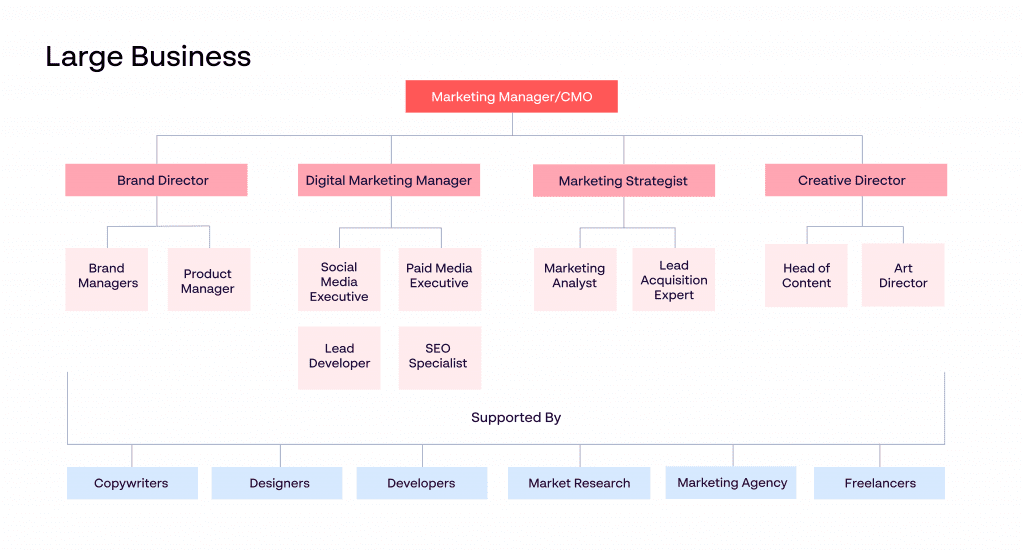 Marketing Management/Strategy Team
This strand of your marketing team structure will be responsible for developing, adapting and refining your overall marketing strategy, and conducting the research informing that. In addition, they will also oversee the work of the other segments of the marketing department, maintaining a birds-eye view over all operations.
Roles within this team may include:
Chief Marketing Officer (CMO)

Marketing Manager

Marketing Strategist

Marketing Analyst

Brand Manager

Product Manager

Project Manager
Web Design Team
Every business needs a website, and that website needs to be maintained, updated and protected. Some of the roles within your marketing team may be dedicated to this responsibility if you wish to manage your website in-house.
Roles within this team may include:
Web Developer

Front-End Developer

Back-End Developer

Web Designer

UX / UI Designer

Graphic Designer
Content Marketing & Design Team
This component of your marketing team structure will be responsible for producing the array of content, copy, assets and more required across your various marketing channels and campaigns, executing on the direction provided by your strategy strand.
Roles within this team may include:
Head of Content

Creative Director

Art Director

Designer

Copywriter

Video Editor
Digital Advertising Team
The role of the advertising team within a marketing department would be to produce and oversee the paid advertising promotions that your brand is running at any given time.
Roles within this team may include:
Paid Media Specialist

PPC Executive

Performance Analyst
Social Media Team
With such an emphasis on social media in today's landscape, the role of this segment of your marketing team is to monitor your profiles on these platforms and manage relationships with your followers to protect your brand's reputation.
Roles within this team may include:
Social Media Manager

Digital Marketing Manager

Social Media Executive

Community Manager

Account Manager
SEO Team
The role of the SEO team within your marketing department will be to drive organic traffic to your website by guiding and supporting the production of optimised, keyword-driven content on this vital platform.
Roles within this team may include:
SEO Strategist

SEO Executive

SEO Copywriter

On-Page SEO Specialist

Off-Page SEO Specialist
Lead Acquisition Team
Your lead acquisition strand of your marketing team will consist of those who live and breathe techniques that keep customers engaged across their journey with your brand, maximising every touchpoint in your bid to secure actions and conversions.
Roles within this team may include:
Lead Acquisition Specialist

Customer Acquisition Specialist

CRO Specialist
This is just a glimpse at the different job roles in marketing, and the role each plays in fulfilling the wide range of functions explored earlier in this article. As marketing departments are constantly evolving and introducing new roles, this is by no means exhaustive, but it illustrates just how broad departments can be when trying to meet their responsibilities.
Marketing team structure charts templates
So, with this span of marketing roles in mind, how should you contain them within one unified structure?
There is no one-size-fits-all marketing team structure chart or model – the right fit for your organisation will depend on what you believe will best organise your team to work at their most efficient.
Here are a few examples of ways that you might approach organising your marketing teams based on the roles you need to fulfil and your company's priorities:
A functional organisation chart

: marketing team structure that is broken down by sub-teams under the marketing umbrella (e.g. content, social, paid media, etc.)

A product-based chart:

where teams from across the marketing spectrum are brought together to specifically push a particular product or service
A geographical organisational chart:

for large organisations with a worldwide reach, marketing teams might be structured by the different markets they're dedicated on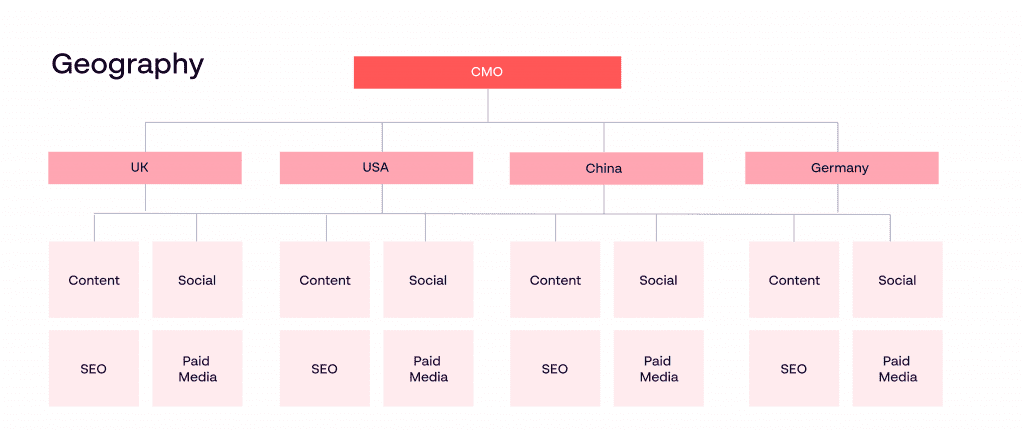 A channel-specific chart:

constructing teams of relevant professionals in different disciplines to oversee your various marketing channels (social media platforms, website, email marketing, etc.)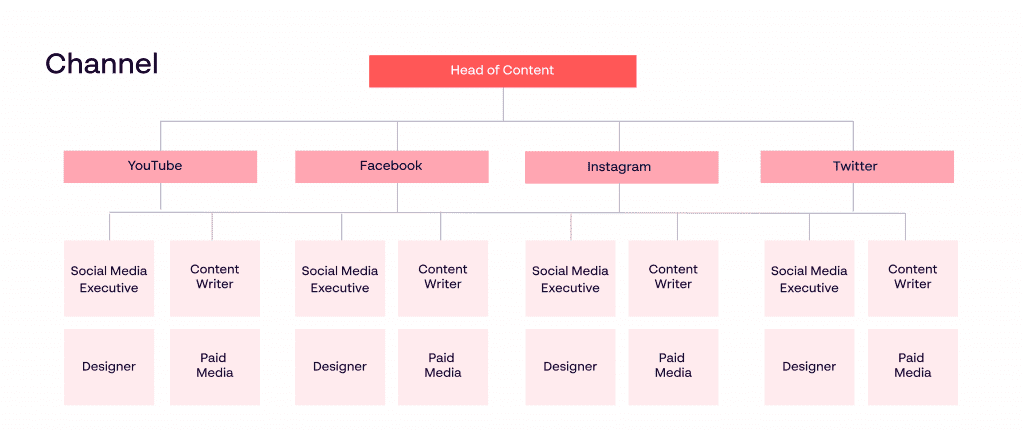 Would your marketing team work best focusing on their functions or their specific roles? Will you blend together different disciplines for your various channels and campaigns, or keep a more rigid, top-down structure?
All models have their strengths and weaknesses – based on what you've picked up here on the wide range of functions and personalities within a marketing department, you can be more assured on which would work best for your organisation.
Digital marketing team structure
What about your digital marketing team structure? With a digital-first mindset imperative to success in today's landscape, the structure of your digital marketing team is essential to optimising budgets and delivering optimal ROI.
While there is as broad a variety of department structures as we've discussed earlier (all with their positives and negatives), something like the below functional structure that organises based on disciplines and expertise could be a useful starting point for larger marketing teams looking to add more structure to their team: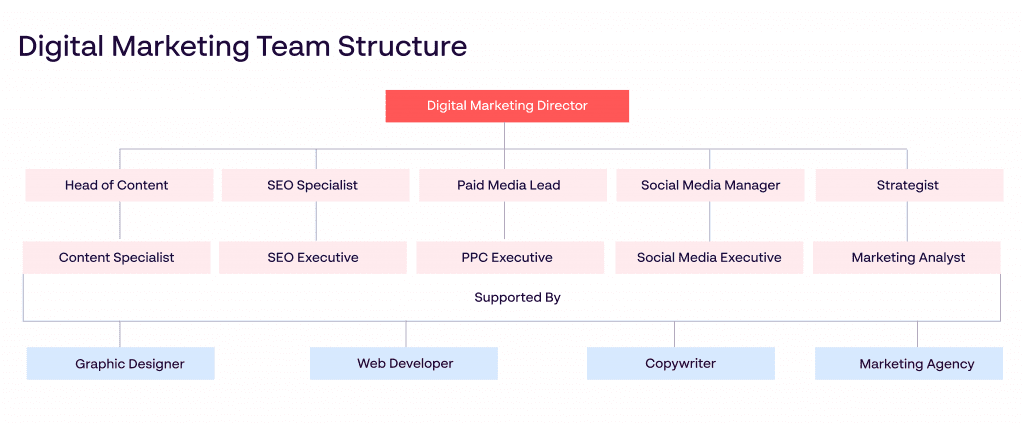 This approach enables digital specialists in each respective discipline to support relevant campaigns, as well as all contribute to the development of holistic digital marketing strategies.
Empowering your marketing team
We hope you can use this greater understanding of the roles and responsibilities across marketing teams to find the structure that best fits your organisation, helping your marketing department deliver more and work at their most efficient.
And if the efficiency and effectiveness of your marketing teams is a pressing issue, then you will want to know more about BAM by Papirfly™. By empowering anyone in your team to create on-brand, studio-quality assets in minutes, you can produce more materials and more campaigns than ever before – all in a fraction of the time.
Discover the power of BAM today today, arrange your personalised demo.
You'll learn
how to build the ultimate marketing team structure that works for your brand.
Table of contents