Something wicked this way comes. While Halloween is a thrilling time for marketers to get into the spooky spirit of the season to frighten and delight their customers, an ever-lurking fear lies behind every door in branding and marketing departments – how can our marketing stand out while not compromising brand identity?
Creating a Halloween marketing campaign can feel like walking through a haunted house – you're excited when you step through the door but constantly waiting for something to jump out at you. In some ways, a brand at Halloween is just like a party costume – you can tell the meticulous planners when people have been busy preparing for weeks or when someone has simply 'thrown on a cobweb' to look the part.
In this article, grab a shovel and dig up some insights to consider, as you cast the perfect spell to unleash your teams' creativity while staying on-brand – and a reminder to give every location the bag of tricks to help support global brand consistency on your next creepy campaign.
The magic spell of brand guidelines
Any go-to-market campaign hinges on collaboration, especially when seasonal events, such as Halloween, mean getting playful within the limits of your brand guidelines. Your brand must still stay intact, so your in-house design team or external agency need to investigate this mystery with you – and figure out how you can play to your super-strengths.
Achieving synergy across everything that makes up your core brand identity – colours, tone of voice, logos, assets and more – is essential to maintain recognition and increase engagement. Every brand is different, so considering each one of these essential ingredients is key to casting the perfect spell.
Beware of brand colour transformations
Your logo is the most important of your brand assets. It's the visual cue that sparks instant recognition with your audience, and could be considered the most potent ingredient in your brand identity's potion to enchant your customers. Misusing or making too many drastic changes might scare away the chance for brand recognition, leaving you haunted by a campaign that didn't quite create the magical results you were after.
While it can be tempting to change your logo with seasonal imagery and a different colour palette – orange and black being the obvious choice – you need to make sure that it's suitable for your brand identity and tone of voice. Google, for example, can go 'Dr Jekyll and Mr Hyde', and transform with ease. Complementary adjustments can be made to the website logo with significant effect, as it's actually part of the tech giant's playful brand identity to change with the seasons – an event in itself.

Meanwhile other brands can protect their frightening strong status as they play with their brand reputation. Marmite, for example, is known for having an acquired taste. The savoury UK food spread, based on its distinctive yeast extract flavour, famously plays with its 'Love it or hate it' slogan – making it the perfect 'Trick or Treat' product.
Bringing in new colours for its limited edition Halloween packaging, its iconic logo of white letters on red and jar-and-lid's yellow and black colour scheme offer a playful way to go-to-market during the spooky season.
No matter what you and your creepy and collaborative team decide, make sure everyone working on your brand knows what you're doing and how you're doing it. Providing essential brand assets to all marketing teams and partners can ensure people are empowered to bring your brand to life in a new way at Halloween – without feeling it's been put together like Frankenstein's monster. Create brand consistency all year round and put the picture of your brand together so your teams can animate and activate it everywhere.
Be frighteningly good with your brand's reputation
Your dream Halloween campaign can be a nightmare if you do not stay on-brand and consistent during your campaigns. In order for the aspects of your brand identity to agree to "stay close and don't split up" you need to know how customers perceive your brand – carefully selecting the right tone and language for your campaign that compliment your products or services to have a hypnotic effect on your audience.
Of course, product name changes are all the rage at this time of year. 'Boo-scotch' M&M's. 'Scream' Ice Cream from Ben & Jerry. Starbucks' 'Frappula Frappuccino'. All delightfully dark, while other wordplay like 'Trick or treat yourself' and 'Fangtastic savings' are used by many online and high street brands.
Big brands' marketing departments love to hear screams of delight from their customers at this time of year. So much so, customers can eagerly await to see what new tricks the marketing magicians behind some of the world's most famous names will do each year – and we are often delighted by the surprises they have in store.
In fact, some iconic brands use minimal wordplay as they really know how to use the right imagery to awaken the spirit of their product:

It's clear when brands have considered all aspects of their brand identity to deliver amazing assets at Halloween. Whatever's being cooked up in the creative cauldron, make sure all digital assets are in one place – so every team can take away the breath of their audience.
Avoid facing a cultural nuance nightmare
Each region your brand operates in may do Halloween differently. With Halloween culture, stories and themes must speak to local tastes. While one nation may embrace particular Hollywood horror characters, others may conjure up more of a witchcraft and wizardry atmosphere.
Of course, it's important to be aware which countries do something different to Halloween too and to not assume your global creative ideas will work everywhere. For example, in Latin America, Día de los Muertos (Day of the Dead) is a celebration of life and death and not a cultural 'version' of Halloween – besides, they are celebrated on different days, with the region seeing Halloween as more for children than the wider culture. It matters to make sure you know your audience and prepare your teams to speak to them seasonally in their own way.
Fanta Misterio was a bewitching blend from Coca Cola that managed to walk between the two worlds in the runup to both celebrations. Playing on words like 'fantasma' – the word for 'ghost' in Spanish – shows the wisdom of the Fanta brand to balance global identity with regional resonance, to enchant audiences with spooky puns wherever they are.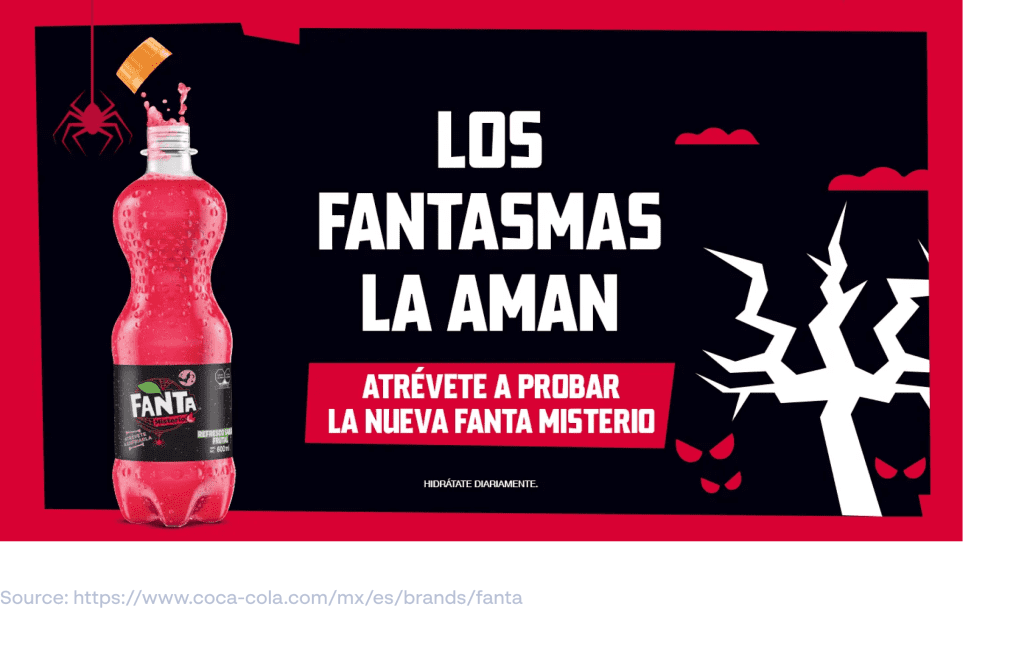 Your global campaign must be able to speak to its audience locally, or teams must create different campaigns that appeal to the nuances (and nightmares) of their neighbourhood.
Empowering teams to create unlimited customisable assets in their own language, or adding specific elements only locals would appreciate, can mean everyone can get some sleep knowing the brand is safe and sound. Not having such solutions, and leaving teams to use free online tools that won't align marketing materials to brand guidelines, could be the thing that goes bump in your bottom line.
Let brand consistency lift your spirits
While crafting Halloween marketing materials may seem like a terrifying task, remember that having a smart creative team, with tools at your disposal to make sure the horror of diluting your brand never sees the light of day, can make this a frighteningly fun time of year for marketing teams and customers.
If you've been haunted by the realisation that you weren't fully prepared this year, see how our brand management platform can empower your team to efficiently activate your brand in every location, and for every seasonal event – so get set for a fiendishly delightful Halloween, year after year.