Why is employer branding important?
One of the biggest mistakes in employer branding is that it can easily become disconnected from what drives it in the first place — the core mission and values of your business. This is what defines your company and should come through in everything it says, does and creates.
When constrained to your HR department, or only associated with superficial perks, your employer branding is missing its potential to create a company-wide impact on everything from your talent attraction and employee retention, to your output and – ultimately – business revenue.
A positive employer brand is something your company should be shouting about, and not just in the office. As well as being a way for potential candidates to get an insight into what your work environment is really like, it gives consumers a chance to see the human side of your brand and what it really stands for.

Your employees will thank you too. By communicating with your staff to understand the things they love about their work, how you can make it even better for them, and what drives them day-to-day, you can put them at the centre of your employer branding and foster a positive company culture. The benefits of a people-first employer branding strategy include better staff morale, more chances to improve their skills within the company and a better chance of creating advocates for your brand.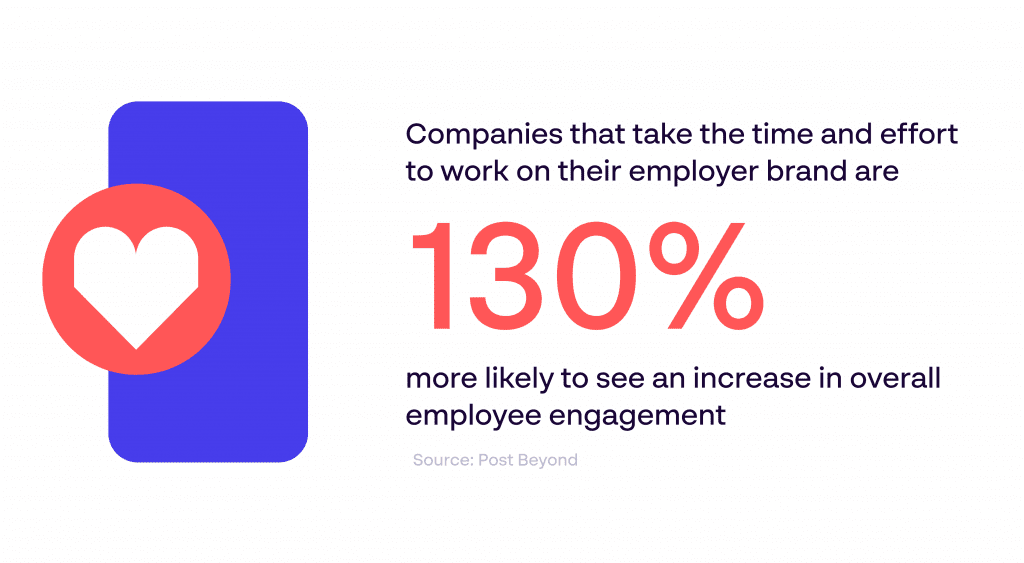 Establishing strong brand governance is the first step to getting everyone in your company on-board with your employer brand and become brand ambassadors — from C-Suite execs, to new interns.
What is brand governance in the context of employer branding?
Brand governance is integral to achieving this level of consistency at scale and across local markets. At its core, brand governance is a way to make sure everything that's produced by your brand is aligned with the same consistent thread that encapsulates the look and feel of your brand, the way it behaves and what makes it unique.
While successful employer branding needs to be governed and embodied by senior leadership teams, the same core values, mission and sense of purpose need to reach everyone in the company, even if they are based in multiple locations.
Below, we've outlined the top considerations for making your employer brand shine with watertight brand governance.
6 steps for governing your employer brand
#1 Understand cultural nuance
If your company has employees working in different locations, then your employer brand strategy needs to go further than just one office. Without taking cultural nuances and work practices of each market into account, you run the risk of your messaging completely missing the mark, or worse, actually offending your audience and harming employee engagement. Don't fall into the trap of assuming that your messaging translates word for word in every country, or that your images will be received the same way. Your company culture has to translate for the local culture.

Taking an employer brand campaign global isn't just a case of switching the languages. To avoid any embarrassing miscommunication from your employer branding activities, you need to find a way to align the central values and purpose of your company with what resonates with employees, candidates and consumers in specific locations.
#2 Accommodate different candidate pools
Across the board, organisations with a diverse workforce benefit from faster growth, a boost in reputation and a large global impact. If you only seem to attract the same kind of talent, then it's probably a sign that your employer branding only resonates with a small talent pool. 

Again, this is a case of working to better understand your audience and the different motivations, concerns, challenges and priorities within them. To attract and retain a truly diverse range of candidates, you need to think beyond the obvious categories and make sure that each is represented in your employer branding strategy.
It's then important to communicate with authenticity, using messaging that you can back up with the way your company behaves.
#3 Get organised. Get a DAM.
When your employer branding is on a roll, and you have watertight brand governance to ensure global consistency, your teams are ready to produce assets to their heart's content. Almost.
To avoid the chaos that can come with global asset production, they need somewhere to store, share and structure the materials they created using a Digital Asset Management system (DAM). Having a visual, well-organised filing system will make finding and sharing relevant assets quick and easy, and prevent your brand's materials being misused.
#4 Keep your EVP consistent
For your employer value proposition to make any real impact on your brand it needs to land in the same way, anywhere your company operates. Without understanding how they translate in different local markets, your core values and purpose are at risk of being misinterpreted, or meaning something totally different depending on where you are in the world. Ultimately, you need to take steps to provide the consistent message your people need.
When you include teams from across the globe in your brand governance, they'll have a clear understanding of how to implement it in their local markets.
#5 Simplify sign-off and approvals
In the midst of global talent recruitment campaigns, staying on top of approving hundreds of marketing materials accurately and in time for launch can be time-consuming, not to mention a stressful task for brand managers.
For the peace of mind that all your materials are consistent, accounted for and ready for market, having a streamlined approval process is essential.
#6 Get a hold of your assets
Avoid the unnecessary confusion of tracking down recruitment branding assets and materials by storing and sharing them from one location.
This can be made even easier if you can set permissions to ensure that individual teams only have access to assets created for their local markets and specific campaigns.
Tools for implementing strong brand governance
There is a wealth of branding software available that will make controlling brand governance a whole lot easier for you and your teams. In fact, the choice can often get a little overwhelming. Before you lose yourself in comparisons and reviews, here are the key features you need to look out for.
Template creation
Having a template is one thing, but making them bespoke is another. Smart design templates from a brand management platform make it easy to set predefined parameters to give your teams the freedom to be creative without veering off-brand.
Work from a centralised location
Through digital marketing brand portals, you can combine creation, management and storage. With one centralised location for everything that encapsulates your employer brand, your teams can align on guidelines, processes, approvals and more.

Make global brand alignment a reality
Through digital marketing brand portals, you can combine creation, management and storage. With one centralised location for everything that encapsulates your employer brand, your teams can align on guidelines, processes, approvals and more.

What's the point of working so hard to define your Employer Value Proposition if your entire company can't see it? 

Open up stronger collaboration with global teams with a tool that allows you to bring them to the same location to find your brand's most up-to-date assets and brand guidelines.
Data protection
With so many brands already seeing the benefits of employee advocacy, having an up-to-date resource of assets and imagery featuring real staff is becoming of greater importance. 

Make sure your chosen branding software allows individual employees to sign off the usage rights for imagery in which they are featured to follow guidelines – General Data Protection Regulation (GDPR) in the EU, or equivalent for your region.
DAM
There are lots of Digital Asset Management Systems out there, but without the extra features and capabilities needed to make your employer brand shine, very few offer an all-in-one subscription solution.

It's a huge advantage to have creative suites, templates, planning and analytics features built-in. This keeps things simple, with everything your teams need in one place. Plus, there's no need to manage multiple subscriptions. DAM alone won't be enough to solve your problems, but alongside a brand management platform it's a powerful tool.  
With the right tools for watertight consistency, successful employee engagement and easy asset management, you can put your brand's best foot forward for attracting and retaining talented employees.
Global ​employer brand governance is crucial to attract and retain talent
The enormity of the tasks outlined in this article may feel daunting, but there are solutions out there that can make it all a straightforward reality.

At Papirfly, our dynamic brand management platform is transforming the way teams manage their employer brand through a centralised online portal. Teams get the tools they need to create, share and manage campaign assets across the world – and maintain total brand consistency.