A brand is arguably the most important aspect of any business.
It builds meaningful, lasting connections between an organisation and their audiences, unites people behind the values and mission at the core of any company, and sets you apart in an increasingly crowded and noisy landscape.
To build a brand and grab the attention of your prospects, content is crucial. Whether it's physical signage, marketing emails or digital assets, every piece of collateral shared is an opportunity to engage someone, make a sale, build an audience or strengthen a brand's reputation.
3 challenges that brands face
As the competition for attention grows, customer expectations evolve, and marketing budgets shrink, providing an engaging and exciting brand experience can be difficult.
1. Standing out in a crowded space
Every day, the average person in the UK is exposed to roughly 5,000 individual marketing adverts and messages. And, as millions more pieces join this vast sea of content daily, this number only continues to rise.
Because of this, grabbing the attention of prospects and making a splash in such a saturated space has never been more competitive.
2. Maintaining brand consistency
A recent study suggests that the vast majority of customers (72%) will only engage with brands that personalise their messaging. To satisfy this demand, a growing number of businesses are creating dozens, if not hundreds, of pieces of tailored content.
While this strategy is often effective at delivering results, manually maintaining a consistent brand identity across an entire library of assets for a single brand can become a costly, time-consuming headache.
3. Working with limited budgets
In 2021, marketing budgets fell to just 6.4% of overall company revenue, the greatest drop in recent history.
At the same time, the importance of high-quality, personalised content has only continued to grow. With resources tight and customer expectations ballooning, marketing teams often have to make concessions to the volume or quality of their output.
The importance of brand activation management
To tackle these challenges and help organisations build upon their reputation of trust, brand activation management is a vital pillar of any promotion.
This is because brand activation allows organisations to form deeper bonds with their prospects and target audiences by delivering a unique, distinct and ultimately consistent brand experience that people recognise and want to engage with.
In order to do this, it is crucial to consider how a brand uses platforms and content to communicate.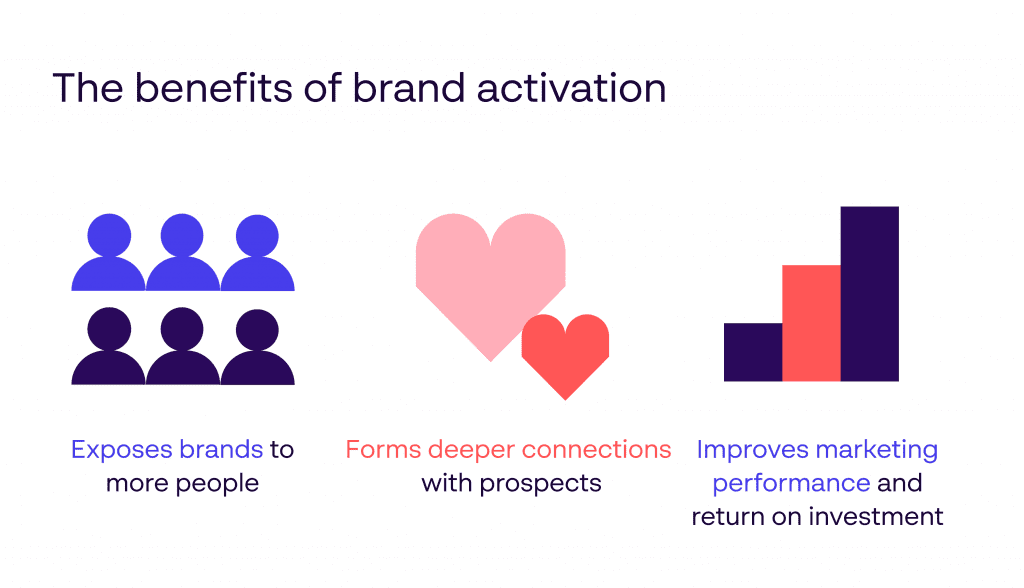 For example, if a car manufacturer was entering the UK market, they would likely host experiential events, trial experiences and promote digital ad campaigns to increase their visibility.
How a brand management software can help scale content production
Although brand activation is a core element of almost every successful brand, finding the time and resources to implement these techniques and strategies can be difficult, especially as marketing budgets continue to shrink.
A brand management platform can help organisations implement a brand activation strategy quickly and realise the benefits of this approach with ease. With a capable system, organisations can:
Ramp up content production
Generating the volume of content needed to stand out in such a competitive digital landscape requires designers to manually create hundreds of variations of social media visuals.
But, with the power of a competent brand management platform, teams can iterate on existing templates with ease and build new collateral much faster than designing visuals from scratch.
Create consistent brand messaging
A single campaign can comprise hundreds of individual assets, often proving a visual brand consistency nightmare for designers.
A dedicated brand management solution can use pre-built templates that adhere to company style guides to allow busy designers to work fast with the confidence that their output will align with the brand tone and feel.
Reduce the cost of content production
Content production is a large expenditure for marketing teams, both in terms of time and money.
To minimise content creation buy-in, brand management technology rolls a variety of essential time-saving tools into a single platform. With everything under one roof, in-house teams can create and launch promotions faster and more cost-effectively.
If you want to learn more about the principles behind an effective brand activation management solution, read our article on elevating your brand with BAM.
Realise the full potential of your brand with Papirfly's brand management platform
Brands are one of the most valuable elements of any business. However, thanks to crowded digital marketing landscapes, shrinking budgets and growing customer expectations, nurturing a brand is becoming more challenging than ever.
To help realise the unmissable benefits of brand activation, highly capable brand management portals, like Papirfly's, can help enterprises galvanise a wider audience with a lower buy-in.
To do this, our all-in-one platform acts as a single destination for campaigns, allowing teams to create, educate, store, share and manage marketing content from one place. This makes our solution a benefit to any size team, anywhere in the world, because our software can:
Localise content to multiple different regions quickly
Expedite content creation using easy-to-use smart templates
Store and organise assets within the in-built DAM
Streamline approval workflows for ultimate brand governance
Easily monitor promotions with the integrated campaign manager
Thanks to our platforms useful suite of features, our comprehensive platform continues to empower more than 1 million users across some of the world's best-known brands, such as Coca-Cola, HSBC and Rolls Royce.

If you want to learn more about our all-in-one creative automation platform and how it can benefit your brand, with our team today. Alternatively, book a live demo to see our brand management platform in action yourself.
---
The best way
to manage your brand.
See it in action.
Boosting revenues
Doing more for less
Activating brands on a global scale