Attracting top talent to a company is more important than ever in the current talent market. To fully realise the benefits these employees can bring however, it's important to keep them around for as long as possible to drive continued success.
Retaining existing staff nowadays goes beyond providing a competitive salary and a few day-to-day perks – all of the elements of a workplace have to align in order to create an environment where talented people truly want to be.
Failing to meet these expectations makes it considerably more likely that staff will simply look elsewhere for their ideal role. After all, the average person changes jobs 12 times in their lifetime.
As a result, crafting an engaging and effective employer brand is critical in retaining top talent.
What is employer branding?
WAn employer brand is how a company presents itself as a place of work to existing teams in the office. As well as pay and benefits, an effective employment brand should encompass: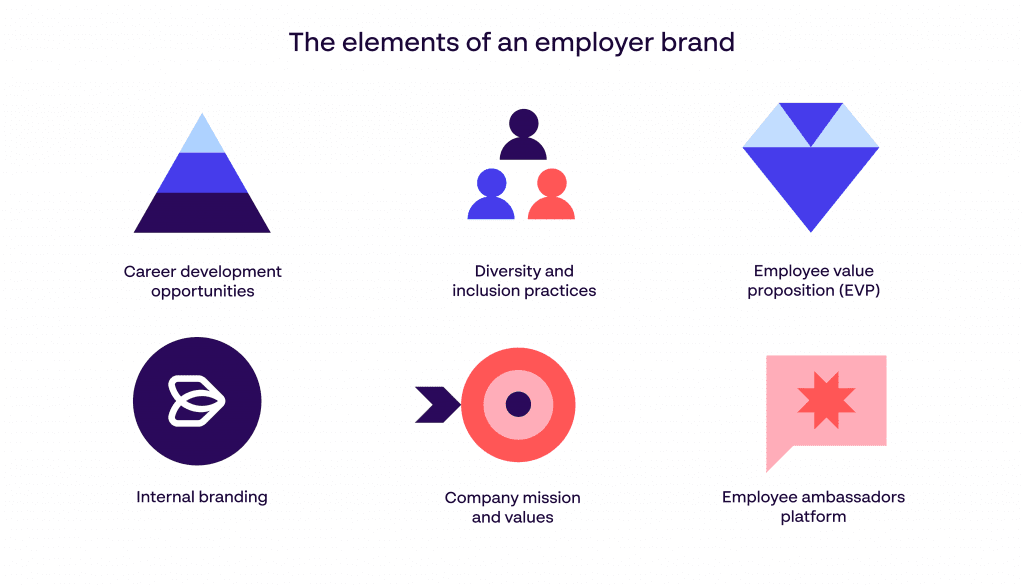 Although a 'customer brand' and an employer brand are often thought of as two separate entities, in today's connected world, the two should be approached as different sides of the same coin.
The markers of a strong employer brand
An employer brand is a crucial tool in the fight to retain talent today. But how can you determine the effectiveness of your existing employee brand proposition?
While every employer brand is different, the following traits can help give senior marketers an idea of whether or not their employer brand is on the right track.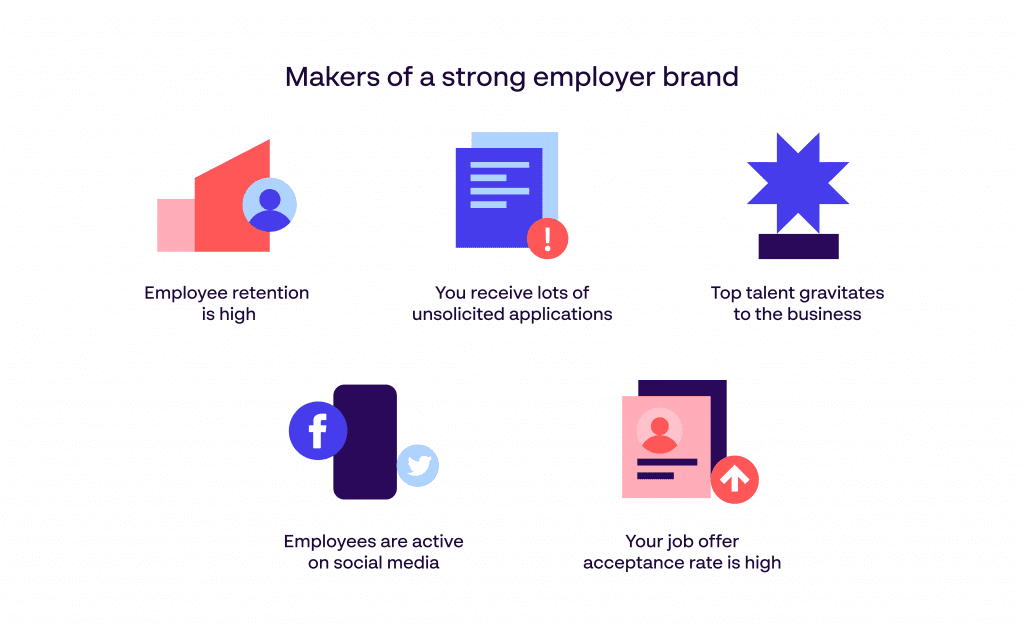 3 techniques for building an employer brand that retains top staff
Building an employer brand that staff truly value doesn't miraculously happen overnight. It takes careful planning, the buy-in of managers and the aid of specific techniques.
1. Establish a strong EVP
An employee value proposition (EVP) is a unique opportunity for an employer to demonstrate how they're different from the competition. From the pay on offer, to the company's vision and values, these elements should be specifically crafted to excite and empower existing staff.
Creating a strong proposition is not a matter of guesswork or copying what 'hot' companies are doing. It's all about spotlighting an enterprise's unique selling point (USP) and acknowledging the wants and needs of those in the office. In the quest for a strong EVP, consider:
Offering flexible work options
Supporting the mental health of teams
Backing cycle to work schemes and other incentives
A winning EVP shouldn't just include the physical and financial needs of workers, it should also empower employees and get them on board with the company vision.
For a more comprehensive look into this vital part of your employer branding, read our article on crafting the ultimate EVP.
2. Create an employee advocacy program
A brand advocacy program is an internal process that encourages people within the office to talk about the company both online and offline to cast it in a positive light.
Whether this involves staff sharing 'behind the scene' photos from their workday, or teams engaging with content on social media platforms, both approaches can not only promote the employer brand further, but also help staff feel more involved in the business.
However, before giving teams the green light to post, a successful employee advocacy program must have a concrete process in place. A single typo, poorly worded post or inappropriate image associated with the brand could tarnish an otherwise solid reputation.
Take stock of teams throughout the organisation
Map out how best to utilise employees' voice
Educate brand ambassadors on the brand's purpose and values

3. Build and distribute an employee newsletter
An employee newsletter is not just a useful document for keeping teams within the business up to date with the latest news and developments – it can also serve as another way in which an organisation can strengthen their employer brand.
Creating and circulating an employee newsletter helps keep teams in the loop and serves as a vessel for departments to share their wins with the rest of the company. By giving staff an occasional forum to express themselves and learn about their colleagues, people will feel more invested in the business and the work they do.
To support the creation of an effective employee newsletter, a dedicated brand management solution can help teams quickly and easily assemble a perfectly branded newsletter. With the use of intelligent templates, even those without design experience can create on-brand assets with confidence to feature within.
The benefits of employee branding
By taking steps to create the ideal environment for teams in the office, businesses can enjoy a number of powerful benefits:
Employee retention is improved
When a worker departs a company, it can cost between six and nine months' salary to recruit and train a replacement. In the wake of multiple departures, an organisation could quickly be looking at a six-figure expenditure down the road.
By holding onto staff for longer, and improving employee retention throughout the company, time and resources that may have otherwise been dedicated to recruitment can now be invested elsewhere.
Staff productivity is boosted
Between ad-hoc chats around the office, inefficient processes and other distractions, the average employee is productive for 60% or less of each day.
Taking steps to enhance an employer brand and engage employees can play a key role in improving productivity and work ethics. When people are united behind your brand values, they will be more motivated to put in the effort at work.
Worker morale rises
26% of employees in the UK are actively disengaged. Pair that with the fact that low morale correlates to an increase in negative behaviors such as absenteeism and conflict, and it's easy to see how unhappy workers can bring forth a number of issues.
By building a strong employer brand and creating an environment where team members feel comfortable and happy, morale soars, workers attend their job more often, and friction between colleagues is kept to a minimum.
Activate your employer brand with Papirfly
Although employer brands are a huge benefit to talent retention, taking the steps to develop and implement a winning employer branding strategy is easier said than done.
Creating, managing and coordinating the content needed to nurture the internal brand alongside other marketing responsibilities can seem overwhelming and unsustainable.
Do you bring on new staff to fulfill the vision? Do you make concessions in one area to invest more into the employer brand? The correct answer is neither.
By using a comprehensive, all-in-one brand management platform, such as Papirfly, teams can streamline content production, coordinate resources quickly and deliver a compelling and consistent internal brand that retains team members longer.
To do this, our solution features a suite of tools specifically built to enhance employer branding. Some of these include:
Smart templates
Custom templates empower your employees to create infinite on-brand assets quickly and easily. With this accessible software, even those with no design experience can build compelling collateral with absolute confidence and no risk of breaking with brand guidelines.
Digital Asset Manager
The built-in DAM allows everything from brand guidelines to EVP videos to be shared with teams all over the globe in just a few clicks. Get everybody united in a single vision with ease.
Languages and localisation
Localise content swiftly and create crucial branding documents for teams in any region, all without the need for third-party translators or agencies. Take your internal brand strategy global with haste.
If you would like to learn more about Papirfly and how we can help enhance your employer brand, get in touch or book a demo today.
The best way
to manage your brand.
See it in action.
Boosting revenues
Doing more for less
Activating brands on a global scale