Managing your digital assets may seem simple in concept, but experience shows it can quickly spiral into something complicated and frustrating. As a result, it becomes very challenging to keep track of assets and establish proper storage and sharing workflows. This leads to employees spending unnecessary time searching for files and creating material that already exists. Utilising a DAM platform may very well be the solution to your problems.
A Digital Asset Management (DAM) system is a very useful tool for companies who are looking to make asset protection and storage easy. By keeping all your assets in one place, you'll always know where they are when you need them, and makes it much easier to keep all your files up to date.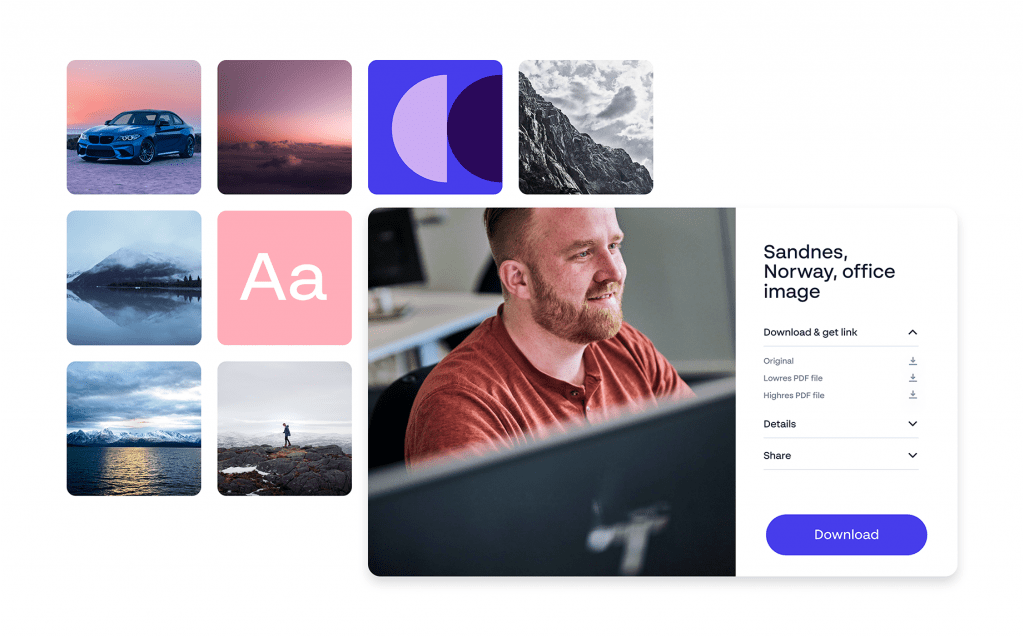 Why invest in a digital asset management system?
A Digital Asset Management system (DAM) lets you store content such as documents, design assets, video, or basically any other type of digital file. Digital Asset Management is about organising and distributing all company assets from one single location. The idea is certainly simple and understandable, and you might think you don't need a specific system to keep everything stored in one place.However, consider your own company's current situation. Where do you store your assets? Are they available and searchable for everyone in your company? Employees and departments often have their own individual "systems", but what happens when the person that created the system leaves the company? Or what if that system breaks down? Is there a back-up? There are many pitfalls when it comes to managing digital assets.

With a proper digital asset management system in place, you'll not only avoid these pitfalls, but also streamline company efficiency and alleviate strain on resources.
1. Accessing digital assets
By centralising all your marketing related content, you provide a one-stop shop for all the people, partners and functions who need access to your brand related content. Structuring content in a way that suits your organisation empowers all users, even with limited expertise, to find, add, modify, and use content.
Content providers, for example photographers, have one place to add their content
Ad agencies and partners have one destination to get relevant and approved content from your organisation.Self explanatory systems lower the burden on the marketing department to handle usage support for external partners
2. Distributing digital assets
Using a DAM system enables you to create content from one source asset for multiple output formats. You could use the same asset to create a design for both web and print, and have them optimised for each format. This way you don't need to have multiple copies of the same file in different formats. Updating or replacing a file is also much quicker and easier, as only one file will be replaced. Long term, the "single source" concept will save your organisation a huge amount of time.
3. Maintaining reliability and transparency across the organisation
In a globalised market your content needs to be accessible through the internet 24/7 to accommodate employees and stakeholders across all time zones. To minimise strain on internal IT, we recommend selecting a DAM running as a Software as a Service (SaaS). This approach also means you get to reap the benefits of continuous feature updates. For a monthly fee, which is easy to allocate budget for, the system is continuously improved on and new features are added. An updated system also ensures continuous security updates
Get a DAM that does more than store – Get BAM by Papirfly™
Using a DAM as part of our Brand Activation Management (BAM) platform, can help teams across your organisation to utilise all active aspects of current campaigns and brand identity, helping everyone to champion your brand for the long-term.
In Papirfly's BAM platform, the DAM is the foundation for a platform that transforms the way you manage and activate your brand. While we consider DAM an essential tool for marketers, we think it has a much greater potential than as simple storage for your digital assets.
If you want to know more about our DAM and the BAM platform, download our brochure here.
The best way
to manage your brand.
See it in action.
Boosting revenues
Doing more for less
Activating brands on a global scale