Retail teams responding to demand at pace. Employer brand teams looking to attract and retain the best talent. Marketing teams rolling out global campaigns.
In today's commercial landscape, investing in up-to-date software is vital to staying ahead of the competition. But with so many options and countless new features and capabilities springing up all the time, it can be hard to keep up with what these game-changing solutions can actually do for your company.

The time, cost and potential disruption that comes with investing in new business software can seem overwhelming. To be sure that you're making the right choice, it's important to be able to weigh up what you put in against what you get out in terms of:
Upfront cost
Subscription fees
Changes in process
Training teams on how to use it
Disruption to output
If you think you've found an all-encompassing solution that can solve your retail, recruitment and marketing headaches, be sure to arm yourself with evidence before you pitch it to your boss. As well as giving you the peace of mind that you've made the right call, it's the best way to convince key stakeholders to sign off the budget you need.
The effort needed to onboard the software vs. benefit to the business
Before getting lost in features lists and customer reviews, start by assessing the various needs of your own company. This will help you determine what that 'outcome' needs to be.
This can take time, but in the long run, it will save you from missing out on features that you really needed or wasting your budget on bells and whistles that, in hindsight, you didn't require.
Taking this vital first step gives you a chance to analyse all the moving parts of your business (not just what's happening within your own team) and discover how new software can address long-standing challenges, improve processes, increase your output, benefit work-life balances and, ultimately, make everybody's life a little easier.
The next step is to compare your ideal scenario with what all the different software out there has to offer. For example:
If you want to bring project management up to speed, a product like monday.com enables you to manage everything in one space, is easily customisable and can automate many manual, time-consuming processes.
To give your employees a discussion platform from which to tell their stories, or to improve your candidate experience, PathMotion helps your employer value proposition shine through with authenticity.
For more efficient sales funnels and easy access to reports, SalesForce is intent on reducing the time that CRM teams spend on admin tasks.
If reducing turnaround time is your key objective, BAM by Papirfly™ helps teams create more brand collateral in-house and adapt materials for different channels with just the click of a button.
By dedicating the appropriate time and resources into researching these tools, you will eventually be able to settle on the solution (or solutions) that best meet your objectives. Plus, in the process you might find inspiration for other features that will improve the way you work that you hadn't previously considered.
Making your case for your business software
Once you've established which software is non-negotiable for your company and which offers the most potential to benefit your business, it's time to collate that information into a convincing pitch to key stakeholders.
When presenting your argument, think about how you can prove your chosen solution will repay the investment for your own team and teams company-wide:
Can it help your employer brand teams engage staff across the globe with a platform for sharing their stories?
Will it improve your HR team's ability to attract and recruit top candidates from the worldwide talent pool?
Does it help retail teams keep up with consumer demand with integrated PIM & ERP systems?
Can it accelerate your speed to market, or enhance the efficiency of previously time-consuming activities?
Does it make life easier for your teams by automating once repetitive and cumbersome manual processes?
Will it help marketing teams rely less on costly outsourcing with features that allow them to produce more in-house without stretching their budgets?
Can it improve the accuracy and consistency of your brand collateral, reducing the risk of mistakes creeping in?
Does it give you a birds-eye view over content creation across your teams, so you know what is happening at all times?
Don't shy away from software challenges and truths
So, you've spent weeks analysing, researching and comparing, and you're sold on perfectly suited business software. Great!

However, it's often only later down the line (maybe when you've already talked it up to your team) that you discover potential problems that you may have overlooked the first time around.

While it may have several unique features that you really love, that shouldn't blind you to areas where software may be lacking. Because, when it comes time to present the software to company stakeholders and influencers, that is what they will question – and you'll need to be prepared with answers.
Although it can be tempting to oversell a solution, don't brush over the flaws. Instead, take the time to assess these and determine how you are going to respond to challenges about this. It may be that you have to make compromises, or you may identify a solution to the problem and present this at the same time.
Fundamentally, the most important part is to remain truthful at all times. Lies can quickly unravel and leave you in a difficult position to argue the merits of your software.
Top tip for software research
Most business software has free trials or live demos. Make the most of them and try to take a pragmatic view of what each has to offer…
✅ Test the tools for ease of use
✅ Get opinions from staff in different teams
✅ Quiz sales reps to be sure they understand your requirements
✅ Ask about any potential issues you identified in your initial research
How to get buy-in from key stakeholders
To strengthen your case and put forward business software that ticks all boxes, you need to get your whole company on board. That means getting buy-in from key stakeholders within different teams across the organisation. Make sure you understand their pain points and show how the solution you put forward can address them. For example:
Finding a solution for marketing teams… What are their pain points?
❌ Maintaining brand consistency across all channels
❌ Limited budgets hindering their ability to produce frequent, high-quality content
❌ An overabundance of manual, repetitive tasks
❌ Drawn-out proofing and revision time on materials, extending campaign launch times
❌ Over-reliance on agencies and external teams to produce materials
Overcoming marketing pain points with software
✅ Includes templates and predefined parameters to prevent content going off-brand
✅ Offers an easy-to-use creation suite to allow more work to be done in-house with the same studio-quality result – all in less time and for less budget
✅ Enhances automation of manual tasks to make campaigns more seamless to produce and improve work-life balances
Finding a solution for employer brand teams… What are their pain points?
❌ Maintaining consistency across all channels
❌ Ensuring both candidates and existing employees have a clear idea of their company's identity
❌ Limited resources to create both internal and external materials
❌ Inability to quickly adapt materials for local markets
❌ Minimal communication and collaboration with other teams globally
Overcoming employer brand pain points with software
✅ Allows all brand guidelines, training videos and more to be contained in one central, easy-to-access space
✅ Enables them to store and share materials, which can then be accessed by other teams worldwide or repurposed at a later date
✅ Can quickly adapt and translate collateral to meet different languages and cultural nuances
Finding a solution for retail marketing teams… What are their pain points?
❌ Inaccurate or outdated product imagery, descriptions and specifications
❌ Extended times to create, check and approve campaign assets preventing them from capitalising on opportunities
❌ Dependance on local, disparate agencies, which may compromise brand consistency
❌ Difficulty adapting content for a range of physical and digital channels
Overcoming retail marketing pain points with software
✅ Allows teams to harness the data available through existing PIM and ERP systems
✅ Enables the creation of content in-house, and can automatically adjust this for posters, digital signage, social media, and more
✅ Streamlines campaign production so they can jump on the latest trends and customer demands
How to pitch for software like a pro
Now that you're armed with everything you need to put forward an inarguable case for your chosen software – including how it will benefit your company, key stakeholders and individual teams – it's time to get final budget approval. Here are some top tips for convincing key stakeholders:
Start with the why
Begin with an attention-grabbing statement that puts forward the reasons your company is in need of a change and why your chosen software is the solution to make it happen.
Pitch with confidence
If you don't look like you believe in the software you're pitching, then it's unlikely that key stakeholders will be convinced.
If you want to seem confident, remember to…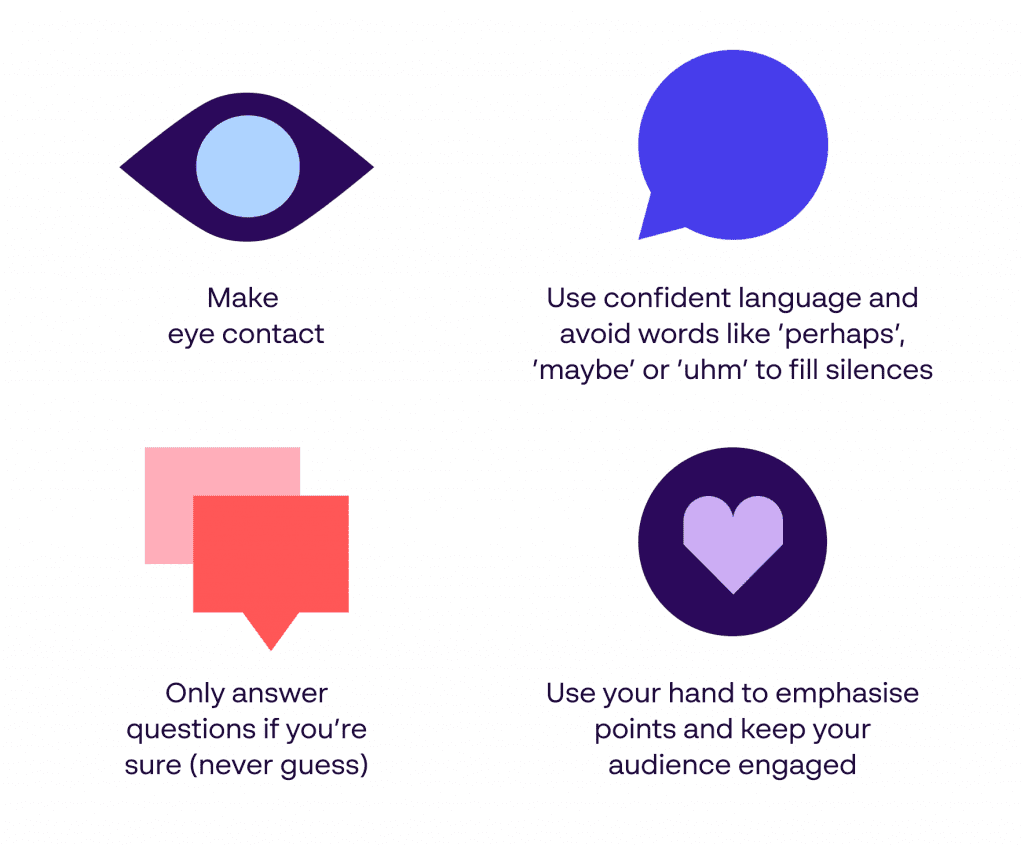 You could talk for hours about the hundreds of different features that your chosen marketing tool has to offer, but what do your audience really need to know? Stick to what you need to get across and explain how they benefit your company.

They may seem like the boring bit, but costs will be the first thing on the minds of whoever gets to sign off your budget. Make sure you have accurate cost calculations to hand and clear evidence of why your solution is a good investment.
Think ahead
Don't lose sight of the bigger picture. While it's important to hone in on the immediate benefit, key stakeholders need to know that the tool you're proposing aligns with the long-term goals of the business.
Be ready to handle objections
Don't be put off by resistance. Being prepared for difficult questions is a chance for you to instil more trust in your audience by answering feedback and criticisms in a calm and considered way.
We hope you find the software you're looking for…
There are lots of excellent solutions out there, but with the information above, you should have everything you need to pick and pitch the right one for your business. If you haven't added BAM by Papirfly™ to your list of potential software suitors, be sure to check it out and find out why it's the day-to-day tool for over 1,000,000 employees across employer branding, retail and marketing at some of the world's leading brands.
For help making sure you've left no stone unturned, and that you're ready for any questions that come your way during your pitch, chat with one of our experts. Experience a demo, where you'll be walked through BAM's full capabilities. Once we've fully understood your challenges and project goal, we'll send you a tailored proposal based on your requirements