In our hyper-connected world, standing out and making an impact amid a sea of competition is no easy feat. Whatsmore, according to data, a business has just 7 seconds to leave a positive first impression.
Luckily, there are many elements in a marketing department's toolbox that can help them approach this challenge and plant that initial seed to inspire action later down the line.
However, there is one key element at the core of any effective marketing strategy that has the ability to shape hearts, minds and perceptions – strategic brand communication.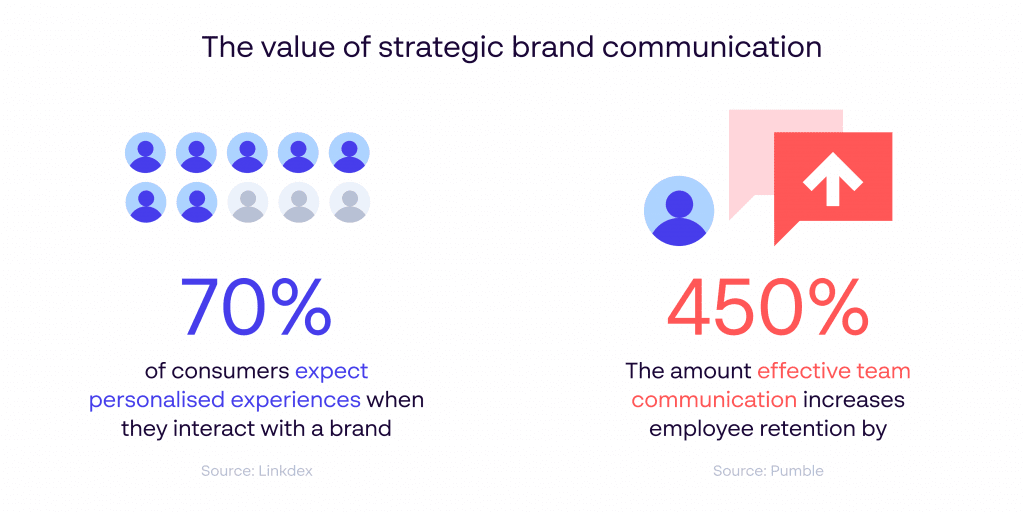 Without carefully considering who your audience is, their wants and needs, and how to connect with them, marketeers risk:
Limiting the effectiveness of their marketing efforts
Flushing away highly valuable resources
Damaging the overall brand image
How to conduct an audit of your current communications
A communication strategy shouldn't just engage employees in the office – it must also keep customers up-to-speed with the latest company developments, and protect and propagate the corporate reputation of a brand on a global stage.
For a communication strategy to realise its full potential and fulfil all of these functions, the brand's messages must have a lasting impact.
To determine the effectiveness of current communications, it is vital to conduct an internal audit. Understanding where the existing plan thrives and where it fails is a critical first step in improving the framework in place.
Ascertain the scope of existing communications
To begin, first list every single touchpoint where a brand communicates with its customers. Not only should this include the obvious examples, like social media platforms and marketing emails, but also the more discrete areas, such as YouTube descriptions and email footers.
Evaluate messaging from the past and present
Now that you know your competitors and your audience, Once the full scope has been laid out, it's now important to assess how well campaigns have performed over time. This should unlock valuable insight into the problems, platforms and people to whom the brand appeals to.
Gather insight from audiences
By surveying team members and customers, qualitative insight can be garnered that can offer a window into how a brand is truly perceived by its target audiences. This can help steer new communications towards success in the future.
Building an effective brand communication strategy
To get staff truly invested in their work and encourage repeat business, a brand communication strategy must:
Prioritise business strategy
Before any progress is made in designing a communication strategy, it is absolutely essential that those involved are familiar with the overarching brand objectives. Aligning the goals of your company with your messaging strategy is vital.
Identify target audiences
With an initial audit complete, the insight gleaned should inform who your target audiences are. Whether that's employers, new customers or shareholders, having one or multiple buyer personas in mind will inform where you communicate, and how you do it.
Craft core messaging
What kind of tone of voice is going to appeal to potential customers? What terminology will target audiences resonate with? What benefits or key points are going to feature centre stage? All of this and more must also be considered in any plan.
Consider visual representation
While core messaging is an important element in any communication, the visual element cannot be ignored. Within this plan, fonts, colour palettes and brand elements have to be considered to portray a consistent image.
Note the tools required
In order to drive results, everything set out in these plans has to be executed. To do this, tools will have to be used to support and carry out these activities. From social platforms to a dedicated brand activation solution, the raw skills of a marketing team can only go so far.
Of course, while an effective brand communication strategy framework is a crucial part of every company's image, it is just one of the many elements required to create a memorable brand.
Measuring the success of your strategy
An excellent brand communication plan can never be static. Instead, it should grow and evolve over time as customer and employee attitudes change, and the organisation matures.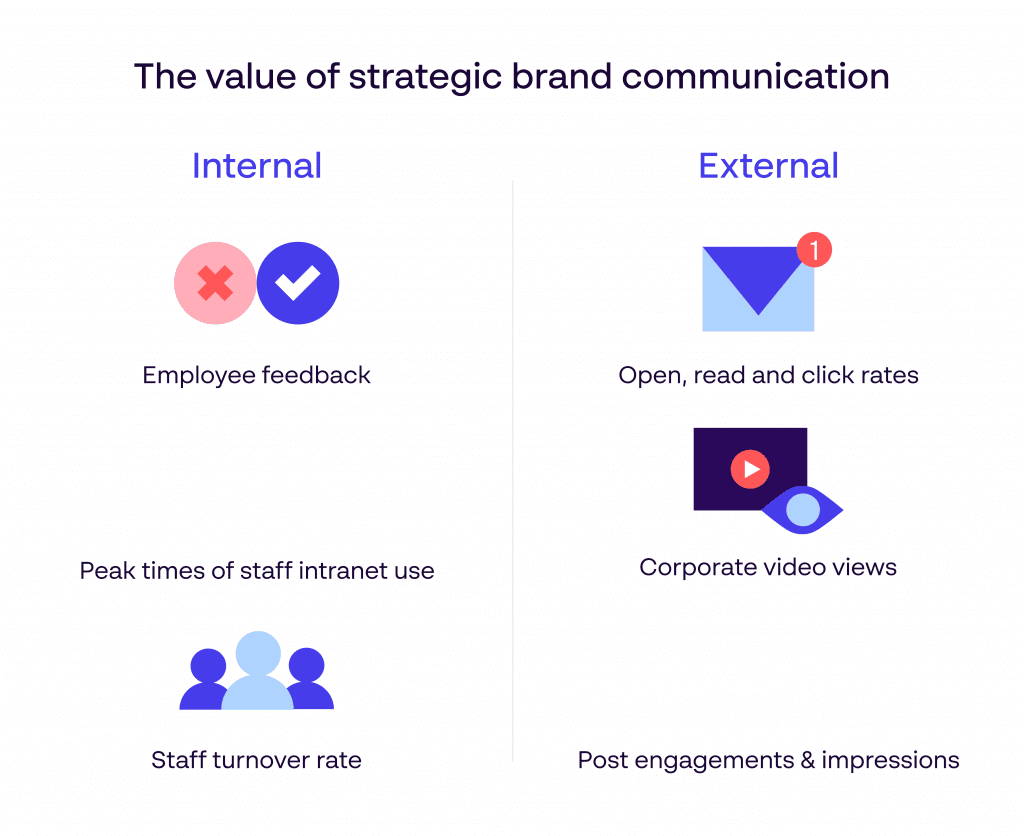 Ultimately, your analysis should aim to regularly answer the following questions:
How successful are existing campaigns at achieving their goals?
How much conversation is there about the business?
Who is talking about the organisation?
What is the sentiment surrounding the brand?
The benefits of a well-planned brand communication strategy
With an audit completed, a strategy outlined and an ongoing measuring and monitoring process established, brands will be well on their way to creating an appealing brand that:
Enhances brand authority
Leveraging the power of a well-planned brand communication strategy allows organisations to assert themselves as a thought leader in their market. According to 65% of buyers, this can help change peoples' perception of a business for the better.
Stands out in a saturated space
An effective brand communication strategy that aligns with the values of its workers can aid recruitment. This is because 70% of employees who click with corporate values are more likely to recommend their place of work.
Boosts brand loyalty
By honing and refining the brand communication strategy, enterprises can build a rapport with key stakeholders. This can benefit a company's bottom line, as 94% of shoppers remain loyal to enterprises that are transparent.
Corporate communication is a vast topic, and we're only scratching the surface in this article. To get a full overview and learn how else it can benefit organisations, read our article.
Execute your communication strategy with ease through BAM
Crafting a message that can deliver results is no easy feat. It takes both the guidance of a winning communication strategy as well as a team of marketing professionals to produce, coordinate and publish content.
But what happens when the overarching communication plan fails to deliver the kind of returns expected? Do you put projects on hold to allow time to refocus the strategy? Hire new talent to free up capacity for strategic thinking? Or simply push ahead and make changes to collateral mid-campaign?

The answer? None of the above – instead, employ the use of a Brand Activation Management solution, like BAM by Papirfly™. As well as lowering the buy-in of content production, our all-in-one platform leverages the power of creative automation to allow teams to deliver more, faster, leaving you extra time to sharpen your brand strategy.
Create on-style social assets, videos, posters and more with absolute confidence using intelligent templates; no design expertise required.
Save and share visuals in a centralised hub and allows teams across the business the ability to find and access the resources they need in a heartbeat.
Easily organise and coordinate marketing collateral, project briefs and campaign timelines using our intuitive campaign planner.
Enter a new era of consistency and share your brand guidelines, EVP and other essential documents with marketing teams around the world in a few clicks.
If you want to learn more about BAM and how our highly capable brand portal can help give your team the freedom to refine your brand communication strategy, get in touch with our team today, or book a live demo.
Table of contents:
Building an effective brand communication strategy
The best way
to manage your brand.
See it in action.
Boosting revenues
Doing more for less
Activating brands on a global scale