Establishing brand recognition is essential if you want to build your brand successfully. When you're going to market, you should also know that it takes 5-7 impressions before people remember your brand. This means that keeping your brand consistent, so that it looks and sounds the same every time, is highly important to attract customers. Without this consistency, customers may not give you as much as 7 opportunities before dismissing you completely.
We know achieving this consistency is easier said than done, but it is possible – with the right structure, system and the technology at hand, brand recognition is within reach. Graphic design templates make it far easier to create and publish marketing material, and keep your brand looking the same every time.
Accomplish brand consistency, establish brand recognition

Achieving brand recognition takes time and effort. You have the recipe, and you know the drill, but at the end of the day, how your brand is presented is often out of your control. Sometimes colleagues will create material that breaks with your brand identity guidelines – or worse, they use old collateral. Sound familiar?
With design templates, this will no longer be an issue. This tool allows you to streamline design tasks and increase operational efficiency without risking a broken brand.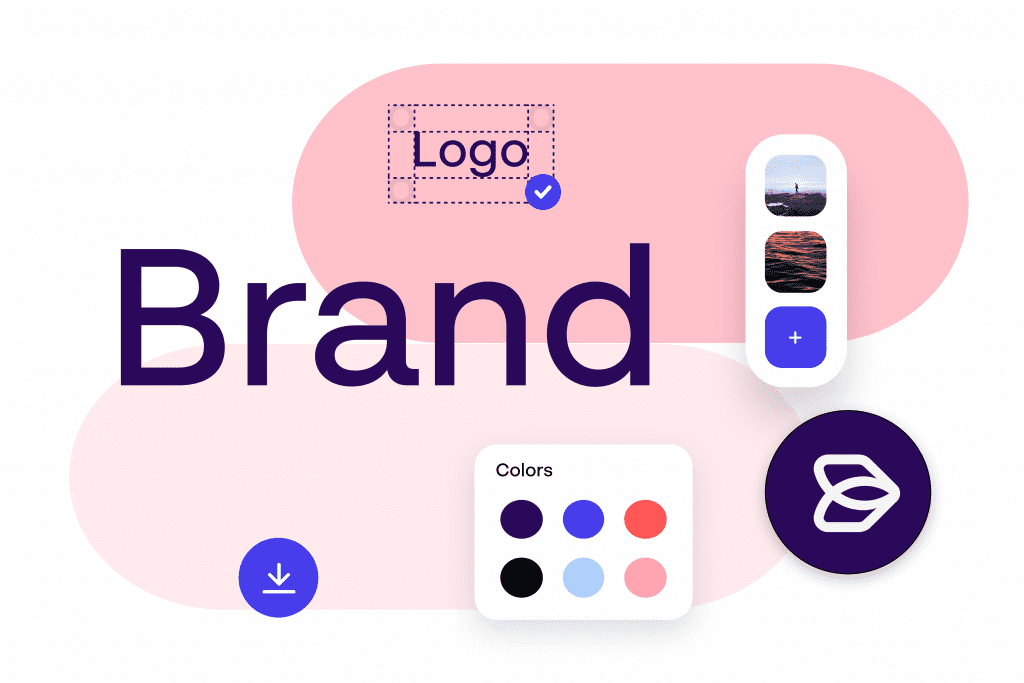 The power of online design templates
Graphic design templates are a powerful and lifesaving tool for marketers and brands everywhere. They allow you to automate the production of brand assets and marketing material, enabling anyone to create what they need, when they need it, with no special skills required.
Some amazing capabilities of online design templates:
Accessible online at any time:
When time is of the essence, keeping the templates always available is key. Log on, choose the desired template, and create a brand asset in an instant.
Self-serviced:
Usually, when it comes to creating brand and marketing assets, you either need a designer or designer skills. Not to mention the knowledge and capability to use design software. With self-serviced design templates, this is no longer a problem. Anyone can be a designer with this online editor, and you don't have to worry about brand disruption. The templates have your brand identity covered.
Smart and flexible
Unlike Office templates or Adobe Indesign templates that can be altered by the users even though it is a "template", graphic design templates are smart. The technology lets you pre-define what can and can't be changed, giving you total control of your brand output. Every object and item has rules that narrow the design and creation options, you decide the level of flexibility.
Why building brand recognition is essential
59% of consumers prefer to buy from brands they trust, and 21% say they purchase new products because it was from a brand they like. In other words, branding and your company's ability to profit are connected. And this reason alone makes it clear why brand recognition is essential for success.
Consider also that the ability to build brand recognition is a key driver for establishing brand loyalty, which again leads to trust and brand equity. To put it another way, the better known your brand is, the more likely it is that customers will choose your brand. When your customers then realise that your brand is what it claims to be, they'll become loyal and start spreading the word.
If you are now thinking to yourself: "I know all this, but it's impossible to practise in real-life, there are too many things getting in the way of my branding strategy and long-term tasks." We understand. That's why you need graphic design templates.
Key benefits of graphic design templates
With design template technology at hand, your branding processes will become a whole lot easier and you'll be on your way to build brand recognition better than ever.
Your brand will always be up to date
By transforming your designs to online templates, keeping your brand updated is easy. Any change or alteration you make is done within the template and your users will always have access to the latest version. No more old and outdated brand assets.
Your brand assets are always available
Part of the challenge with brand inconsistency is when colleagues either create their own assets or use outdated files. By keeping your assets available online 24/7 and easily accessible, you eliminate this problem once and for all.
Your brand assets become self-serviced
Another part of the inconsistency challenge is the need to adapt to local needs. Today, with the large range of platforms, channels, and market needs, this is more important than ever. Adapting your assets is key to staying relevant in the market. Using online graphic templates, your colleagues and stakeholders will have instant access to the assets they need, and can modify them to fit their needs in a few simple steps.
Self-serviced templates streamline branding processes
Speed is of the essence in today's digital marketing space. You need to be prepared for fast changes and updates, and you need to be able to deliver swiftly. Without technology and tools at hand, this is almost impossible. By allowing colleagues and stakeholders to create their own brand assets based on branded templates, you won't risk putting off-brand content in circulation, and they can have their assets created in no time. It's efficient and seamless.
Graphic design templates secure brand consistency
Another important factor in today's fast-moving market space is that consumers are using a whole range of channels and platforms. This makes your market presence more complicated, but your customers also expect a consistent brand presentation across all channels. By having online templates for all the relevant platforms prepared and ready for use, it becomes far easier to have a quick turnaround time and be where your customers are.
Build brand recognition with BAM by Papirfly™
Our Template Studio comes as part of our Brand Activation Management platform – or BAM for short. Providing every person across your organisation with the tools to create studio-quality on-brand assets, with Template Studio you empower your people with the opportunity to champion your brand – and gives your marketing team more time to focus efforts on core strategic goals.
Whatever the needs of your business, with BAM by Papirfly™ there is a better way.