Tired of colleagues who don't follow the brand guidelines and do their own thing? Or perhaps you're always stressed because you're lacking resources and enough hours to do your marketing responsibilities properly? The feeling of constantly being behind, missing important deadlines, is not pleasant and stress doesn't tend to result in quality either.
It's time to take control and become a marketing superstar! You need a brand platform.
Applying a consistent brand is hard
How do you distribute and enforce brand rules? PDF's and emails or intranet? Do you know if your colleagues find it easy to find and use brand collateral or even understand your brand guidelines?
There are surprisingly many questions that come to the surface when we start looking at brand identity guidelines and how employees adopt them. In fact, 15% still lack guidelines and 31% indicate that their guidelines are followed selectively.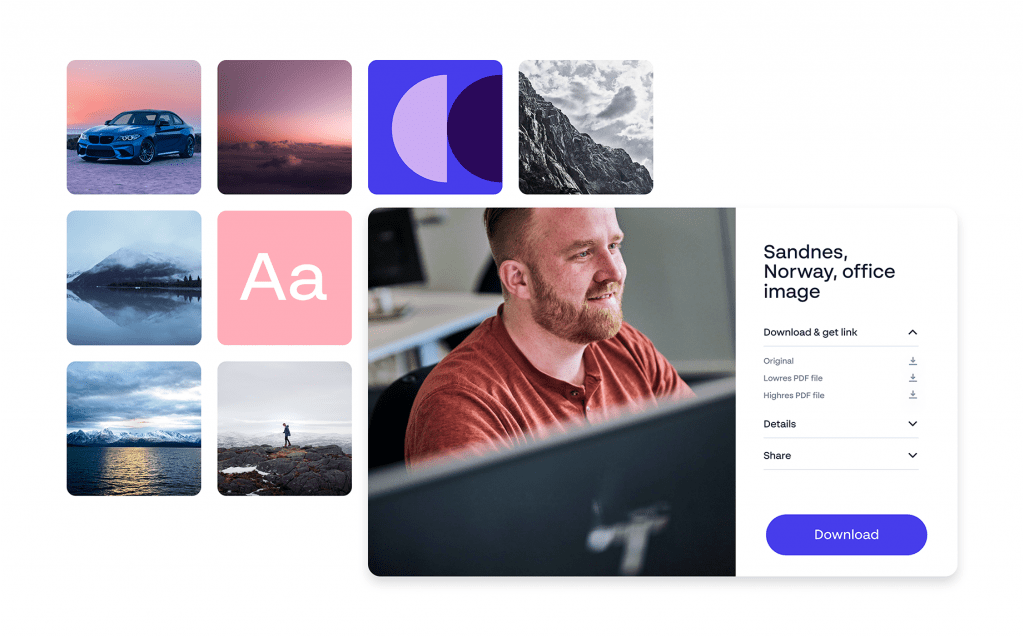 There's not a single marketer who would disagree with the importance of brand consistency. But the journey of getting there is proven to be bumpy and lengthy, in the mentioned report it is found that the creation of off-brand content has only dropped 4% in two years, a staggering 77% still see off-brand content in circulation. In other words, we understand the importance of consistency, but we are incapable of achieving it.
A typical challenge related to off-brand content is the marketing team's ability to deliver on demand. Ad hoc tasks and support requests tend to drain resources and it gets hard for the team to deliver as expected. Instead, colleagues do their own thing, off-brand of course… Another factor that's related to off-brand creations is the usability and availability of the brand guidelines. Where can one locate the guidelines? How can one apply the rules to the actual assets being made? And where are the assets stored?
Also read: You know you need a brand management system when…
A brand platform unifies your brand
A brand platform digitizes your brand management. Driven by powerful CMS technology you'll be able to create stunning online brand identity guidelines that perfectly matches your brand image. Like creating a website, you'll collect and structure your brand guidelines as you see fit and create a logical online brand platform that your employees and stakeholders can easily use.
No more looking for the last PDF version of your guidelines. Just like your company website, your brand platform will have its own unique URL that every employee can access, 365 days a year.
With an online brand platform, managing and developing your brand is easy. Regardless of changes or updates, everything happens in real time. The risks of colleagues using outdated marketing collateral is eliminated and you can rest assured your brand looks the same everywhere.
Also read: Surely, you have a brand portal
A brand platform simplifies brand development
Just like brand consistency is important, so is growing and nurturing your brand. The market changes, consumers change and technology advances. A good example of this can be taken from the Covid pandemic. Many marketers learned then how important it was to swiftly adapt to changing consumer behaviour to stay in the game. Without proper technology at hand, the ability to adapt consequently has an impact on your branding initiatives and you risk falling behind your competitors.
A proper brand platform allows you to expand and grow your platform to quickly adapt to unexpected changes. Whether you need to update and inform, create and add new brand assets, or update templates, you can do it quickly and easily, without breaking with the guidelines. A proper system will also allow you do integrate with other necessary marketing tools such as video creators or banner creators to name a few. Simply put, a proper brand platform enables brand development on demand.
Also read: This is how Brand HUB streamlines your day
Benefits of a brand platform
Hopefully by now you've realized that investing in a brand platform should be your next step. But we know that you perhaps need to convince management or other colleagues that this is the way to go.
Also read: Why you need to invest in brand management
We advise you to do a thorough map up of your challenges and needs before you choose your desired system, in the meantime have the following benefits in mind as you complete your analysis.
Managing your brand strategy is straightforward:
A brand platform brings your strategy to life, organizing your brand to secure quality and consistency across all channels.
Protecting your brand identity is easy:
Protecting your most valuable asset is crucial, and with a brand platform this is a done deal. Everything is neatly stored and organized to simplify brand asset management.
Your brand becomes practical:
When it comes to brand guidelines, the more user-friendly your brand is, the more likely it is that everyone will use your brand as intended. With a brand platform, you'll link the rules and the actual brand assets together. Users don't have to think; just act and your brand identity remains intact. This is brand asset management at its best.
Streamline your branding processes and operational efficiency:
When time is of the essence and you are looking to avoid being a bottleneck and frustrate your colleagues, a brand platform saves your day. A proper platform enables self-service, allowing anyone to create their own marketing collateral, quickly and on-brand.
Also read: How to choose a branding system
Take the step and invest
To summarize, a brand platform enables seamless brand asset management, creating a home for your brand. This is the platform that allows you to focus on the big picture while resting assured that your brand looks the same everywhere. And remember, when you master your brand, your business will grow.
Want to dig into more details on how a brand platform can benefit your brand, download our free whitepaper