The world of retail marketing is fast paced and ever-changing. Whether it's at the store or head office level, marketers in this industry often deal with very limited time constraints, constant adaptation to trends and increased pressure on resources. In order to introduce more effective ways to manage campaigns for retail marketing, we must first understand exactly what it is…
What is retail marketing?
Retail marketing is the tactics and strategy of promoting your business and products to consumers.
The traditional retail marketing definition – a product, at a price, being promoted and then sold from a place of business – has given way to a more consumer-focused model. And the retail marketing strategy has changed to keep pace.
Now technology sees an ever-evolving shift in what products are made available and how they're sold, delivered and promoted. In-store marketing has become more inclusive. And retail brand marketing has developed into a dominant force.
But how do you develop a brand? And get that to market in as crowded a space as retail? Here we look at retail marketing objectives and strategy in more detail.
Why retail marketing is important
Why is retail marketing important? Because quite simply, people want products. Your role as a retail marketer is to get your products to your audience, and how you market them goes a long way to achieving that aim.
You're not waiting for the consumer to find you. You're bringing the product to the consumer. And in an increasingly competitive landscape where consumers are spoilt for choice over virtually every product – if you're not marketing your products effectively, they will find alternatives.
But there are other reasons why retail marketing is valuable for your brand beyond the long-established cycle of buying and selling:
1. It helps you connect with consumers and close the sale
Consumers tend to need multiple touchpoints with a brand, and a decent understanding of the value the product brings to them as an individual before making a purchase. Retail marketing allows you to speak to consumers on a variety of levels, at different stages of the buying cycle. The awareness, education and decision stages can all be directly influenced by campaigns at different touchpoints.
2. It helps categorise products for the consumer
Marketing, like Point of Sale and digital signage, help purchasers find and buy what they need. A customer may not even know what comprises the entire range of products and accessories relating to their needs. Often they're looking for a solution, sometimes, to see if one exists at all. Categorising products helps satisfy the problem-solution issue, and delivers the options of the right product in an easy way for consumers.
3. Provides a service to the customer
As mentioned earlier, people today can choose from a variety of places to find the goods they're looking for. Part of what makes retail marketing important is how it presents convenient information and incentives to consumers as to why they should choose you and your products.
4. It improves the standard of living
By making a variety of goods and service available to the people at a reasonable price it improves the standard of living.
Beyond the important part retail marketing plays for individual retailers, it also plays a valuable socio-economic role. From the employment opportunities available to retail marketing managers and similar positions, to the impact the retail industry as a whole has on a country's GDP, retail and therefore retail marketing is a powerful force in today's world. That's why there are university degrees in retail marketing.
Retail marketing creates a constant flow of information between the market, consumers and manufacturers. Each helps encourage the other to produce higher quality and better fitting products and services.
What is a retail marketing strategy?
Traditionally, the core of a retail marketing strategy started with the four Ps. These aspects created the foundation for your future retail marketing efforts and put a heavy focus on your products and your organisation as a whole.
The four Ps

Product:
What is the product you want to sell? The two main types are soft goods (fashion, paper products, etc.) and hard goods (household items, tools, electronics, etc.)
Price:
Pricing is key to any retail strategy. You need to cover the cost of the goods, and weigh these against your potential overheads, such as staff and shop rental. Developing a pricing strategy for your products price will typically involve discount offers and competitor analysis.
Place:
Where will you sell the product? You could operate through a distributor, online or in a catalogue. When deciding this, first understand where your customers will feel most comfortable purchasing from.
Promotion:
This is where you define how you will market your product. Technology has opened up countless new opportunities to promote a product, so it's essential to understand your objectives and choose the right mix of channels.
That was the traditional approach. However, as time has passed, retail strategy has evolved beyond the four Ps into the four Cs. Where the Four Ps centred around the product and how to get it to market, the four Cs approach instead concentrates on the consumer.
The four Cs

Consumer (Product):
Whereas once the focus was on the product, the focus changed to the needs of consumers. Manufacturers would ask what products do people need? They built products around consumer needs.
Cost (Price):
The basics of cost are the same as in the Four Ps in that you need to cover the costs involved in bringing your product to market. But now you need to consider the customer's perceived value of what they're buying matches their expectations. Cost also considers how much it will cost them to switch to a competitor.
Convenience (Place):
The internet has changed what convenience means forever. You can buy online and have something delivered the same day or pick it up from a nearby store at a time that works for you. But you need to be offering your customers options that suit them.
Communication (Promotion):
Instead of one-way advertising – 'here's our product. Buy it because it's great…' – promotion becomes about having conversations with your customers and building loyalty to your brand. Customer conversations can inform brand and product development and are crucial for a long-term retail marketing strategy.
Overall, developing a well-orchestrated retail marketing plan helps provide a greater return on investment, while attracting more potential customers.
But once you have this strategy, it is vital that it evolves over time in response to the economy, new products and innovations, consumer trends and more. Many of the most enduring and celebrated global brands survived by adapting their strategies and branding over time, be it a change of slogan or logo on their various offerings to customers.
Next-day delivery becomes same-day delivery. Partnerships are created to expand existing sales channels. Your retail marketing strategy must be malleable and capable of adjusting to new behaviours, patterns and developments in order to achieve long-term success.
What are the types of retail marketing?
An extensive range of marketing channels for retailers is available to be utilised, each presenting different advantages in line with your goals. Each should be considered in relation to your means and your overarching retail marketing strategy, particularly when it comes to where your target markets are most likely to see and engage with it.
Here are some of the most common types of retail marketing:
Online and digital marketing
The mix of online marketing tactics includes everything from optimising your site for search engines (SEO), automated abandoned basket emails and utilising social media with organic posts and paid adverts to pay-per-click adverts, affiliates and content marketing.
Direct marketing
Any marketing that is designed to elicit a direct response. This is usually a sale but could be a showroom visit or a request for more information. Direct Marketing includes letters through the post, flyers and email newsletters too. Television 'infomercials' are even considered a form of direct response marketing.
Point of sale
In-store promotions such as posters, shelf talkers or samples are known as point of sale. You are grabbing the consumer's interest at the point of sale.
Public relations
PR relates to managing the perception of your brand, and making positive associations and stories to your company. Digital and traditional PR work to 'spin' stories that put your brand in a position of authority, maintain relationships with small and large media outlets and provide expert comment on your industry.
Experiential marketing
If you want to promote your product or brand give consumers a taste of what it's like in the real world. Samples and test drives are a good example of this, but some marketers have gone to incredible lengths to promote a product. Remember Red Bull's record-breaking skydive from the edge of space?
Limited-time discounts
Discounts are a common tactic to get shoppers to buy. They're also a good way to clear stock. Add a time limit to increase the sense of urgency and the fear of missing out.
Catalogues
A catalogue is great for allowing people to browse in their own time. Not only can you present products in an idyllic real-life situation, if they leave your store without buying, just hand them a catalogue on the way out. It maintains that connection, for when they are ready to buy and showcases your entire range.
Word of mouth
Word of mouth is one of the most powerful marketing tools. A good recommendation often leads to a sale, or at the very least a highly qualified lead. As well as great products, deliver great customer service and a strong brand. It will help people spread the word.
Some companies formalise the word of mouth strategy with a referral scheme known as refer-a-friend. These deliver rewards for both referrer and referee.
TV and radio advertising
The more traditional channels of television and radio advertising are still useful in an overall marketing mix. Television adverts are often mirrored online through sites such as YouTube, while some companies choose to create 'television' adverts purely for YouTube alone.
Television sponsorships are frequently used too.
Partnerships
These are a good way of reaching another potential audience and might take the form of a promotional flyer that another company inserts into its current orders when they are sent out. Or a fast-food chain might partner with a cab company to provide a door-to-door delivery service.
We've looked at some tactics and below are the most common outlets for your retail marketing strategy:
Department stores – these offer high levels of customer service alongside a wide range of products and possibly a shop-in-shop model, where other brands sit within the same area of the department store.
Prices typically vary over time, and discount sales are common. In these environments, a customer has the convenience of many products in one place.
Supermarkets – once the main outlet for food, drink and groceries, the supermarket has diversified into banking, insurance and homewares.
In a competitive industry, supermarkets have huge buying power and will sell at low prices, in exchange for volume.
Warehouse retailers – usually in a no-frills environment, warehouse retailers keep overheads down and can sell a wide range of goods at competitive prices.
Speciality retailers – here expert knowledge is backed up with premium prices. Speciality products are added as part of an added value experience.
Ecommerce retailers – also known as etailers. Products are sold online via a website. These are highly convenient and can pass overhead savings, for example not having a brick-and-mortar store, onto customers. Most can ship products anywhere in the world.
Convenience retailers – smaller localised stores, often found in residential areas. These offer a smaller range of products, but at higher prices due to the nature of convenience.
Discount retailers – a variety of discounted products with low prices. Discounter retailers buy less fashionable and overstocked branded products from a range of suppliers and resell at discounted prices.
All or just some will fit your strategy, depending on where your customer is.
How to develop your retail marketing plan
Now we've established the basics and importance of retail marketing. To get your brand, products and services out there, it is important to consider the steps to develop an effective, feasible and unique strategy to achieve this.
Below we've incorporated some aspects of retail marketing best practice to consider when constructing your plan.
Develop your brand
Create your brand story and qualities
Align this with your business objectives
Develop the assets needed to communicate your brand
Define your position
Examine what your competitors are doing
Assess your place in the market – where do your products fit in the landscape?
Use customer surveys for feedback
Identify your target market
What are the demographics of your customers?
Where and how do they prefer to shop?
What needs and wants do they have that you can resolve?
The benefits of your product
Determine the USPs of your product against the needs of your customers
Develop your messaging around these key advantages your products offer
Detail your tactics
How will you promote your product?
Which retail marketing channels will you use?
Will you use advertising?
Build a schedule
Create a budget for your retail marketing campaigns
Plan out when the various aspects of your campaign will be delivered, and through which channels
Alongside these best practices, you might also want to consider these other features of effective retail marketing strategies:
Begin with a story

Every great marketing campaign begins and ends with a story.
It's a hook designed to grab the audience and pull them in and ideally connect with a very personal emotion. When building your story focus on an individual who looks and fits into the organisation's key demographic.
Highlight the problem, and show how your product can fix it. The stories do not need to be complex, but are there to showcase the unique advantages of your products and your brand's distinct personality.
Understand the marketing channels available to you

There are dozens of marketing channels, ranging from social media and internet paid advertising to blogging, TV spots, internet video and word of mouth. You shouldn't be hasty in determining which one is best suited for your ambitions.
You need to understand the particular channel before using it. The better you understand a marketing method, the stronger you become in this particular ecosystem as you learn how to best utilise the benefits offered by the marketing method.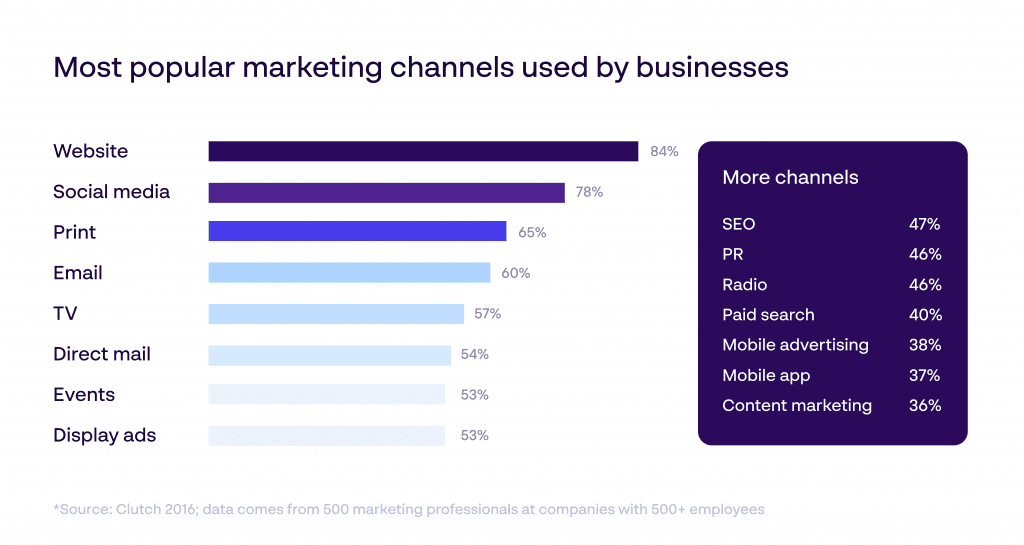 You may decide to go with a specialist advertising firm to assist with this, or you may bring in a professional who knows the ins and outs. Either way, you need to understand the channels you'll be working with ahead of time.
Unite your messaging

When you advertise across multiple marketing channels and in numerous locations, it's crucial to have a strong unifying message. Your messaging needs to be consistent down to the individual product level.
How you position your products across all your marketing channels needs to be consistent with regards to pricing, brand logos, technical specifications, as well as additional text and images.
In this connected world, customers will find you out fast if you can't keep consistent.
Let branding do the selling too

It's best to focus on branding, and connecting customers with the brand, as well as selling the product. By telling a good brand story too, you'll be in a stronger position and you'll get more engaged and loyal customers in the long term.
How to build a retail brand
Brand value increases exposure and goodwill toward your company. As your brand value grows, your business becomes a more valuable commodity, as more people recognise who your company is and what you stand for.
The value of your brand, also referred to in some cases as brand equity, is generally identified as the amount of money the business makes when compared to a similar product with a generic brand. In other words, how much more (or less) money does your company make due to its branding.
What is retail brand activation?
Brand activation is the process of making a brand a popular, trusted household name. It's crucial in developing a positive connection between your brand and your audiences. First impressions count.
You may find product samples in stores, pop-up shops in high streets or more complex experiential events. It's as much about an emotional engagement with consumers as it is putting a new product or brand in the hands of potential buyers.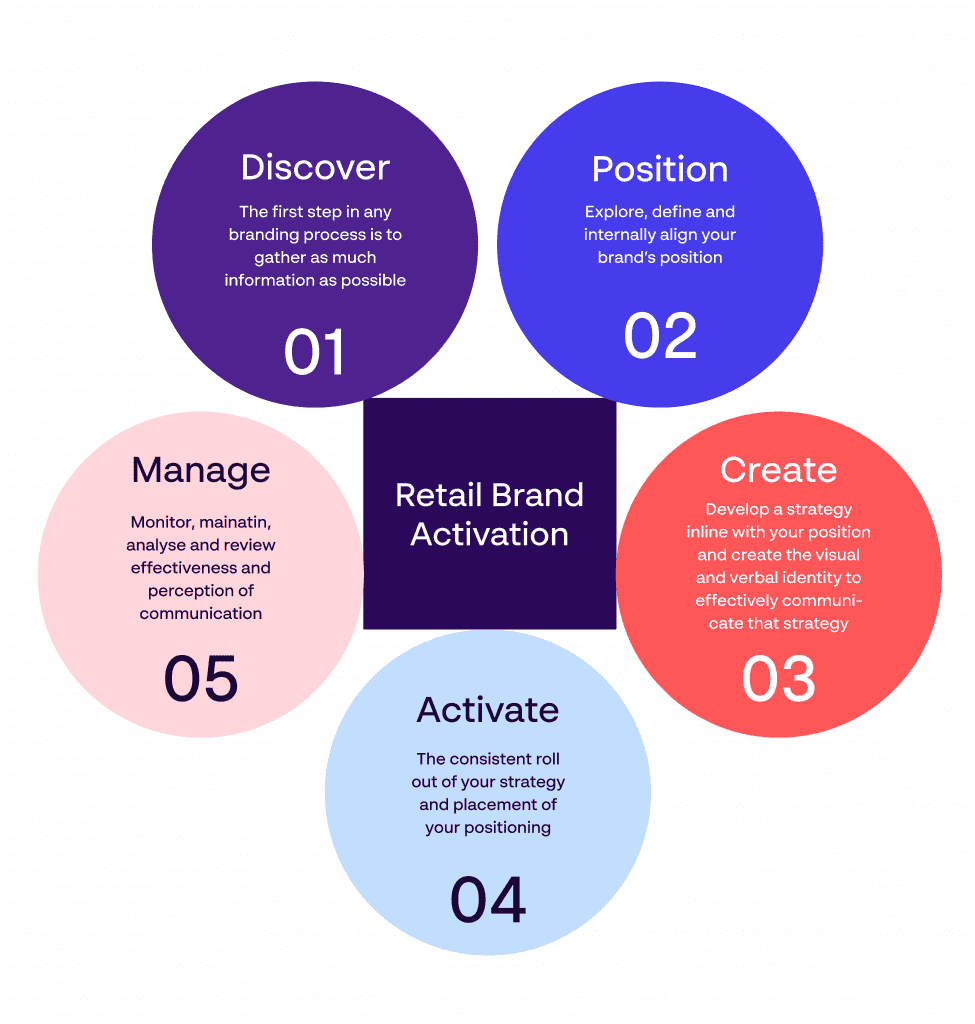 Here you'll showcase the core features that make you stand out from the competitors. You're creating your brand positioning. Doing this effectively and consistently results in greater customer loyalty, as long as their values match your own.
Also consider:
Marketing and creative that engages with an audience on an emotional level. Get them to believe in your brand.
Timing – engage your customers at a time that's right time for them.
Achieving brand consistency
In everything you do, your brand identity should remain consistent throughout the entire company. However, building brand consistency can prove difficult, especially for new companies searching for an audience. Here are several ways brand consistency can be realised as part of your retail strategy.
Create a brand guide
Every brand needs to have a clear voice and identity. It's what the company stands for and what gives it personality. However, unless you have this clearly defined and established, your company will lack brand consistency. This is why creating a brand guide is necessary.
The brand guide should outline what personality the brand has, the brand's identity and what sort of character your brand has. All of these traits should receive a clear identification as soon as possible. This way, you can determine your brand's voice, which will guide a lot of your retail marketing efforts. Generally, your brand guide will fall in line with your key demographic, yet customised for your unique values and objectives.
Once you have created a brand guide, use it for every bit of marketing material, social media post and in-store display. Ask yourself if it fits into the brand guide. If it does, good. This helps build brand consistency. If it doesn't, adapt the material until it does.
Evolve with the times
It might sound counterintuitive, but your brand needs to evolve. This doesn't mean dropping all your products and completely changing the services you offer. Instead, evolving your brand identity simply means keeping your company vibrant and current.
Companies evolve their brand identity all the time.
If you look at the history of the Lego logo as one example you'll find 13 versions since the company began in 1932.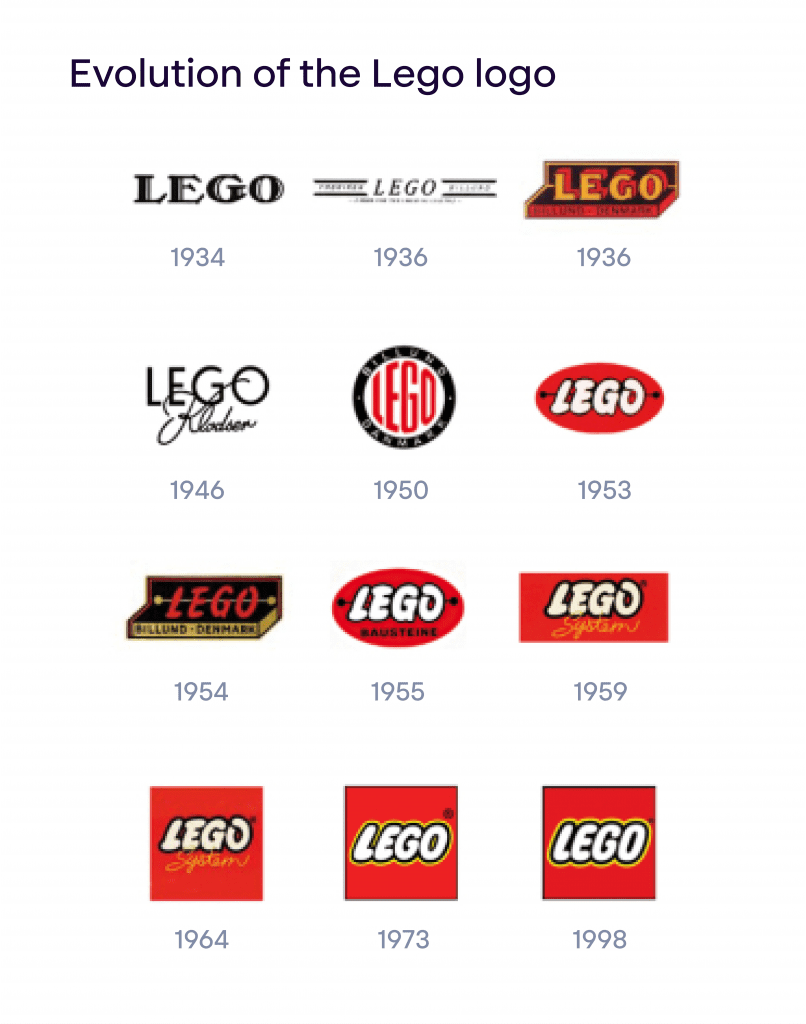 And Lego is certainly not the only brand to reinvent itself – Apple, Burberry and Stella Artois among others have all reinvented their brand. There are many examples and the reasons behind it vary from facing bankruptcy to wanting to appeal to a new generation of consumers.
By constantly revisiting the brand guide and refreshing it when necessary, it is possible to not only stay current, but it allows your business to continue to stand out in your industry. Just make sure everything you produce and all marketing material is consistent with your brand identity.
When you establish a clear brand identity, it allows you to build brand consistency and use this to inform any retail marketing campaign.
Use social media to build a retail brand
Social media has become a powerful way of communicating all elements of a brand to today's consumers:
The best retail marketing ideas should incorporate a mix of social media techniques:
Don't stick to a single channel
Customers use more than one channel. You should too.
Use social to support existing campaigns
As well as the obvious advantages of reaching out to new audiences, using social to support existing campaigns will help create a seamless brand experience for your customers.
Use social media for feedback
Social media channels offer great opportunities for gathering feedback about products and testing new ideas.
It's a great customer service tool
Some customers will only use social media to contact your business. Develop the customer service side of it, to ensure their experience is as good through social as it would be if they phoned.
Get customers to share
A huge advantage of social is the ease with which customers can share their positive experiences. A photo for example, of them happily using a new product. Use them as your advocates.
Listen for trends
Social media channels are where people chat. Look for trends in your market, or about the products you are selling. It's also a great opportunity to hear what customers are saying about your business.
Use social shopping
People can now buy directly through social media. Make sure you're on board with this to maximise your business's sales potential.
Retargeting
If someone comes into your shop or visits your site but doesn't purchase, it's possible to retarget them through their social media pages. Like social shopping, it's all part of the marketing mix.
What does brand equity mean in retail?
The principle here is that well-established brands, those with a good reputation, are more successful.
Brand equity is important. It affects both the user experience and your potential customers' confidence over making a purchase from your company.
Retail brand value
Brand value allows a business to charge more for the brand name, and it generates more interest as consumers want to be part of your brand. As your own customer brand equity grows, so too does your ability to increase profits over the competition.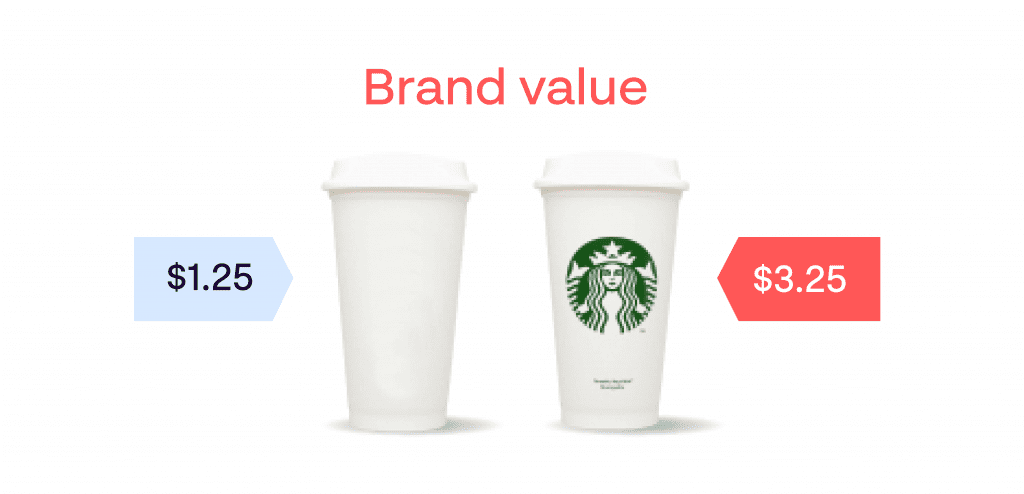 However, as a company, you must first identify and agree upon a way to define your own brand value, in addition to how to measure growth.
Define your brand values
Do not confuse brand value with brand values. The values of your brand are what your company stands for.
It is important to have clear brand values established ahead of time. This way, you can define your retail brand's value while maintaining core values. Core values are often a prime motivation for customers to engage with your organisation. They like that you provided quality products at affordable prices, or that you donate a portion of proceeds to a local charity, or that everything is made with locally sourced materials.
As brand value grows, and you shift your core values, it will affect brand equity. Increasing the prices of your products, as an example, may negatively impact the way customers saw you as an affordable option.
Brand valuation methods
Your business needs to determine not only how to define brand value for the company itself, but also how to measure it.
The income approach brand valuation, also known as in-use approach brand valuation, looks at predicted future net earnings and connects it to the brand in order to establish a retail brand value.
In other words, it forecasts future sales. You'll also have your forecast to use as a measuring tool.
Market-based brand valuation occurs when you compare your brand against others on the marketplace. You would be looking at, for example, transactions, prices for similar products and client growth.
You then measure brand value in comparison to the competition.
Cost-based brand valuation looks at the costs your business has accumulated since it started. It looks at how much it would cost to replace the brand.
You'd be aiming to have revenue greater than the cost of creating the brand.
More retail marketing tips
Have a local appeal – customers want to feel special, and that their unique needs and pain points are being met by your brand and its products. Even if you don't have a physical store location, you should still be making efforts to localise your marketing to connect on a deeper level with consumers. Employ location-based marketing techniques, such as targeted adverts and discount codes for users in select areas, to drive traffic directly in your local markets.
Create a unique in-store experience – more and more people shop online for its convenience, but nothing beats a friendly face when they come into your store. Get inventive with your retail marketing efforts here, as customers are only a few steps away from a sale. Experiential marketing can be particularly effective, whether it's sampling sessions or free trials of products, it can greatly enhance their experience and how they view your brand.
Retarget online customers – customers who don't purchase can be retargeted through advertising and social media
Use online data for agile retail marketing – When your customers shop with you, you build up a profile of information, such as their personal details, buying habits and browsing history. As you amass more insight, your digital marketing and website messaging can be tailored to create a more personalised experience for individual consumers.
How to do retail marketing well – your template
Effective retail marketing requires a good amount of initial research. That would include data that helps you understand the market for your product, including a SWOT analysis, a competitor analysis, understanding the demographics of your audience and where they are buying. Are there any trends? Are there areas where other companies have been successful or failed? The more you have at this stage, the more you have to work with.

Based on the data you've acquired, you should have a good idea as to what sort of product or service to highlight in your upcoming marketing campaign. You'll also uncover other attributes including key demographics and what marketing channels generate the highest return among these audiences.
With a wealth of information provided off the back of your analytical data, you have a strong foundation to produce a functional, successful retail marketing plan.
You just need to generate a template for documenting what works, what doesn't and how you can evolve the plan over time. Here are a few suggestions on creating that marketing plan template:
Target customers – consumer profiling
There's a good chance your company has a few different key demographic consumers. Or, you may be interested in attracting a new demographic to the company.
Identify the target customers. Create a customer profile, regarding their age, income level, gender, character traits, interests and everything else you might need to put a real face behind the target customer profile. This step should be an essential part of each of your marketing plans, always placing the consumer, their characteristics and their needs at the heart of everything moving forward.
USP
Your unique selling proposition helps separate your business from the competition. Basically, it's what special feature your brand delivers that nobody else does. Are you the fastest? Are you first? Whatever it is, say it loud and say it often.
Many companies fall short here, placing their focus on generic benefits over something that genuinely makes their business unique.
Expenses and projections
Where possible make projections for expenses and don't lose sight of costs. Your budget may be the most crucial part of any retail marketing plan. It will inform where and how you advertise.
Measure success
An often overlooked part of any retail marketing plan is taking time to reflect on the areas that did work, and what fell short of expectations. Testing and refining are crucial in finding the successful formula, so ensure during and after each campaign, you devote time to analysing where improvements can be made.
In addition, define what success means for your company at the start of the process and build milestones throughout to keep you on track. This presents a benchmark for your marketing efforts, so you're aware if changes are required to achieve the goals you have set out to accomplish.
Great retail marketing ideas for retail stores
In-store events, such as book signings or book clubs, can be promoted through social media and email.
Leveraging employees to share information about the store through their own social media channels.
Taking advantage of channels like Instagram Stories, which allow you to show off certain aspects of your store in an informal manner.
Price discounts are a fast way to increase sales and get people through the door. Most customers these days expect some kind of sale.
Get their attention by creating a brilliant window display. Use it to promote your sale.
Many high-street stores promote loyalty programs. It creates returning customers, but in some cases retailers can even maintain a higher price on their products as customers return to spend their loyalty points.
Stock products made locally. It's a great selling point and you can align your brand behind supporting your local community.
PIM – Product information management
You've developed the brand, created the strategy but your business will still need to implement and managing processes at each stage of your customer's journey, including the eventual purchase.
Bigger opportunities mean more challenges, especially when it comes to product-related content. The strategic opportunities of new lines may not include the practical reality of getting those products online, into shops or within catalogues.
Who's making sure that the descriptions are accurate from a technical (and legal) point of view? Perhaps most importantly from a marketing perspective, with so many products to list and lots of people involved in content creation, is your central brand message in danger of becoming muddled or diluted? And how do you make sure your marketing is using the correct pricing?
This is where your product information management (PIM) strategy comes in.
At heart, it describes a set of processes and tools to help you stay in full control of the information linked to your product lines. Getting it right enables you to make your whole content creation process much more efficient, and promotes a stronger, more accurate and more compelling marketing message.
Why do I need PIM?
From your buying or product development department, via marketing and customer queries, and right through to order dispatch, your products are essentially on a 'journey' as they pass through your organisation.
Unless the right information about these products is presented to the right people at the right time, that journey can become needlessly protracted. Here's how:
Governance
Multi-channel marketing and sales are now part of the marketing mix. Tone and content may alter to meet the needs of different channels, but with multiple sales platforms to manage, there's a risk of straying from important product information. So it's useful to have a central hub for core information about the product for your people to draw on – along with channel-specific guidelines.
Flow of information through the company
Where information is fed into a single source, you don't have marketing teams sitting on their hands waiting for technical information from the product development department. They can access these details immediately and independently to greatly reduce turnaround times for marketing to reach consumers. Plus, it offers a valuable platform for collaborative working with employees who may be based remotely.
Flow of information to the customer
Having access to managed product information makes it easier for your marketers to tailor advertising and marketing materials to your various audiences. This allows you to showcase particular features or particular product variants to groups based on how receptive they will be to these aspects, supporting your personalised marketing efforts.
Retail marketing trends
When you're creating your marketing plan think about these trends in retail marketing.
Only 5% of retailers focus on Gen Z. However 60% still target millennials.
Be vocal about social issues. Most retailers think it's a risk worth taking and that there are inherent risks with sitting on the fence.
Be varied with your use of discounts. People seek deals, especially those shopping on mobile. Retailers will offer exclusive discounts to mobile users.
Invest in voice search. Many retailers believe it's the way of the future.
Retailers will use more exclusive products and offers to compete in the digital space.
You may also want to improve on the basics
Ensure you comply with GDPR and the EU ePrivacy Directive
Differentiate your brand
Improve the shopping experience
Whether it's retail digital marketing or in-store marketing, paying attention to these trends while shaping your strategy will make it more likely you see rewards for your retail marketing efforts.
Retail marketing during COVID-19
In the wake of the Coronavirus pandemic, few sectors have felt both extremes brought on by this crisis like the retail industry. From the immense pressure placed onto supermarkets and other essential organisations, to the reduced traffic experienced by high street shops and fashion lines, 2020 has brought unprecedented challenges to this sector.
When discussing the retailers' response to COVID-19, there's a greater emphasis than ever on keeping engaged with customers at this time of confusion and misinformation, investing in digital channels and producing content that resonates with audience's pain points and changing behaviours in these unique circumstances.
While there is the temptation for those with reduced activity to take their foot off the gas, we firmly believe now is the time to focus on innovation and adaptation. By taking these strides, retailers will be in a stronger position to maintain customer loyalty in this difficult period and perhaps form connections with new audiences both now and beyond this crisis.
So, why retail marketing?
In its simplest form retail marketing is the process of getting your product or service in front of the audience. The immediate benefits are more sales, which are crucial for the survival of a business.
Retail is experiencing a transformation too. People want the experiences to be more personal. Providing brilliant customer service distinguishes you. Great branding inspires confidence and it all has the power to result in repeat custom.
Some of the strategies and techniques available to the retailer are listed here, but when it comes down to it, the sky (and budget) is the limit with developing ideas that get your brand to the top in this noisy world.
A well-defined marketing mix, delivering the right message at the right time, to the right people is a recipe for success.