Social media has had its fair share of bad press in recent years, with many claiming it's turned an entire generation into tech zombies. Whether or not you agree with this, one thing we can say for certain is that social media has become completely embedded into 21st-century culture – it's as habitual as reading the morning newspaper (albeit several times a day) and its impact on the way we communicate has changed the world forever.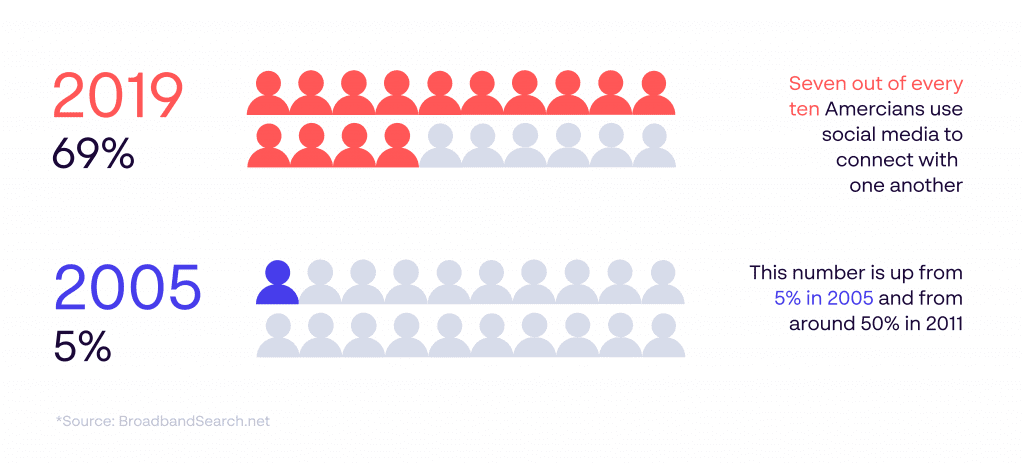 Whether it's sharing a viral video of a llama on a skateboard or promoting a campaign on the must-have shirts of the season, social media marketing remains one of the most effective, targeted ways to get your brand's message out there.
What is social media marketing?
The landscape of social media marketing is incredibly broad, with new platforms emerging all the time. The only thing you can ever really guarantee to stay constant in the world of social media is its sheer unpredictability. That said, there are some basic fundamentals that help to shape the way brands communicate with their audiences online.
Depending on your strategy, you will use several channels to communicate with your audiences. It's a way for you to distribute multiple messages on a regular basis with existing or new prospects.
This can be achieved usually one of two ways:
Organically – a free method to grow, engage with and retain a following using shareable and interesting content.
Paid – Paid social media marketing, which can help support customer acquisition, remarketing and reaching a more specific type of audience.
Organic marketing through social media
Building an organic following is no easy feat, and unless you have unlimited time and resources to dedicate to it, it's incredibly difficult to deliver on your own and make an impact. Snatching at your content here and there won't be enough to keep people coming back. And with audience expectations of organic social media marketing becoming more sophisticated (or unsophisticated, depending on how you look at it), brands are now expected to produce gifs, memes, videos, polls, topical content and more.
And the hardest part? Avoiding an approach that's too self-promotional. Nobody wants to be sold to the entire time. And if you ARE going to 'sell' something, it should be done in a way that provides value to your followers.
Do something that's going to entertain, engage or inform. Surprise, delight or shock them. As long as it falls in line with your strategy and your overall identity as a brand, you can dedicate the time to understand your audience, and what it is they relate to. Not only will it increase your share-ability and the prospect of new people discovering you, but it will also give your existing followers a reason to stay.
Paid marketing through social media
It goes without saying that each social media platform operates very differently. Despite this, algorithms are often analysed and scrutinised by many marketing professionals, with conclusions and advice often drawn that can help loosely guide your individual channel strategies.
We say loosely because, in reality, determining the exact way to get organic content showing more frequently in news feeds is not very straightforward at all.
Why?
Because social media marketing is a business. A very lucrative one at that (with social media advertising revenue forecast at $51.3 billion USD for 2018 alone). If we all knew how to hack the system, social media simply wouldn't work or exist for that matter. Platforms WANT you to pay to get in front of your audience. And in exchange, many of them give highly detailed, targeted demographics – from the more generic ones such as age, gender and location, through to buying habits and interests.
Targeting is one of many reasons why a brand may choose paid social media marketing platforms over more traditional methods. New customer acquisition, increasing web traffic and raising brand awareness are all key objectives for many businesses. And remarketing on these channels can help you reach people already engaged with your brand, to further prompt them into taking action.
How to develop a social media strategy
Whether you work for an in-house team, a marketing agency, or you're simply trying to set up something for your own business, it's important you don't start doing it until you understand why you're doing it. Your strategy is the what, how, why and when of your social media marketing. It's your plan of action, a blueprint to success and a guide to make sure you keep focused.
Define your goals
What do you hope to get out of your social media marketing?

Would you like to build a following?

Generate leads?

Increase conversions?

Give your brand a stronger presence?

Or even just provide a platform for customer service?
Be realistic about what you're going to use social media marketing tools for. And, depending on budget, what can be achieved within your timeframe. Are you using a combination of paid and organic? What are the short-term and long-term goals? Can you break these down into quarterly, more manageable chunks?
Think about your audience<
Who are they? How old are they?

Where do they spend their time online and offline?

Which platforms are they likely to use?

What are their pain points?

Decide on content
How can you use your audience's pain points to create useful social media content? Can these pain points be split into overarching themes and topics?

Are there any awareness days you should incorporate?

How will your paid advertising support your organic content?

Get to planning
Once you have your broader topics in place for your social media marketing, you can start putting together top line calendars and schedules for your team to execute. You'll need to think about content, design and any scheduling tools you may need.
Determine your process for execution

Give your teams their schedule, their briefs and ensure they have all the right sizes for the different social media channels. And that they understand the nuance of social advertising on individual platforms (for example, the 20% text rule on Facebook ads).
Publishing

Once the content and assets have sign-off from all stakeholders, you can begin publishing. Depending on how many posts you need to schedule, you should consider using a publishing tool so you can automate what time they are released to remove some of the manual tasks
Listening and engagement

Once your posts are out, it's important to monitor your channels on a daily basis. Multiple times a day if your team has capacity. Being able to listen and engage with your followers is important. Plus if anything negative should be said, you can respond to it quickly before anyone has the chance to form the wrong opinion
Analytics and reporting

Most good publishing tools allow you to automate report generation, so make sure you find the right platform for you. Manually checking each channel can be incredibly time-consuming – particularly if you're tracking multiple brands.
Advertising

While smaller brands can manage their paid advertising in-house, an expert in paid advertising is always beneficial. Having a specialist to support you helps ensure your campaigns are optimised for the right audiences and your strategy is updated in line with any new insights.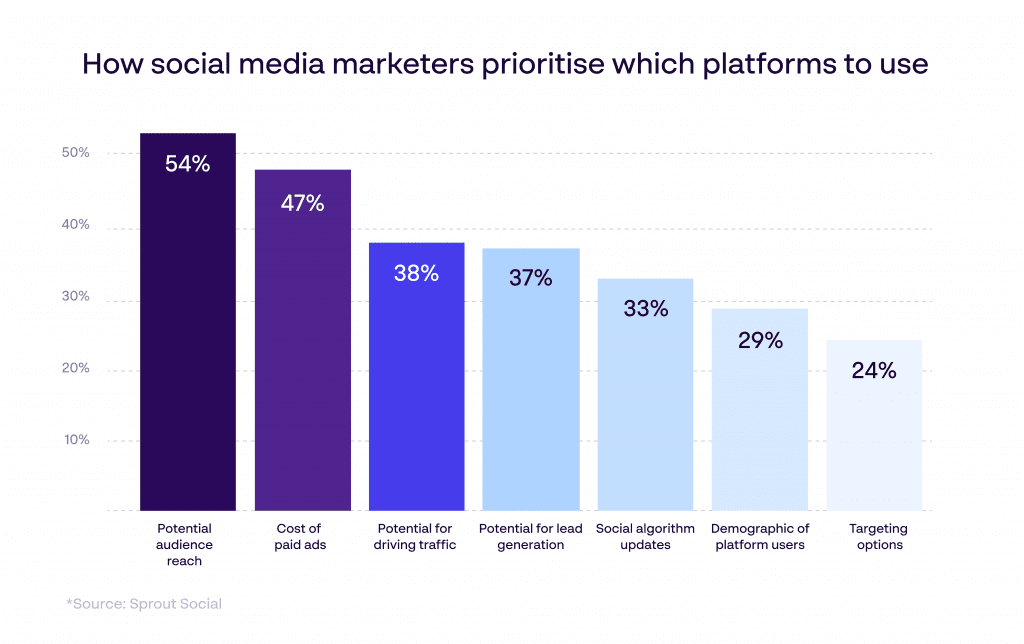 Social media as a marketing tool

– B2C
How social media marketing techniques are implemented very much depends on the nature of your business. With business-to-consumer brands, there's often a lot more scope to be visual. If you have a physical product or a personal service, you know you're talking to an individual about their specific pain points. Things you yourself should be able to relate to on some level.
While any brand will want to retain a certain level of professionalism, you can really push the boundaries with your brand's personality. Using humour or trending topics and relating them back to your business can be a sure-fire way to capture the attention of social media users – not just your audience but also those beyond it.
Social media as a marketing tool

– B2B
Business to business marketing techniques traditionally tend to be more information-led. They're trying to solve problems for business owners and high-level decision-makers. This does strip back the number of channels that can be used effectively for the B2B market, as professional networks greatly differ from accounts for personal use.
LinkedIn is usually the go-to for B2B social media marketing, either elevating individuals through their personal profiles, LinkedIn advertising or making their company page a source of insight for people's feeds. That being said, some of the other channels still hold their place for B2B marketers when used in the right way.
Social media marketing

on Facebook
Facebook is one of the most widely used platforms in the world. Brands can build organic followings, become content publishers and create highly tailored advertising in the form of videos, static advertising, carousels, slideshows and even Messenger, to name a few.
Social media marketing

on Instagram
Owned by Facebook, Instagram is often used by brands to build a loyal following. A great feature of Instagram is the hashtag function, which makes it much easier to build organic engagement – although the 'following' earned is often too broad to be relevant. Brands can also explore Instagram advertising in the form of ads, with the ability to now shop 'in-app' by tagging products to your post.
Social media marketing

on LinkedIn
LinkedIn has had somewhat of a revival recently, with a wider cross-spectrum of people using the online network to promote their skills or brand. Some of the most effective ways to reach business decision-makers can be found through LinkedIn: the option to create thought leaders via individual profiles, build valuable connections and relationships, create a company page that's the go-to for industry insight or through the targeted, but sometimes expensive, advertising route.
Social media marketing

on Twitter
While Twitter's use may have decreased for teens, 80% of its users are considered 'affluent millennials', and 75% of businesses can be found on the platform – two incredible opportunities for marketers. Twitter is also a very popular platform for providing personalised customer service, and for many consumers it's the first port of call when they have a complaint or query about a missing parcel.

But a lot of Twitter's appeal lies in how current it is; news breaks here, people share their stories first-hand and live events effectively come with a running commentary when televised. In fact, advertising on the platform is considered 11% more effective than TV ads during live events.
Social media influencer marketing
Another strand of social media marketing that can prove successful for brands with particular products, events or services can be the use of social media influencers. This could be in the form of huge celebrity endorsements with millions on the counter or micro-influencers with just 1,000 to 100,000 followers, but with a deeper connection with an audience interested in your niche.
Instagram is the most effective channel for brands looking to promote via those with a big social following. Giving your brand an ambassador in the form of someone your audience can relate to and admire can prove lucrative.
The future of social media marketing…
Even as the world becomes more critical of the role social media plays in shaping minds, opinions, and the way we show off our day-to-day lives, its evolution is one that marketers will be keen to keep up with. Technology is set to become more sophisticated, targeting will get even more precise and brands will continue to raise the bar when it comes to creating quality content.
There's no way of knowing where social media marketing will be in 10 years, or even 10 months from now. In an age of instant gratification, and readily available information on quite literally anything you could imagine, social media will continue to play a critical role in B2C and B2B communications. Of course, as the amount of brands entering the same space continues to grow, it's going to take a remarkable strategy and team to be able to shout above the noise.
Papirfly offers Brand Activation Management software that enables companies to create professionally designed printed and digital assets – in-house in under 30 minutes. Social media posts are often hard to keep up with, which is why empowering any employee to effortlessly create social media assets is a client favourite feature. You can also store & share assets in a dedicated Digital Asset Management platform, educate teams on brand guidelines and manage your campaigns from one central login.
Discover what BAM by Papirfly™ can do for you, or visit our complete guide to marketing.