Is the hybrid model the future of work?
Hybrid working. The popularity of this term may have skyrocketed in response to the COVID-19 pandemic, but make no mistake – this is an inescapable future for the vast majority of companies across the globe. Let's take a look at hybrid working at-a-glance…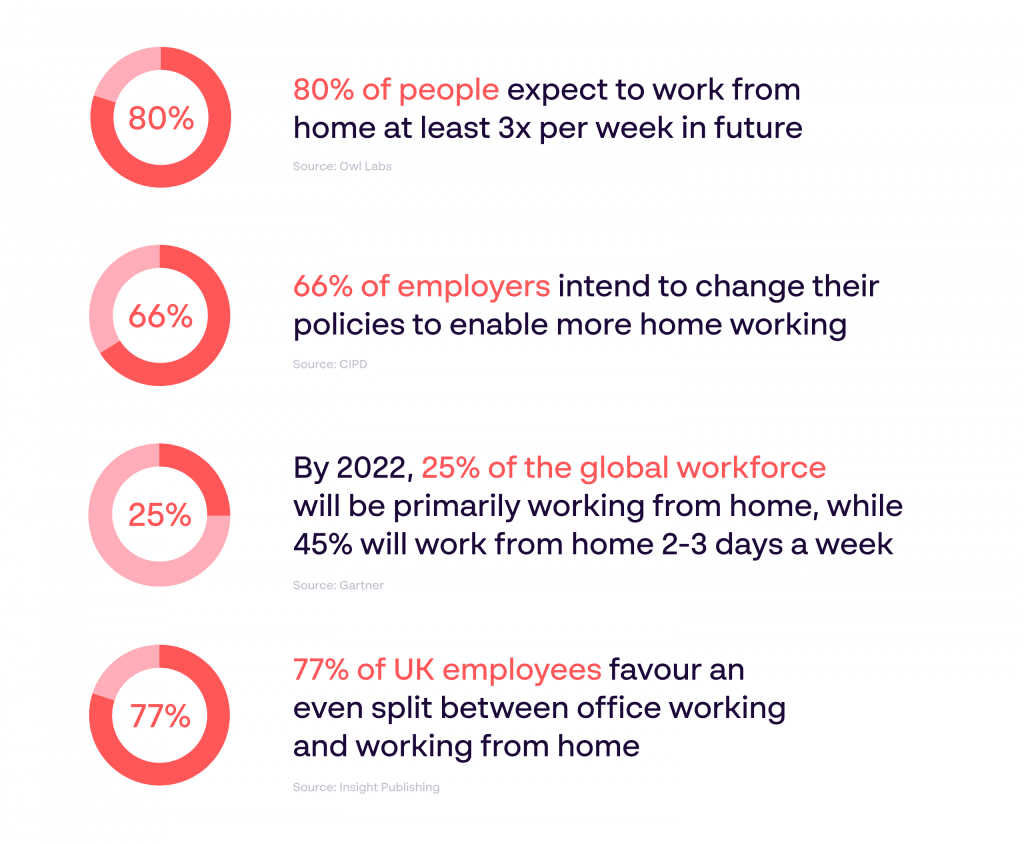 But just because it's unavoidable doesn't mean it's a bad thing. On the contrary, the growing trend towards some configuration of hybrid work model offers a lot of big benefits for businesses of all shapes and sizes, including:
Reduced running costs
With people coming into work on staggered schedules and businesses no longer needing to have all hands on deck at all times, this means there is less need to spend on extensive office space. Instead, companies could rent the space they save out to other organisations, or simply reduce the amount they rent to cut down their overheads.
Better work-life balances
A lot of people have benefitted both practically and emotionally from having the opportunity to work from home. They can work more flexibly, and when they finish for the day, there's no long commute awaiting them. While interaction with coworkers is great for morale and to prevent isolation, many will appreciate the adaptability of a hybrid working model.
Boosted productivity levels
Research has found that many people claim to be more productive when working from home compared to being in the office. If employees have all the tools at their disposal to work remotely, this more comfortable, familiar environment can actually encourage them to work more efficiently.
Wider recruitment opportunities
By employing a hybrid or remote working model in your company, you are no longer restricted to hiring people within the vicinity of your office. Instead you can look farther across the country, or even internationally, to find ideal recruits for your organisation.
Appealing to younger generations
With a large proportion of millennial and Gen Z recruits prioritising benefits like flexibility and better work-life balances over traditional salary-based perks, being able to offer a hybrid working model can appeal to their needs and offer you a competitive edge when recruiting.
Tackling the challenges of hybrid working to marketing teams
Nevertheless, while hybrid working can inspire these benefits and more, it can also introduce a number of new challenges – many of which revolve around communication and organisation.
Now, these are two essential qualities that any effective marketing team must possess. Without them, campaigns become jumbled and chaotic. Assets become inconsistent or become lost in the shuffle. Jobs get duplicated or ignored altogether. And, as a result, your brand identity can take a big hit.
If not organised effectively, a hybrid working model can quickly create this unwanted scenario. With people working separately away from the office multiple days a week, or possibly in perpetuity, it can make it difficult to collaborate on campaigns or projects. And, if left to their own devices, it is possible assets and collateral are produced that contradict your brand's personality.
This is a situation all marketing teams are keen to avoid. Fortunately, with the right systems and processes in place, it is more than possible for you to reap the benefits of a hybrid environment while avoiding any sleepless nights over the quality and consistency of your brand.
Here are our 6 top tips to help you get started:
Tip #1 – Invest in DAM
First, let's tackle the potentially major headache of materials going missing, or employees having to send dozens of emails to get their hands on an asset they need. When teams are spread far apart and working disparately, it is easy to forget to send assets over to the people that need them or lose them in an ocean of folders.
To overcome this problem, it is crucial to contain all your assets in one central hub. This is where a DAM (Digital Asset Manager) or equivalent solution is a must-have for any hybrid work setting. You can store an infinite number of assets in this digital space, which can then be filtered, searched for and found by team members across the globe when they need them.
No delays. No lengthy email chains. No lost property. Everything is housed in one place for when it is required. A solid DAM solution will also allow you to assign permissions to users, so they can only access relevant, brand-appropriate materials for their needs, so there is no risk of anything being published that isn't supposed to due to a misunderstanding.
A DAM-like system is a fundamental tool for effective hybrid working. It enables marketing teams to find all the assets they need in one place, wherever they're working from at the time.
Tip #2 – Make brand guidelines easily accessible
As well as centralising your brand assets, it's crucial to do the same with your brand guidelines. Guidelines and style guides in general are crucial for keeping your marketing efforts aligned and consistent across all channels, from social posts and blogs to posters and billboards.
It prevents your teams from second-guessing your brand identity and empowers them to create with confidence. But, if your brand guidelines are solely printed out in a folder somewhere in your office, it isn't much use for your employees working from home.
So, it is critical that these guidelines are housed in one central, accessible online location. Your remote employees can then always refer back to them when creating materials regardless of where they are, meaning there's no risk of going off message.
Tip #3 – Establish clear communication channels
Nothing can create chaos in a marketing team like not knowing who is on a job, or who they should contact for updates. Whether it's a designer in need of copy, or a marketing coordinator waiting for assets to set a campaign in motion, if people are out of the loop, it can cause costly delays and derail productivity (particularly if there are time differences involved).
With this in mind, it is important to establish points of contact for everyone, be it project managers, creative directors or others, who can coordinate messages and prevent any long-winded, convoluted email chains among various team members. If you work with an agency or other freelancers, this also ensures that any contact with them is streamlined and consistent, so that any work or amends aren't missed or duplicated.
Leveraging effective communication tools like Slack, Zoom, Trello, Asana and the many others available on the market can also be highly beneficial. These help keep everyone in touch over the course of a campaign or project, ensuring nothing is overlooked as a result of people not being in the same vicinity.
Tip #4 – Keep briefs focused and available
Successful briefs succinctly translate the goals, purpose and intentions of a project to the relevant team members, forming the foundations for inspired creative thinking. If they contain an excessive amount of detail, are lacking key information, or are simply written in a confusing way, this will lead your remote workers down problematic paths.
To prevent this, establish a clear, consistent template for creative briefs, refining it over time where necessary, to ensure that your disparate workers always receive the ideal level of detail to produce high-quality work. This will help guarantee that work reaches the proofing/approval stages in a strong position, without the need for constant supervision or check-ins.
Tip #5 – Digitise proofing and approval workflows
Proofing and signing-off completed work can be a wearisome process even with everyone working in the office at once. If an asset is constantly going back-and-forth between designers or agencies and the relevant marketing managers, this can quickly push campaigns back hours, days, or even weeks.
Digitising these processes can cut down these waits significantly, and help work get through regardless of where everyone involved is based. Online collaboration tools mean that everyone who needs to check an asset can see and input amends in real-time to the recipient, so they can all be made in one motion, and then be instantly approved for use in the required campaign.
At its heart, this is about making a previously manual, tedious process into something more dynamic and efficient with the right digital proofing and approval workflows.
Tip #6 – Have a centralised campaign planner
When you have deadlines to meet, it is helpful if everyone involved is aware of this information. So, giving your remote workers access to a digital, centralised campaign planner can give them total clarity on what assets need to be supplied and when. They can then structure their days around these priorities, so nothing is overlooked.
For the best results, we'd recommend a campaign planning tool that enables you to attach briefs, tag marketing materials, and manage specific folders for each project. This will give you total oversight and clarity from start to finish, regardless of whether your teams are working from their desks or are at home.
Embrace hybrid working without hurting your brand
Now it has gained a greater foothold across the globe, the hybrid working model is here to stay. With more and more professionals appreciating the flexibility that this approach offers, it is crucial that everyone, including marketing teams, identify ways to make these models work without compromising on the integrity and strength of their brand.
We hope that our tips will enable you to embrace this model with no repercussions to your brand identity. It will take some getting used to, but with the right tools in place to keep communication and organisation at a high level regardless of people's working environment, you can really start to feel the benefits of a hybrid approach.