In any organisation, the skills and dedication of the workforce is the lifeforce powering its future. You want to attract the best possible talent to your company, and retain them for the long term to bring continued success to your business.
Employer branding is critical to achieving this objective. How effectively you market the values that underpin your organisation, emphasise the unique benefits of working for your company, and demonstrate a strong, defined culture will have a powerful influence on your ability to capture the imagination of those at the top of the talent pool.
This guide is designed to help you unlock the true potential of your employer brand in 2021 and beyond. Settle in and discover everything you need to know in today's landscape.
What is employer brand?
Employer branding at its most basic is the way a company promotes itself as a place to work. It comes from the external reputation the company has as a business and the way its employees view it. Having an effective employer brand in place can lead to benefits including:
Reduced turnover of staff
Attraction of high-quality talent
Help in retaining valued employees
Less money spent on hiring new staff
Engaged employees
In the modern world of business, employer branding and recruitment have become entwined, creating strategies that are as much Human Resources department initiatives as they are marketing.
Employer branding and employee branding are different too. Employee branding is really a focus on how the employees act in accordance with the values of a company, and how the organisation promotes this.
Employer branding and corporate branding differ in that the latter focuses on a value proposition to customers, defining what your organisation offers to the marketplace.
Some employer branding statistics
When you're successful in employer branding, the numbers really stack up. These are just some of the statistics reported in the employer branding space:
43% decrease in hiring costs

67% of employees would accept a lower wage if a company has positive reviews online

69% of employees are likely to apply if the company actively manages its brand

84% of employees consider leaving their current job if another company has a better reputation

88% of millennials believe that being in the right culture is important

72% of global recruiting leaders believe that employer brand has a significant impact on hiring

79% of jobseekers are likely to use social media in their job search

A good employer brand leads to 50% more qualified candidates
Why employer branding matters
Staff have serious expectations of what they want from a company. And one of the very bottom line commercial benefits of employer branding is that staff turnover can be reduced by 28%.
High turnover is demoralising for other employees and costly for a business. Taking into account recruitment hiring fees, it can cost an SME £5,500 to replace a member of staff on a national average salary wage.
Stats revealed by Staffbase below show just how costly employee turnover can be for corporates:
While a company may consider its staff as its greatest asset, so many organisations still don't employ effective processes when it comes to hiring staff. And retaining staff once on board, is often something that falls by the wayside. Even companies who do recognise the importance of retention, sometimes struggle to dedicate the time to implement change.
In an increasingly competitive market, hiring and retaining talent is tough, but attracting the right people to your positions can be pretty much impossible without a powerful employer brand.
Messaging, creative and distribution of campaigns need to be targeted and carefully considered. That's only made possible with employer brand initiatives, driven by the employer branding teams.
…For hiring and retention
Your business should make employees feel proud to work there. Company culture is of course important for most people, but particularly for those from generation Y, who are more likely to read reviews and use social media to determine if they are a good fit for your brand.
Having an effective employer branding plan really helps retain employees and recruit new ones. People are the core of any business, so you will want to find the best. Having a popular brand makes it easier and faster to hire good staff.
This is because with good employer branding the Human Resources team will spend less time trying to find quality candidates. Talented people will want to work for your company and be drawn to it for all the right reasons. Hiring time can be as much as two times quicker with a strong employer brand. Generally, the hiring process will differ depending on the candidate's circumstances such as how much notice period they need to give, but this top-line process from Google shows how an average application might unfold.
…For more engaged employees
When employees are happy and engaged with the brand they work for, they're more likely to evangelise about these positive experiences. They become ambassadors and you'll likely see more applications as a result of direct referrals.
…For reducing costs
There are two ways of looking at cost reductions in relation to great employer branding:
Firstly, if you have a good reputation a lot of the hard work in recruiting the best people is already done for you. Staff are looking for good companies with positive reviews and experiences. Applicants will seek out good companies to work for, and will see your brand as a good place to work.
Money is saved as hiring is quicker and talent is placed in the business sooner. It can be spent strategically instead of on recruitment costs.
Secondly, having a lower staff turnover reaps significant savings to the overall recruitment budget.
Cost per head goes down and potential staff are willing to accept a lower salary if the company had very positive reviews online. This is because the value of a good environment is worth more than a higher salary in the wrong environment.
How has the global pandemic reshaped employer branding?
The ground-shaking consequences of the COVID-19 pandemic turned the marketing landscape on its head several times over, and employer branding was not immune to its effects. While the pandemic itself will eventually subside, its ramifications will live on for significantly longer.
In times of crisis such as what many in the world experienced in 2020, or the uncertainty with which we entered 2021, employer brand teams will need to work harder to meet the expectations of available talent and existing employees.
Here's a breakdown of what changed for employer branding since the start of the 2020s – and how you can adjust to meet this new landscape.
The response to COVID-19
Many organisations were hit hard by the global pandemic. The hit to the economy and restrictions to certain industries, namely retail, leisure and travel, resulted in many redundancies and cost-cutting measures.
Unfortunately, no matter how unavoidable these were in the circumstances, a brand's response to COVID-19 will live long in the memory for many past and prospective employees.
75% of prospective employees consider a brand's reputation before deciding to make an application (CareerArc)
Brands that demonstrated a desire to put people over profits during the hardest months of this pandemic will have strengthened their reputation among today's talent. Even if they were forced to proceed with mass lay-offs, companies that handled it with compassion, like Airbnb, came away with credit for when the world returns to some semblance of "normal".
Conversely, those brands that failed to convey this will need to spend the coming months and years rebuilding their image.
COVID-19 left employer brand teams with a valuable lesson – it's not enough to say you care about staff, but this must be reinforced when times are tough. It will pay dividends for employer brand managers to explore the best and worst brand responses to this crisis to inform how they approach circumstances like this in future.
Values matter more than ever
The fallout from COVID-19 has put a magnifying glass on company values like never before. The worst company responses to the pandemic have made talent particularly skeptical of the values that an employer brand emphasises. To combat this, employer brand teams should go to greater lengths to demonstrate these values in action across their content.
Promote the ways you have prioritised the wellbeing of your employees throughout this challenging period, and harness employee stories of how they've appreciated your support in these strange times.
Any authentic stories of this nature will hit home with prospective employees in a way they never have before, helping your company stand out as a destination that cares about its team.
Global talent wants more from employers in 2021
Newly-hired remote workers want their onboarding process to be as robust and reassuring as it would be for 'traditional hires'
Employees want to know their company has clearly defined remote and hybrid working models
Talent wants to see companies pushing their diversity and inclusion efforts further than ever, especially following the events of 2020
The need for clear communication
The excessive amounts of misinformation and hearsay about the global pandemic have made it more important for employer brands to deliver clarity and consistency to both existing employees and available talent.
In order to meet people's need for clarity in times of substantial uncertainty, employer brand managers should:
Facilitate regular meetings/video conferencing calls with teams to communicate important information and check on employees' wellbeing
House up-to-date company policies and guidelines in a shared, accessible space
Share positive events and stories where possible to build morale
Approach any bad news earnestly and empathetically
Investigate straightforward chat/workflow management systems that will keep remote employees connected
Up to a third of employees have contemplated leaving their job due to poor communication from management (Dynamic Signal)
Remote recruitment and onboarding
The greater emphasis on remote working inspired by the pandemic will have a long-term impact on how recruitment and onboarding will take place. Video interviews are now commonplace. Employees are hired and start work without ever having stepped inside an office.
While traditional, face-to-face interviews will never disappear entirely, employer brand teams should work to better facilitate these evolutions in order to deliver the biggest benefits to new recruits and your overall organisation.
Consider including someone from your branding team in video interviews to give recruits a strong picture of your company culture that they can't experience in person
Account for technical issues on either side that might affect the interview
Make clear company literature available for newly-recruited employees to inform their understanding of your operations
Assign recruits with a remote "buddy" to ease their integration into your team and handle any initial problems they may be facing
Immediately engage them with your IT team to demonstrate anything they need to know to work effectively from home
Include them in team social events and gatherings so they don't feel distanced from the brand following their introduction to your team
Remote working is not the only recruitment-based challenge that employer brand teams will need to confront and conquer this year:
Harness data for continuous improvement
Employer brand teams should be empowered to track the response and engagement to the content they promote, and use this data to inform agile adjustments over time and to guide future campaigns based on what resonates most with their audiences.
Restructure company material for the new reality
With a marked shift towards recruitment materials that prioritise empathetic, authentic storytelling over lists of perks, now is the time for employer brand professionals to reassess their content and determine the right story to tell prospective recruits in the current climate.
Remove barriers to internal recruitment
Internal mobility gained a lot of momentum in 2020, and employer brand managers in 2021 should work harder to emphasise this possibility within their teams. Consider what obstacles must be eliminated to educate talent on their potential to switch roles within the same company.
Supporting company culture
Finally, it's important to recognise the impact of the pandemic on company culture. The transition to remote working across numerous organisations has rendered traditional office hotspots for socialising and creature comforts unavailable for the time being.
But, that doesn't mean that company culture can be put on pause until COVID-19 is behind us. For many in the modern landscape, a strong, welcoming culture trumps salary and other perks in attracting them to work for an organisation: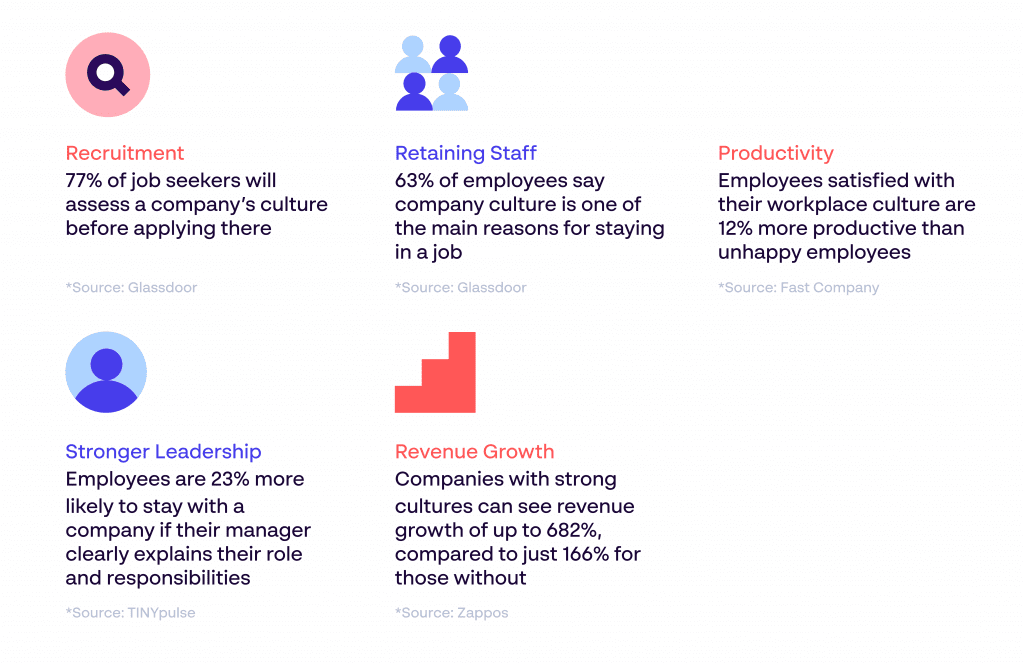 With this in mind, the onus is on employer brand experts to rise to the occasion and find ways to maintain (and even strengthen) company culture for the remote-working era.
Document your company's values clearly and make them accessible to all
Ensure consistency across all communications to make your values and identity inherent to everyone
Showcase the history and future of your company to help employees find their identity within your company
Harness your video conferencing technology for company social events like gaming, movies or friendly get-togethers
The importance of employer branding to an organisation
Two in five organisations say that hiring is becoming tougher. Businesses are having to become more flexible in finding the right candidate.
With a powerful employer brand strategy, you're looking to become an employer of choice. By creating a strong, positive reputation you'll stop talented employees from voting with their feet.
Potential candidates will often look to an employer of choice before all others. Positioning yourself in this way starts with the following:
Creating a positive candidate selection process
Having a focus on career growth opportunities
Putting the company's values at the heart of everything
Reviewing your pay scales and benefits
You might also like to consider these eight values when positioning yourself as an employer of choice. They're part of what may help attract a person in the first place:
Flexible placement – this is where an employee has opportunities to work in a variety of roles and settings within the organisation, where they have an interest in expanding their understanding. Employers should encourage staff to work in a variety of roles too, to give them a better view of the overall business.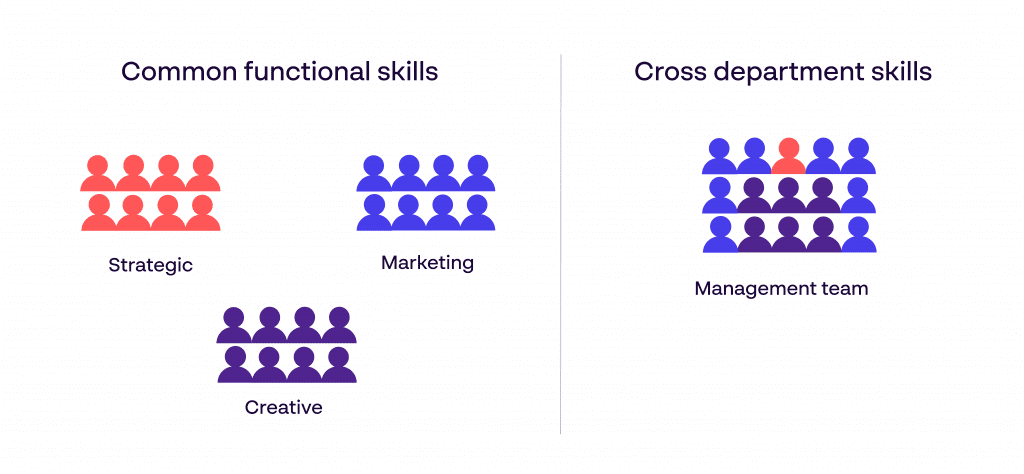 A customer focus – business should be customer-centric and understand that for the employee the customer comes first. Managers should give staff the tools needed to achieve this, and support the idea that the employee serves the customer's needs first, before those of the manager. For example, a customer service employee would want to satisfy a customer's complaint, before serving a manager's needs. This would require the entire organisation to have a customer-centric mentality.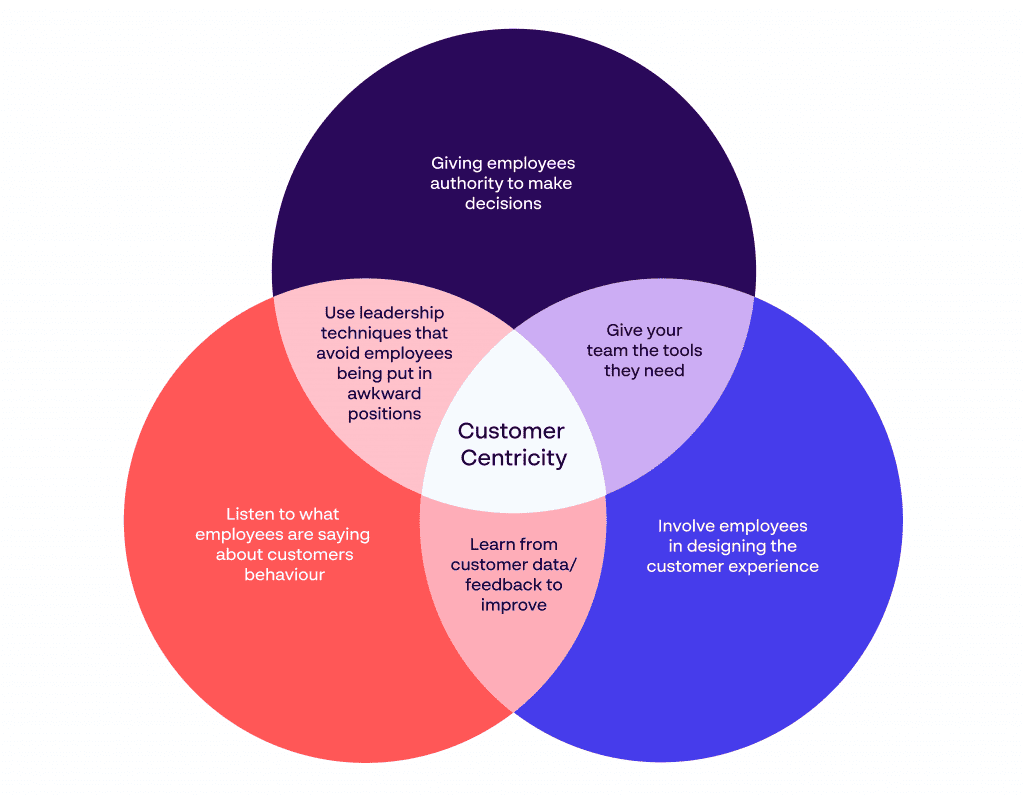 Performance focus – employers should use performance and benefit-based rewards to support staff development and keep them motivated. This might include additional days off or performance-related pay bonuses.

Project-based work – where possible, employees should have work structured around internal projects rather than organisational functions. For example, this might see employees in a marketing department working collaboratively on a new project from the start, rather than being focussed only on their singular role within that project at the time it's ready to go to market.
Valuable work – work needs to be meaningful for staff. If tasks become menial or meaningless, it can cause them to become disengaged.
Commitment is important – staff should be committed to the outcomes of the organisation, while employers should be committed to helping staff do their jobs to the best of their abilities.
Ongoing learning and development – the company should encourage staff to learn and develop within the organisation. Whether that's a certified CPD course or discovering the way another area of the business works – professional development can be invaluable to employees. A typical process for keeping employees at their best can be found below, but will of course vary from business to business:
Share information – employers should help staff by giving them access to a wide range of company data. In return staff should be willing to digest this information and show initiative to help move things forward, address any issues and drive productivity.
Creating and maintaining these processes are part of a culture change that needs to be supported in the long term by the HR staff. Building this relationship is critical when it comes to an effective employer brand strategy.
How to build employer branding
Whether it's holiday allowance, perks or salary, great talent demands great benefits. But they also want a culture they can identify with.
So, in this context employer branding strategy becomes a combination of economic benefits, functional rewards and psychological attributes that make employees connect with your company on an emotional level too.
If you can understand these benefits and what they mean to staff, you can create an attractive benefits package, which helps create a stronger employer brand.
By investing in your employer branding tactics, you can engage better with prospective and current employees whose values fit yours. It's this that will make your brand stand out to the right people.
Always begin with understanding who you are trying to reach, and what they want.
What is an employer brand strategy?
To be successful, and as with any form of marketing, you need a good employer branding strategy to help create and promote your campaigns. 
Audit your brand's perception
How does the world see you? What do your employees really think about working for your company? Unless you're fully engaged in your internal employer branding you probably won't understand how employees genuinely feel about working in the organisation. And working in hectic global organisations can mean these get forgotten, albeit unintentionally.
There's a host of places to look. Check employment review sites – did you get five stars as an employer? Staff often post on social media too. Are they proud of their work or are they critical? Do they say nothing? Look for the underlying message. Other options for feedback include internal surveys or using an agency to monitor your reputation.
Whichever method you choose should uncover where staff are happy or where changes can be made.
Also check for brand consistency. Do you convey the right message at all times? Do your visuals and tone match that message?
It's important to have a realistic understanding of how you are perceived. Then you can begin to address the issues with your employer brand.
Decide what makes your company unique
Once you know what makes your company unique you can create your story. Look at your company's mission statement, its values, its social responsibility and culture. Look at what makes your company stand out. Is it the best? Is it the fastest? What do you stand for? Do you have a social responsibility stance?
From here you can create your brand story for prospective employees. By having a brand story you'll be helping candidates to match their personal values to those of your organisation and your employer brand marketing. A story will also help provide clarity for existing staff too, and drive better employer branding internally and externally.
Create an EVP – an employee value proposition
This is a mission statement or marketing promise to employees. It's important that it's truthful, and that you intend to stick to it.
And it's important that it creates a sense of passion for the business and working there, as well as relaying how many days' holiday you get by joining. It might include any positives about corporate social responsibility, or how valuable staff are at your organisation.
It can also be shared with recruiters. It's designed for everyone who interacts with your employer brand.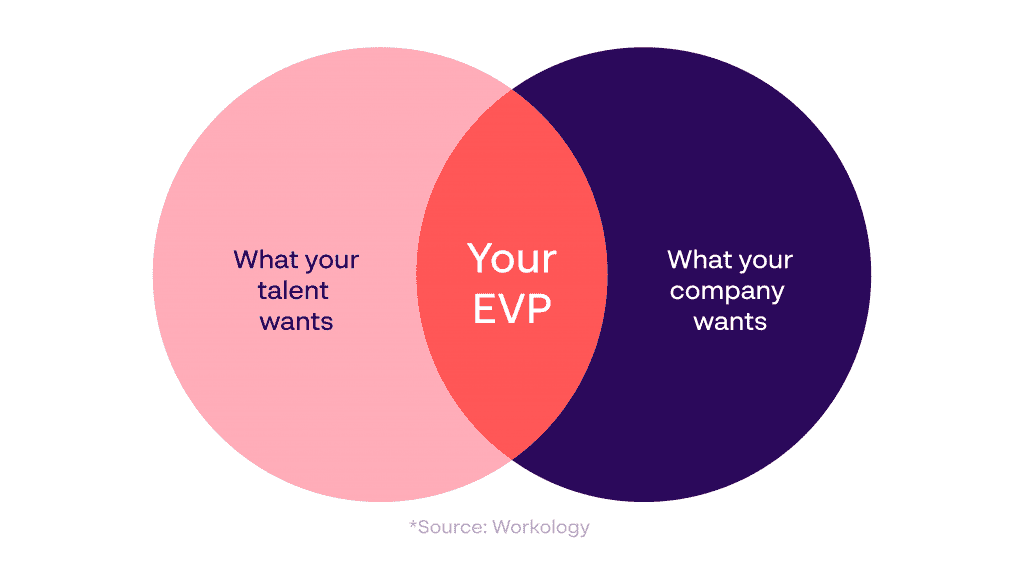 The employee should be at the centre of your EVP and ideally your proposition should have been well received within your organisation. Think about all the things that are important to staff. These might include:
Professional development
Workplace culture
Additional benefits such as healthcare
Flexitime
Quality of work
Bonuses
Office location
Perks such as free fruit, gym memberships and social outings
Company values
Work-life balance
People want to feel their work is valued and meaningful, and that the company culture is the right fit for them. Creating an Employee Value Proposition cements this for the entire organisation. It's a chance to showcase your positive impact as a brand.
Offer career development and learning opportunities
What's the reason most people leave their jobs? Its staff feeling bored and wanting a new challenge is at the top of the list.
By offering learning opportunities to staff you're showing a commitment to the employee, and gaining a staff with an improved skill set.
By making their roles challenging will help stave off the risk of staff feeling like they're stuck in a rut. You should find they'll be less likely to move on, or in reality won't move on so quickly as they might have otherwise.
Developing staff skills is an easy solution to the age-old problem of workplace boredom. Perhaps it's strange then that still employees cite lack of challenges as the primary reason to leave, and organisations aren't responding.
Employer branding begins at home
Current employees will be your best advocates, provided they're happy. Candidates frequently use testimonials from current employees in the research as to whether to join a company or not.
Use testimonials on your website or encourage employees to leave reviews on sites where staff talk about where they work. Recruitment company Glassdoor is one of the most widely used in terms of encouraging testimonials.

Encourage staff to use social media to post about fun events that have taken place in the company. Staff posting about these things, whether corporate team building or a night out, will show your company as an exciting place to be and a vibrant place to work. If someone likes it enough to post about it in their spare time it shows you to be an employer that promotes a happy workplace.
Employer branding measurement
This is important. Test and refine – success is only measured against goals or targets. Doing all the above is imperative but measuring the effectiveness of your employer branding marketing is the only way to know if it's working. The list below should help with how to measure employer branding in your business.
Useful employer branding metrics
Quality of hire
It's hard to measure, but the quality of hire defines the value a new employee brings to the company by performing and improving tasks and helping others. It is one of the most important metrics if you can get the data.

The value or performance of an employee generally drops when dissatisfaction kicks in so it's a good indicator of the effectiveness of your employer brand. Unhappy employees are less productive and will not stay with you for long.
Job offer acceptance rate
Keep track of how many applicants reject your job offers and ask for feedback on why you're not their employer of choice. Also, try to find out which company they have chosen instead and note at what stage of the process they dropped out.
Employee referral rate
Employees recommending your organisation to their family, friends and network as a great place to work means they like your employer brand. Employee referrals are a great source of talent. So if you don't have a referral programme in place it's probably time to start one.
Employee retention rate
There is no such thing as a static workforce. Employees will leave. However, the lower your voluntary attrition rate, the better because happy employees will want to stay and keep working for you. It also reduces the amount of confusion and disruption to daily projects and delivery.
It's a powerful indicator of a strong employer brand and the savings in having a reduced staff turnover are great. Be sure to conduct exit interviews, as you can get valuable feedback.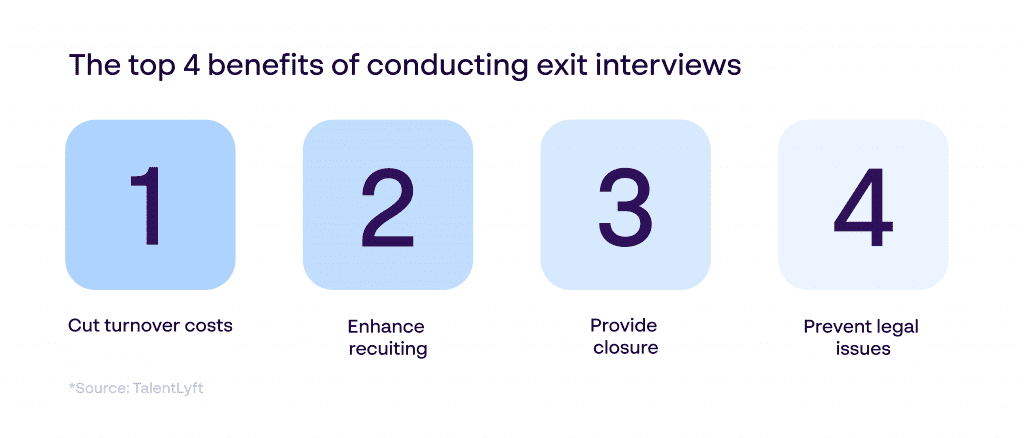 Giveaway/takeaway ratio
This measures how many of your applicants come from direct competitors and how many of your current employees leave to join the competition. It's a good direct comparison of employer brands.
Hiring manager satisfaction
Companies often overlook the hiring managers, but their feedback is valuable in determining the strength of your employer brand and the candidates it attracts. Are these managers satisfied with the number and quality of applicants, their fit with role expectations and company culture?
Number of open applications
Open applications are those received for no specific job opening but more to express interest in the organisation. Candidates are applying to you as a company because they feel there is a good cultural fit. If you've got a high number of open applications, it's a good indicator of a strong employer brand.
More ways on how to improve employer branding
For many prospective employees, the first engagement with a company's culture is often their website. An attractive and engaging website remains a powerful tool in an employer's arsenal when it comes to attracting new talent.
Modern progressive companies use their site to set themselves apart, fostering a positive, welcoming employer brand through their inclusive approach, open engagement and simplicity in navigation and application. They demonstrate care for their employees, a pride in their image and cultivating a desire in candidates that this is a company worth working for.
The careers hub
Beyond simple job ads and application procedures, a careers hub offers space and scope to introduce the candidate to additional content that supports the positive employer brand message. Think testimonials, links to your employee value proposition and company values. These should all make a good case as to why candidates should come and work for your organisation.
Staff contributed blogs
Just as happy staff are your greatest advocates; staff blogs can offer a glimpse of the company culture too. Having employees share positive stories is often directed towards social media. But populating staff-led content on your website shouldn't be overlooked.
For example, look at the following themes:
Contributions on industry issues – shows that you trust your employees' levels of expertise and value their opinions enough to publish them under the corporate banner.
Contributions around 'out of work' topics – employee biographies, stories of fundraising or personal achievements foster an inclusive culture. The organisation cares about the person beyond their job.
Prospective employees are immediately being offered an environment of inclusivity, engaging them in the culture of the organisation even before they've started their application process.
Brand-promoting content
It's worth remembering that your website offers you complete control when it comes to building a positive employer brand. Again, this can be achieved by incorporating inclusivity into the content used on the site, as well as creative use of video and new media technology.
It's a chance to blend the corporate nature of the business with the personal side. On the one hand, you have space to deliver video presentations that take candidates on the journey from application to successful career. While 'off-setting' this with supporting content from throughout the company, creating the rounded view that everyone has bought into the company philosophy.
Translating your global employer brand
Having campaigns that are country-specific isn't just about having the copy in the correct language. There is culturally appropriate imagery, legal details, contact information, colour palettes, logo considerations and a whole host of factors to think about. Trying to make one campaign apply to multiple countries by tweaking it slightly won't land well with prospective and existing employees.
If you don't have a tool like BAM by Papirfly™ in place where all of this is made easy, you should consider involving team members that are based in the country you're promoting in. Ultimately you will need to make sure your employer brand is consistent but the insight will need to come from someone that truly understands the market.
Employer branding and social media
Employer branding online goes beyond just posting company updates and recruitment drives on LinkedIn. Sites like Facebook, Twitter, Instagram, Quora and Pinterest can all be excellent places to represent your employer brand.
But it is easy to get social media wrong. When using your employer branding through social media remember it's a conversation, not a soapbox. Your first step should be to understand the conversation people are already having about your company. Then join in.
Here are some tools that can help you find out what people are already saying about your company:
Social Mention – These tools look at what people have been saying about you on social media and provides useful data such as the number of comments which are generally positive compared to those which are negative.
Google Alerts – The free Google Alerts service is a great way to find out what is being said about your company and have it delivered straight to your inbox.
Sites like Reddit and Quora can also be great for discovering what employees want from an employer in general. Here people are more than happy to express opinions about their experiences in detail.
Your communication should be friendly and open while still maintaining a sense of professionalism. Having your employees contribute to your organisation's Facebook fan page is another great way to create content and show a human face for your company.
LinkedIn groups and company pages are another good way to develop your employee brand. Potential employees who follow your company page will receive updates into their news feed. This is a good way to share videos, articles and other content which helps people understand what your company is about. Pinterest is less used than the other major social networks but is perfect for showing the fun and creative side of your business.
Employer branding for Generation X
Candidates from this group want idea sharing and innovation. Remember the co-founder of Google, Larry Page, is a Gen X, so don't think digital is lost on this generation of employees. They've seen how digital has changed the working world.
They'll visit your website and they're sometimes on social media too. They're looking for work-life balance and forward-thinking organisations, so ensure your messaging really reflects this where you offer it. Remember to tailor your recruitment campaigns depending on your audience's needs. While you can't generalise every person in a generation, you can use guides to steer your strategy, such as the one below:
What is employer branding in HR?
Employer branding is definitely as much HR as PR.
A focus on employer branding reflects a change in the hiring market. Employees want to work for companies that have an excellent reputation, for example where a company has a particular corporate social responsibility in place.
Graduates are becoming more discerning when choosing a company to work for.
This means there's an opportunity for a new approach for HR departments. Maintaining brand reputation becomes more of a consideration when building HR policies, because it has important implications for how HR departments recruit and retain staff.
The HR function becomes an extension of a brand achieving dominance in the market. They can get more access to, for example, marketing or other areas where traditionally they might have struggled to be an influence.
For HR practitioners, the focus on employer and employee branding is all part of an overall goal of getting existing employees and potential employees to identify with the brand. It's not a 'facing out' process. It's facing both in and out.
Trends in employer branding
Consider the three following things:
This Reputation Management Study from global recruiters MRINetwork, shows 35% of job candidates think that a strong employer brand is important and a further 34% regard it as 'very important'. Employees want to see a strong, definable identity – and if it is not there, they will likely look elsewhere.
In tech, the skills gap is huge. Talent shortages are a global phenomenon – affecting sectors as diverse as construction through to healthcare. So, when it comes to talent, it's most definitely a seller's market.
And resource management is becoming more difficult. One estimate suggests that 85% of the jobs that will exist in 2030 have not yet been invented.
It's becoming increasingly hard to predict precisely what type of roles you will need to fill in a few years' time – and you may need to redeploy or recruit staff into new roles at short notice. If you have already built up a definite employer brand identity, you have a head start in attracting the right people into those new positions.
Trends to consider
Authenticity and employee authorship
Whether candidates are thinking of joining a company or mulling over whether it's time to move on, people want to hear what real people have to say. And your employees are your most valuable asset.
Consider snippets of info that showcase the working environment, updates on projects they are involved with, individual career progression updates, fly on the wall videos, news relating to internal redeployments. Collectively, they provide an incredibly compelling and authentic picture.
Companies need to get creative – but stay consistent
How do you make sure that your central brand message stays consistent? If companies are doing more campaigns and content types this year, they will also need to look very carefully at ways to overcome this challenge.
For this, you need a clear set of rules, governing everything from what you can and cannot say in individual Tweets – right through to how and where your logo and straplines should appear.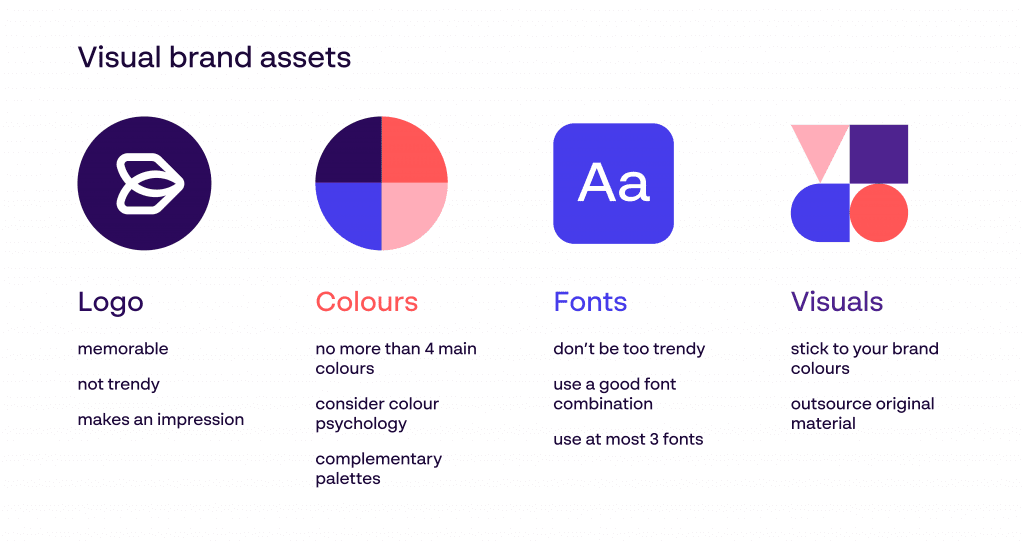 The continued rise of VR
Virtual Reality makes it possible for new candidates to dive right into the workplace environment and to help employees get to grips with an organisation's unique culture.
If you are considering making immersive digital experiences part of your branding strategy this year, just make sure that these experiences are authentic.
Doing more with less
Faced with the pressure of reduced budgets the focus is on doing more with less. For instance, is it possible to reduce your agency spend and still produce effective employer branding initiatives?
That's why this is the year to equip your people with employer branding solutions that enable them to produce amazing assets – even without specialist knowledge.
Why employer branding?
You can understand why employer branding initiatives are important in an organisation. If a company's biggest asset truly is the staff, then the quality of the staff is the same as the quality of the business itself. And therefore, investment should be put into getting the best.
But it's not just about employer branding and talent acquisition, it's about retaining that talent too.
Your culture is fast becoming the main reason candidates take on a role. So make sure your values are clear and communicated in everything you do.
Get feedback from both successful and unsuccessful candidates and ensure that your selection process is engaging. Career development and growth opportunities matter to employees. Review your pay and benefits where possible.
In summary
Involve, not just marketing, but HR, the CEO and find brand champions within the organisation. The combined efforts of all involved will reap benefits.
As an organisation you'll find the speed of recruiting is increased, costs are decreased and staff churn is reduced.
And measure what you do to track its success. Even the smallest piece of data can lead to an improvement.
Employer brand building. If it's not your present, it needs to be your future.