Solutions
Attract and retain
top talent
Enhancing your recruitment efforts to attract top talent, and get people to stay and contribute to your company culture for the long-term, is an increasingly complex challenge in the global talent market. Fortunately, with an all-in-one brand management platform, you can create consistent on-brand collateral or all your talent acquisition needs.

Building your on-brand culture
Convincing top talent to join your company requires your talent acquisition teams around the world to be aligned on what it means to work for your brand. With one platform, accessible anywhere in the world, as well as all brand guidelines you can communicate your EVP – the unique benefits and attributes that differentiate you from your rivals to motivate candidates to see you as their employer of choice. Create the foundation to unleash your campaigns.
Educate everyone on what makes your brand stand out with Point.
Centralise all talent acquisition assets
Empower every global and local recruitment to find and create employer branding approved materials with teams with Digital Asset Management (DAM). Centralise all assets crucial for talent acquisition activities to communicate your company culture. Structure assets and access via role, region and more – so you can stay on-brand globally whilst maintaining cultural nuances needed to attract top talent.
Centralise all pre approved assets with Place.
Create unlimited on-brand TA assets
Ensure all users responsible for attracting and retaining top talent are given the tools to be responsive in the competitive market recruitment. With no design skills required, templates set to brand guidelines guarantee the creation of every talent acquisition asset can be created in seconds, with the option to personalise to a specific group via any language or local nuance. A responsive, on-brand culture makes for a better employer brand.
Why is a strong employer brand essential for attracting top talent?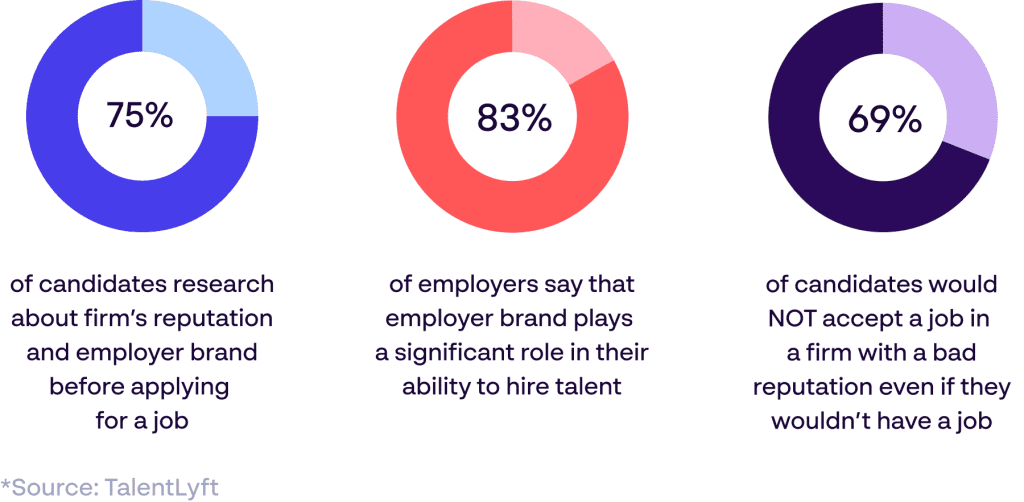 How can recruitment teams see the best results using one brand management platform?
Building on the tools above, aligning all recruitment efforts with campaign planning and assets approval tools means your talent acquisition teams can keep track of all campaigns, budgets, and progress. With fast sign-off workflows, built for how your organisation works best, quick turnarounds for recruitment and employee campaigns ensures you stay responsive and fully in control of all activities.
Discover which teams and regions have success with high-performing assets, with reporting and analytical tools that can help you decide what to roll out in other locations. Provide detailed feedback to teams on the actions required to ensure your global on-brand culture is clearly communicated when attracting top talent.
Attract talent by being the employer of choice
Empower everyone to activate recruitment campaigns and engaging employee initiatives that unleash your employer brand
Do more for less, giving your team flexibility to adapt to trends in the talent market with responsive marketing using on-brand design templates
Grow your talent pool by communicating a company culture that separates you from your rivals