Your brand is what defines the way your company is perceived by audiences across the globe. It is the result of countless hours of research, strategy, creative and design processes, and it applies to everything your brand says and does. In other words, it's more than just your logo and tagline.
As your company's greatest consumer-facing asset, your external brand is at the heart of your marketing department, guarded closely by brand guidelines and strict approvals. But although they are the gatekeepers of your brand, your marketing team are not the only employees who need it.
How are internal branding and external branding connected?
It may be used in different ways and in different contexts, external and internal branding is more connected than you might think.
It's your internal, or employer, brand that brings your employees together under the same company values and attracts the right talent to your business. But in today's marketing landscape, it's more important than ever to have an external brand that aligns with how your company operates internally. If employees don't know what your brand stands for it will be more difficult to represent your company's true image to customers.
Similarly, employees need to hear the same core values and company messaging as consumers, but in a way that's relevant to them. Being clear about your brand's voice, philosophy, and goals is the best way to make sure that your employees and customers are all on the same page.
To prevent any brand misuse or 'rogue' materials from slipping through the net, both your internal and external branding needs to be understood by everyone in your company.
But with thousands of employees and customers in different markets across the globe, this is no small task. Using the right tools and the right techniques, you can help your whole company get the best from your brand while staying safe in the knowledge that it will be used correctly and with consistency. Here's how:
Keep a live and up-to-date brand guidelines hub
A brand is a living, breathing and ever-evolving thing. It needs to grow alongside your company as your business develops.
In the fast-paced world of marketing, it's vital to keep everyone up-to-date with the latest version of your guidelines. With hybrid models and home working becoming the new normal, it's more important than ever to ensure that your teams know exactly where to find the latest guidelines and have access to them from any location.

To prevent employees from getting lost among the various folders and documents containing the latest assets, use a live brand guidelines hub to store the most recent version of everything your teams need in one location.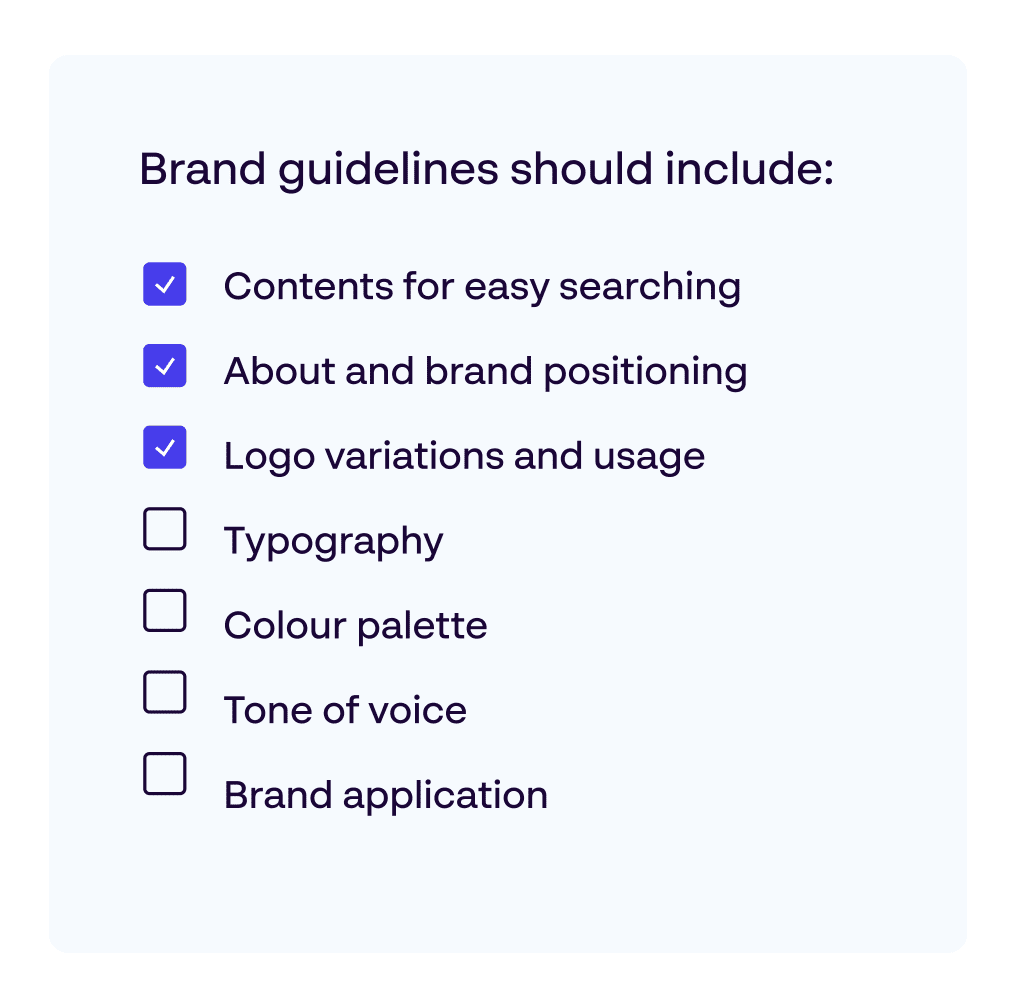 Make your brand guidelines part of your onboarding
Aligning themselves with your brand guidelines is essential for new starters to become part of your brand and start embodying your company's purpose and core values.
Brand guideline training should be a key part of their onboarding process. New starters should be taken through the relevant information in your guidelines with an explanation of how they will be implemented in their day-to-day work.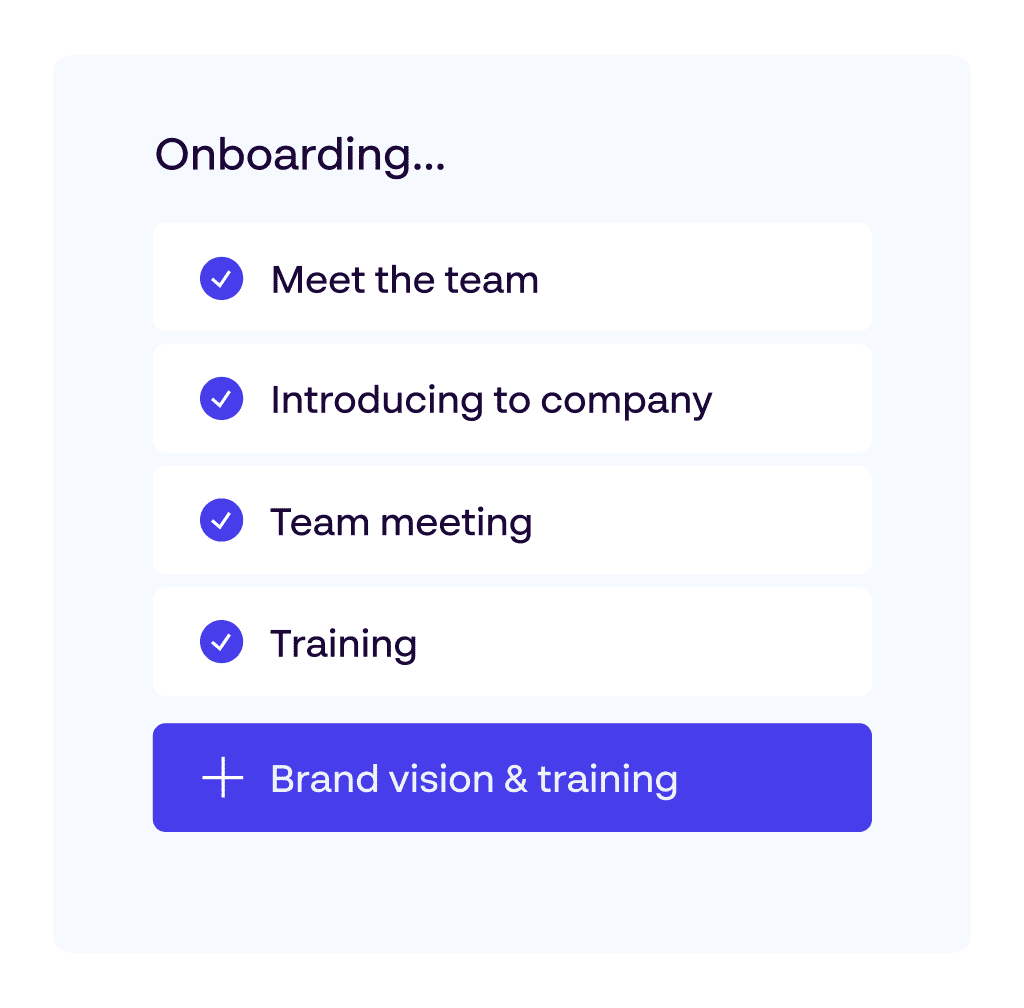 Help employees stay in the know
As well as educating new hires on where to access relevant guidelines, and how to use them, a digitised process can be used to help keep your existing employees up-to-date with correct and relevant materials.
With a digital brand guidelines hub, it's much easier to create and share resource packs for recurring questions, notify employees about updates and more.
In addition to creating a live hub for everything 'your brand', facilitating regular training and Q&A sessions in person gives employees the chance to clear up anything that's unclear and provide essential feedback to make your brand even better.
Bring your internal brand to life for employees
As we mentioned earlier, your internal brand should be a priority alongside your external brand.
Producing internal campaigns to the same standard that you would if you were communicating to an external audience will help instil trust, loyalty and a sense of pride in your employees.
Give teams access to relevant assets only
For a global company with thousands of employees rolling out campaigns in different markets, there will be countless assets and marketing materials in circulation at any one time.
To help teams spend more time producing ROI boosting campaigns, and less time searching for the relevant materials for their audiences, streamline your DAM system to create customised views that only give teams access to the assets they need.
Learn from mistakes
Even with watertight brand guidelines, the occasional instance of misuse can slip through the net of approvals.
If and when something does go wrong, it's important to have debrief sessions to find out why. This is not to name and shame anyone, but to help your whole team learn from real examples.
Celebrate the wins
Just as important as reviewing mistakes, is showing praise for what went right. Keeping communication open and honest will foster a sense of teamwork and help employees understand the greater impact of their day-to-day work.
Making remote and hybrid workers part of the team
With the popular uptake of hybrid working, or many employees choosing to stay working remotely post lockdown, bringing teams together isn't as easy as calling an all-company meeting.
Even if staff are working in different locations, languages and time zones, they still need to be working together.
If your employer brand and day-to-day practices neglect those who aren't in the office, there can be a disconnect between what employees take from your company's core values and what it actually stands for.
Aligning internal and external branding creates a 'one company' approach that brings teams together with the same sense of purpose and one clear direction. After COVID-19, companies need to be doing more to keep all employees in the know, recognise their contributions, ask for and listen to feedback, and give them the tools they need to succeed from home and in the office.
Give everyone room to be creative
Letting non-specialist team members loose on your brand can be daunting. But when you know your teams are clear on your brand guidelines and have an easy way to access them, anyone has the potential to create market-ready work.
For an extra layer of assurance, digitised approvals processes help you stay in control of sign-off and notified of any changes post-approval.
Remind employees that they are the brand
Your employees have the power to shape the future success of your company. Creating, sharing and promoting your company values internally (via your employer brand) will help employees feel valued and driven to succeed in their roles.To take this a step further, using your brand to create employee advocacy programs is a great way to allow them to actively contribute to your marketing efforts. With BAM by Papirfly™ you already have everything you need to bring your brand to life and give your teams the freedom to make it the best it can be with features like: streamlined approvals, flexible templates, customised DAM system.
Discover more ways to boost your company's employer brand potential in the Papirfly Knowledge hub.