What is co-op advertising and why do companies need it?
Co-op advertising is the sharing of the advertising costs between a major brand or manufacturer and its local retail channel partners. The local retailers get the benefit of additional marketing dollars to attract customers to their stores, and the manufacturers get the benefit of local targeted marketing to increase sales.
There have to be rules set up for this to be beneficial – manufacturers want marketing to be consistent with the brand corporate identity and marketing philosophy, and therefore will provide the marketing dollars to incentivise the retailers to market 'on-brand'. The local retailers can target the specific demographic locally for the product and can increase their marketing power with a shared marketing dollars model.
Usually the manufacturer will outline the potential funding available to a particular retailer and detail a set of rules to follow. The retailer will then get reimbursed at an agreed rate for marketing efforts that follow the rules.
Local retailers may not have the resources or expertise to develop effective marketing strategies themselves, so the manufacturer will provide access to brand assets and run campaigns from which the local retailer can select and tailor to their needs. These assets will have the blessing of the brand leads, legal departments, and are accessible by retailers across the market at a fraction of the costs that the local retailers would incur doing it themselves. Manufacturers can also incentivise local retailers to target particular marketing strategies or products by increasing the reimbursement rate.
While the co-op advertising model incentivises retailers to follow the brand rules by submitting for reimbursement of costs, this is often coupled with a compliance activity whereby the marketing activities of the retailer are checked via audits of their websites, social media sites, etc. to see what potential customers will actually experience.
Why companies need co-op?
To control brand consistency across all franchises, dealers, and retailers. The financial support is a very strong motivation for individuals, dealers, and stores to follow corporate identity and advertising guidelines.
The budget each dealer is allocated depends on the volume of cars sold (that's the logic used by a major car retailer). The more cars sold, the more money is reiumbursed, but only under the condition that the brand guidelines and other rules are followed.
Thanks to the co-op program and managed audit, there is a guarantee that the money a major car retailer's centralised marketing function invests into each dealership is being used only for compliant and eligible marketing activities. In cases where the dealer doesn't spend the money, the unused money is forfeit after a determined time period.
To have one centralised place for money distribution, not only for tracking purposes, but also for approval process and auditing.
The side effect is that brand leads and regional managers can supervise and have an overview of marketing activities realised across hundreds of subjects, which allows them to see the whole market, or individual marketing efforts. The overview also helps for money redistribution.
The tool comes with statistics, which is useful to brand leads and managers to understand on which kind of activities the dealers are in investing the co-op funding.

How Papirfly is supporting our customers with co-op
Papirfly works with a number of customers on their co-op advertising programs and can support with SaaS platforms for complete brand management.
We can provide the DAM, where advertising assets are held, and the SaaS platform for the presentation and distribution of advertising assets to the retailer network. Retailers are able to quickly gain access to the appropriate brand assets and tailor them using our Create & Activate solution to their own local campaigns while staying on brand. Retailers can download the imagery and creatives and use that as the basis of the local campaign, and even utilise a local ad agency to finalise the ad. This removes the possibility of ads not being on brand, not aligned to the brand corporate identity and, potentially delivering messaging that is not inline with the brand.
We provide a co-op platform, seamlessly linked to the DAM (our Manage & Share solution), that enables all the retailers to access and download the co-op rules, corporate identity guidelines, and brand bulletins. These integrated solutions also provide access to the co-op and compliance platforms.
The co-op platforms that we provide can be configured to your needs, and are built to allow for easy set-up of the necessary workflows to guide the retailers through the co-op processes.
This platform provides the process for retailers to get assets they have created to be reviewed and submit claims for co-op advertising funds, but the platform is only half the story. Just as important is the need for a team to run your co-op program who can audit that your brand rules are being followed and are compliant.
Papirfly provides the experienced professional services to run the co-op program, with a dedicated team of brand specialists that are proven and reliable.
How a major US client works with Papirfly's co-op funding model and Professional Services team
For one of our major US automotive clients, we provide the platform that can handle the requirements and volumes of a major brand marketing in the US market.
We also provide the Professional Services to run those co-op programs for the client:
We studied the brand philosophy and rules to understand the brand vision
We established a dedicated team that reviews creatives submitted by the retailers to ensure their brand compliance
We worked with the retailers to suggest improvements that can be made
We reviewed the co-op advertising payment claims and determined whether the claim rules have been followed
We also provided a compliance review team that will actively review the marketing of the local retailer
We provide a dedicated support desk to answer retailers questions
We align with the clients business processes to ensure that the payments to retailers go through the required approval processes of the manufacturer and align with the back-end systems to create a seamless payment process
Using the co-op funding model for other use cases outside of car manufacturers
Any franchise business with multiple locations, besides automotive industry may also include fast-food restaurants, hotels, gyms, spas, or any other organisation with a franchise model
Manufacturers can support their retailers to increase in-store sales
Travel and tourism franchises like hotels, airlines, car rentals, etc. could partner with local attractions, restaurants, events, etc. to promote their destinations and packages
Education franchises like tutoring centres, language schools, online courses, etc. could partner with local schools, libraries, community centres, etc. to promote their programs and services
Health and wellness franchises like gyms, spas, clinics, etc. could partner with local doctors, nutritionists, therapists, etc. to promote their facilities and treatments
It can be used for governmental institutions/organisations to control budget handling. e.g. European Parliament and reimbursement of expenses to members for various activities, trips, food, etc.
Other possibilities and variations on how the co-op funding model can be used:
The managed service can be tailored to what the customer needs. The audit can vary depending on the media category etc. (e.g. a major car manufacturer offers financial support only for events, but dealer can still enter a marketing activity for CI compliance check to get support/advise on anything he is trying to publish)
The program can serve for CI compliance check only, but the motivation for dealers to submit creatives for review is higher when supported with marketing money reimbursement
The co-op portal is linked directly to 'My Creatives'", which means that the brand leads can decide to only support (or offer higher reimbursement) for activities that use official templates that are available for dealers at dealer marketing portal (brand hub/point). The dealer can select a predefined template in brand hub, use it for his marketing activity and at the same time send a request for funding into the co-op portal.
The benefits of having a Papirfly-run co-op model
Fixed contracted costs for the service
Experienced team with strong product knowledge
A world leading product suite focused on branding and co-op
Adaptability – with an experienced professional services team we can provide insights when you get challenges and adapt to meet your needs
Running all ads through the co-op portal guarantees how the money is spent thanks to the compliance audit there is a guarantee that the money is not being spent to promote other brands, for example
The audit team can control minimum advertising price and check that the advertised product is not being offered/sold below MSRP
The budget each retailer is allocated depends on the volume of sold products, which ensures return on investment of marketing budgets and ensuring local marketing efforts are given the time and attention they deserve
Through co-op, the brand leads can offer 'certified providers' for certain marketing activities – the logic being to have limited number of authorised agencies that work for the retailers. This is not only for better brand consistency and control, but is also often more cost efficient, e.g. cheaper cost for broadcast when you buy media in huge quantities, centralised creation of the marketing materials which can give you lower costs per ad
Reach every customer with co-op advertising
Want to know more about co-op advertising? With automotive, hospitality, retails and finance among the host of industries with companies thriving from a co-op model, take a look at how brands have successfully adopted this initiative.
Your next step is to take control of brand consistency, master the art of helping others speak directly to your target customers, and build strong relationships with those that sell your branded products and services. The potential to activate your brand in every location you serve, and achieve significant growth, is possible with Papirfly's platform and support.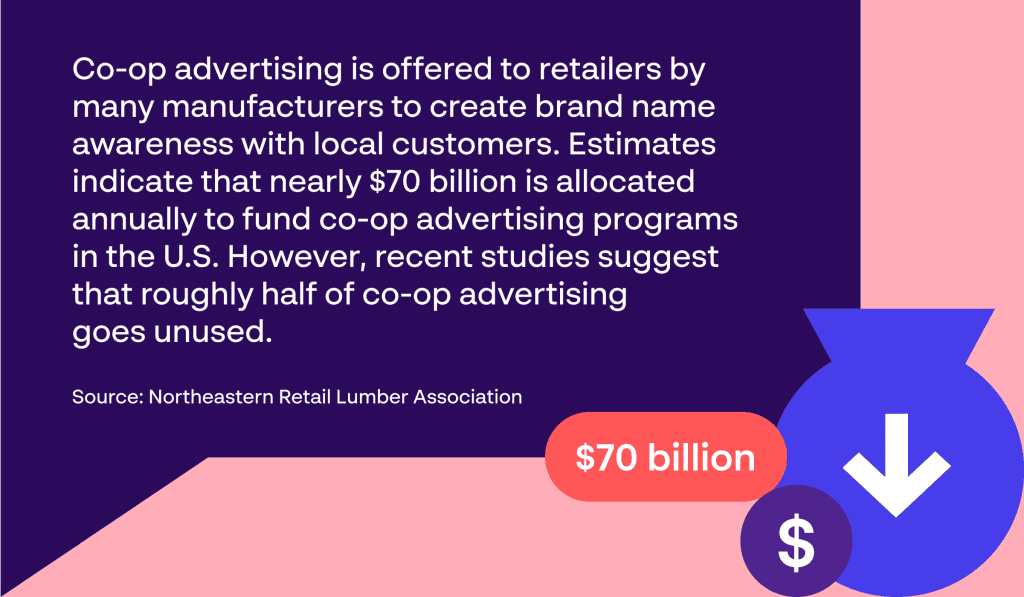 Book a demo today, and talk to us about how we can help you with your co-op advertising programme.