A rebranding strategy can help you rethink, refresh, and reposition your brand as efficiently and effectively as possible. Approaching the decision that a rebrand is the right move for your business is no simple task. If you and your enterprise are at the start of that journey, and are still considering whether a rebrand or a brand refresh is the right thing to do, then understanding what to consider when rebranding your business is a natural first step.
Should you have already been through that soul-searching process – and decided a rebrand is the right way to go – carefully considering your next move is crucial. The potential ramifications for your organisation and your relationships with your customers, employees, and the wider world can be significant. This means you need to consider three key areas; conducting research before creating your new brand identity, building the toolkit that will empower your people at launch, and choosing tools will provide strength and stability for this new era for your brand.
In this article, you'll learn how to successfully rebrand to help you accomplish your specific business goals that are driving the change – efficiently landing your rebrand by rolling out your new identity to every location of your entire enterprise.
1. Conducting research in the rebranding process
Before making any changes, you need to do the research and find out how your brand can improve. What elements of your brand do people like? How can it connect more with your customers? There are endless questions to ask when building a new identity. The more knowledge you have, the more effective your rebranding strategy will be.
Carry out a brand identity assessment
It's vital to identify the strengths and weaknesses of your branding to maximise your chances of success. It's best to get a wide range of views by speaking to the company's employees, stakeholders, customers, and prospective customers.
How do they perceive your brand? Do they think your company would benefit from rebranding? This insight is one final moment before crossing the threshold with certainty that a rebrand is the right choice for you.

There are various ways to canvass the opinion of key audiences, including one-to-one interviews, focus groups and consumer surveys. Some relevant questions to ask may include:
How would you describe our brand to a friend?
Who do you think is our target audience?
On a scale of 1-10 how much do you like our branding?
What words would you use to describe our branding and tone of voice?
How much does our branding reflect your experience you have with our brand?
How positive does our branding make you feel, and what could be improved?
The insights you gain from this research will shine a light on current blindspots, and highlight what is currently resonating with audiences – giving you what you need to help you shape a new brand identity, and a framework for an effective rebranding strategy.
Define what your business stands for
Once you know what your customers, employees and other stakeholders actually think about your brand identity, you can focus on what you want them to think about it. This requires a lot of self-reflection and discussion internally with your team.
Here are some questions to pose to yourself:
What's our value proposition?
What makes us different from competitors?
What's our mission, our core values and our beliefs?
Who are our target audiences and what are the ideal customer profiles?
Is the story of our brand's history and where we are heading clear?
This exercise is useful in helping to clarify the reasons behind your rebrand and how your new or refined mission, vision, and values differ from when your current branding was developed.
How to write a brief for a rebrand
You should write a brief that sets out what you want to achieve from your rebrand, and what the work involved will be. Whether you are working with an external agency or carrying out the rebranding internally, a good brief will focus everyone on the purpose and expected outcome of the rebranding process.
A written brief is also vital in ensuring the 'buy-in' of other key people in your organisation, with all key decision-makers having approved it. Getting everybody on board is essential to avoid wasting time and resources when senior executives – often outside the marketing department – challenge key assumptions in the brief and changes in direction at critical moments can waste time and money.
The brief should include:
An overview of your company, including history, products and services
An overview of the current issues with the branding
Your newly defined brand positioning
A customer profile
Competitor analysis
Rebranding strategies
Key product messages
The scope of the rebrand and the activities it will entail
By including as much information as possible, you'll be able to shape your brand proposal to apply the brand changes across all marketing channels, digital or print. And then its time to get the designers to work and bring your new identity to life.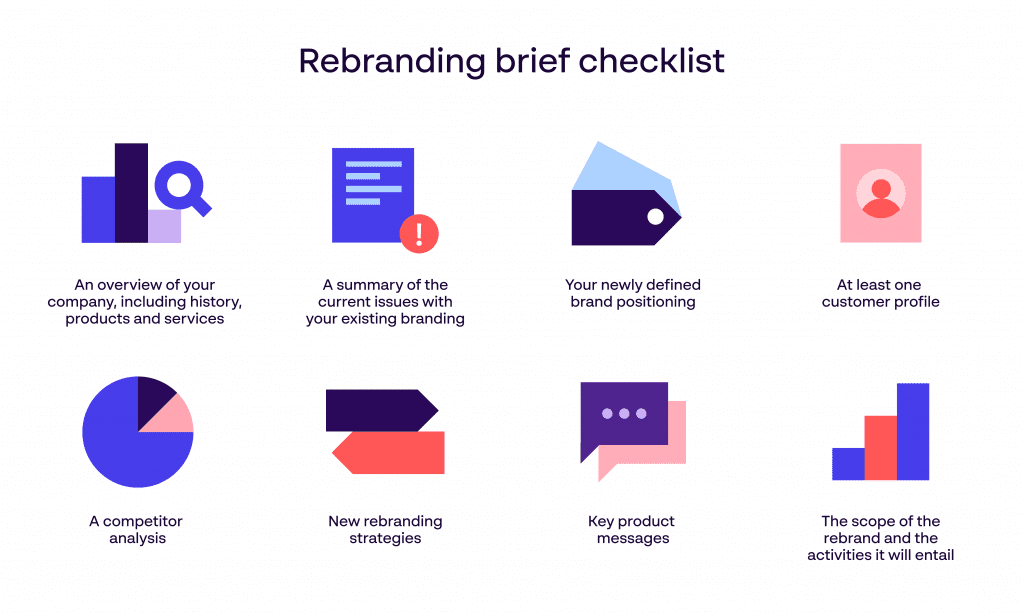 Your new brand identity is almost there
Once you have some mock-up designs for potential new logos, web pages, packaging, or store designs, it's wise to seek feedback before making final decisions. As well as allowing people within your company to have their say, you can see what your customers think by carrying out some creative testing.
Surveys can be an effective method for testing how a rebrand might impact an audience prior to its launch. You can reach out to existing customers or other people in your demographic to ask what they think of specific elements of a rebrand, testing how well it resonates and whether or not it creates the desired effect. Use online surveys to gather data from anywhere in the world – no matter how remote or widespread your target audiences might be, you can get useful data fast. Use open-ended questions to produce deeper insights amongst predefined questions that feel quicker and more simple to answer, such as multiple-choice, rating scales, and ranking questions.
Tweak. Amend. Test again if necessary. By doing this research, you'll know when the next phase of your brand's identity is ready to unleash upon the world. Now it's time to empower your people to launch it.
2. Empower your people as you launch your rebrand
Once your visual identity and brand assets have been agreed upon, it's time to compile everything into one handy toolkit. This will become a brand bible for anyone involved in marketing and communications for your company.
Creating a brand toolkit
Consider everything your teams will need to become fully educated on your brand guidelines. As well as elements that are specific to your enterprise and industry, make sure your toolkit contains:
An overview of your brand identity
Your logo and variations of it
Your colour palette
Your typography
Rules for layout and alignment
Brand illustrations and iconography
Art direction principles
Examples of your branding used across different applications e.g. landing pages, social media, product packaging, etc.
Your brand toolkit will be invaluable for communicating your rebranding strategy to business stakeholders and helping to make sure everyone is singing from the same hymn sheet. It's also very useful when you work with outside contractors, helping to quickly on-board them in your updated house style.
Ensuring your rebranded visual identity is an indisputable truth
Your next step requires some intensive team action, as implementing your rebrand will touch every part of your business – and your internal launch must be a success to give your external launch the best chance of success and making the time and financial investment worth it.

You'll need to set out all the rebranding activities to be undertaken, assigning each one to an individual or department, and agreeing a time frame to work to. You should plan weekly meetings where each person can update the team on what they've been doing. It's likely that some things will take longer than expected, and you'll run into a few obstacles along the way, so be realistic with your schedule and leave time for ironing out any issues.
To support this process, consider these corporate marketing activities required for your rebrand to be launched internally as effectively as possible:
Create a need-to-know sequence, so your rebrand is rolled out to your various audiences (executives, employees, customers, suppliers,media, etc.) in the appropriate order – some will be of a higher priority than others
As part of this priority order, make sure that your rebrand has been announced and accepted internally several months before you intend to launch publicly
Establish a narrative behind your rebranding, so it becomes clearer to those inside your company why you have taken this step, and can translate to your customers and how it will specifically benefit them
Spend several weeks building hype towards the rebrand, and communicate these actions internally – as well as helping to cement understanding within your enterprise, this will prepare your audiences for the upcoming change, and make it something worth anticipating rather than hitting them as a complete surprise
Create communication plans for the initial weeks and months after launch to make sure your employees, customers and the wider world are reminded about what your brand identity now is, so they can quickly familiarise themselves with your new look and feel – you new brand identity should feel normal after a few months
Keeping these steps in mind will ensure your launch is conducted as seamlessly as possible. You and your branding teams will be in the best position to receive an encouraging response, and with a solid rebranding launch strategy in place, be able to adapt to any needed changes along the way.
And when the rebranding is complete, make sure you have an internal launch party. Get your employees excited about the change, and they will be more likely to become brand ambassadors. If you have started to offer new products and services as part of your rebrand or you want employees to take a new approach to customer service, ensure they have been appropriately trained.
Preparing your organisation for your rebrand is a big challenge and a huge accomplishment. Yet a key element to achieving the growth – a factor that would have been at least part of your reasons for rebranding in the first place – is thinking beyond the launch, and truly preparing your people to unleash your brand for years to come.
3. Beyond the rebrand – the right tools for a new era
Having done the necessary research, and putting together a complete brand toolkit that equips everyone for launching your brand, maintaining momentum on consistency is key – not least, to ensure customer loyalty is maintained to help sustain and increase revenue.
Considering your current ecosystem is essential, as the user experience for your teams needs to be as seamless as possible to ensure mistakes are kept to a minimum if not eliminated completely. So ask yourself. "What do our people need to truly land our rebrand?"
While the importance of establishing all approved brand assets in your toolkit is undeniable, without Digital Asset Management (DAM) – one single source of truth for all assets – then old logos, out-of-date images and poor file storage could see your efforts diluted.
Having a powerful DAM is essential to centralising all documents, images and videos that you will need to activate your brand identity. When access is granted and integrated with one online home for your brand, guidelines are confirmed and available in real time, and concerns regarding 'where to find what is okay to use' can be eliminated.
When it comes to creating 100% on-brand assets – essential for any newly rebranded company – then the most useful way for everyone to feel reassured they are approving assets is to create a master design template from which many specific asset templates can be produced.
Keeping track of all rebranding activities and campaigns and simplifying execution of all global efforts is also an important factor to consider. When teams are spread out around the world, being able to see that you are aligned globally when you need to be is just as vital as ensuring every region and location has the autonomy to speak directly to their audience whilst keeping the core brand safe and consistent.
Supporting this is a continuous analysis of asset performance and brand adoption within your enterprise – essential in improving brand performance over time. Assessing the impact of rebranding on your bottom line goes in line with remaining aware of feedback from your target audience. Be constantly aware of social media channels, speaking to Customer Success teams, and committing to becoming more agile.
Download our guide to further understand how to map out the strategy and tools you will need to successfully rebrand your business.

Rebranding can be a huge undertaking but also marks a fresh, exciting phase in the life of your business. Done right, it will excite and re-engage your customers while also leaving you in a strong position to attract a new audience.

Good luck with your rebrand, and reach out to us at Papirfly to discover the power of our smart templates and the wider possibilities of our platform by booking your free personalised demo today. Papirfly's brand management platform gives marketing teams everything they need to land their rebrand, in one single place.