Once you've figured out that a rebrand is the right move for your business, you can move forward to the planning stage. The potential ramifications for your organisation and your relationships with your customers, employees and the wider world make it crucial not to start the rebranding process without a clearly defined execution plan.
Rebranding doesn't happen overnight. You need a solid strategy, testing and approval, and then you need to roll it out internally before your big debut with your customers. A rebranding strategy can help you rethink, refresh and reposition your brand as efficiently and effectively as possible.
In this article you'll learn how to create a successful strategy that will help you accomplish your specific rebranding goals.
Do your research
Before making any changes, you need to do the research and find out how your brand can improve. What elements of your brand do people like? How can it connect more with your customers? There are endless questions to ask when building a new identity. The more knowledge you have, the more effective your rebranding strategy will be.
Carry out a brand identity assessment
It's vital to identify the strengths and weaknesses of your branding to maximise your chances of success. It's best to get a wide range of views by speaking to the company's employees, stakeholders, customers, and prospective customers.
How do they perceive your brand? Do they think your company would benefit from rebranding? This insight is crucial to ensure that a rebrand is worth pursuing, and how it is likely to be received by your most important audiences.
There are various ways to canvass the opinion of key audiences, including one-to-one interviews, focus groups and consumer surveys. Some relevant questions to ask may include:
How would you describe our brand to a friend?
Who do you think is our target audience?
On a scale of 1-10 how much do you like our branding?
What words would you use to describe our branding?
What words would you use to describe our tone of voice?
How does our branding make you feel?
Does our branding reflect the experience you have with our brand?
How would you improve our branding?
The insight you get from this research will highlight where there are issues, what is currently resonating with audiences, and help you to shape your framework for an effective rebranding strategy.

Define what your business stands for
Once you know what your customers, employees and other stakeholders actually think about your brand identity, you can focus on what you want them to think about it. This requires a lot of self-reflection and discussion internally with your team.
Here are some questions to pose to yourself:
What's our value proposition?
What makes us different from competitors?
What's our mission?
What are our core values or beliefs?
Who are our target audiences and customers?
How do we help with their key pain points?
What's our personality?
What's our brand story/where do we come from?
Where are we heading?
This exercise is useful in helping to clarify the reasons behind your rebrand and how your new mission, vision and values differ from when your current branding was developed.
How to write a brief for a rebrand
You should write a brief that sets out what you want to achieve from your rebranding and what the work involved will be. Whether you are working with an external agency or carrying out the rebranding internally, a good brief will focus everyone on the purpose and expected outcome of the rebranding process.
A written brief is also vital in ensuring the 'buy-in' of other key people in your organisation. This buy-in is essential in order to avoid wasting time and resources when senior executives – often outside the marketing department – challenge key assumptions in the brief, leading to belated changes in direction. Written briefs should have the approval of all key decision-makers.
The brief should include:
An overview of your company, including history, products and services
An overview of the current issues with the branding
Your newly defined brand positioning
A customer profile
Competitor analysis
Rebranding strategies
Key product messages
The scope of the rebrand and the activities it will entail
By including as much information as possible, you'll be able to shape your brand proposal to apply the brand changes across all marketing channels, digital or print.
Once you have some mock-up designs for potential new logos, web pages, packaging or store designs, it's wise to seek feedback before making final decisions. As well as allowing people within your company to have their say, you can see what your customers think by carrying out some creative testing.
Surveys can be an effective method for testing how a rebrand might impact an audience prior to its launch. You can reach out to existing customers or other people in your demographic to ask what they think of specific elements of a rebrand, testing how well it resonates and whether or not it creates the desired effect.
Surveys can include open-ended questions, which help to garner deeper insights, or predefined questions such as multiple-choice, rating scales, and ranking questions. Online surveys allow you to gather data from anywhere in the world, no matter how remote widespread your target audiences might be.
When the rebranding is complete, have an internal launch party. Get your employees excited about the change, and they will be more likely to become brand ambassadors. If you have started to offer new products and services as part of your rebrand, or you want employees to take a new approach to customer service, ensure they have been appropriately trained.
Creating a brand toolkit
Once your visual identity and brand assets have been agreed upon, it's time to compile everything into one handy toolkit. This will become a brand bible for anyone involved in marketing and communications for your company. It should contain:
An overview of your brand identity
Your logo and variations of it
Your colour palette
Your typography
Rules for layout and alignment
Brand illustrations and iconography
Art direction principles
Examples of your branding used across different applications e.g. landing pages, social media, product packaging, etc.
Your brand toolkit will be invaluable for communicating your rebranding strategy to business stakeholders and helping to make sure everyone is singing from the same hymn sheet. It's also very useful when you work with outside contractors, helping to quickly on-board them in your updated house style.
Implement your new brand and take it live
The next step requires some intensive team action as implementing your rebrand will touch every part of your business. You'll need to set out all the rebranding activities to be undertaken, assigning each one to an individual or department and agreeing a time frame to work to.
You should also plan weekly meetings where each person can update the team on what they've been doing. It's likely that some things will take longer than expected and you'll run into a few obstacles along the way, so be realistic with your schedule and leave time for ironing out any issues.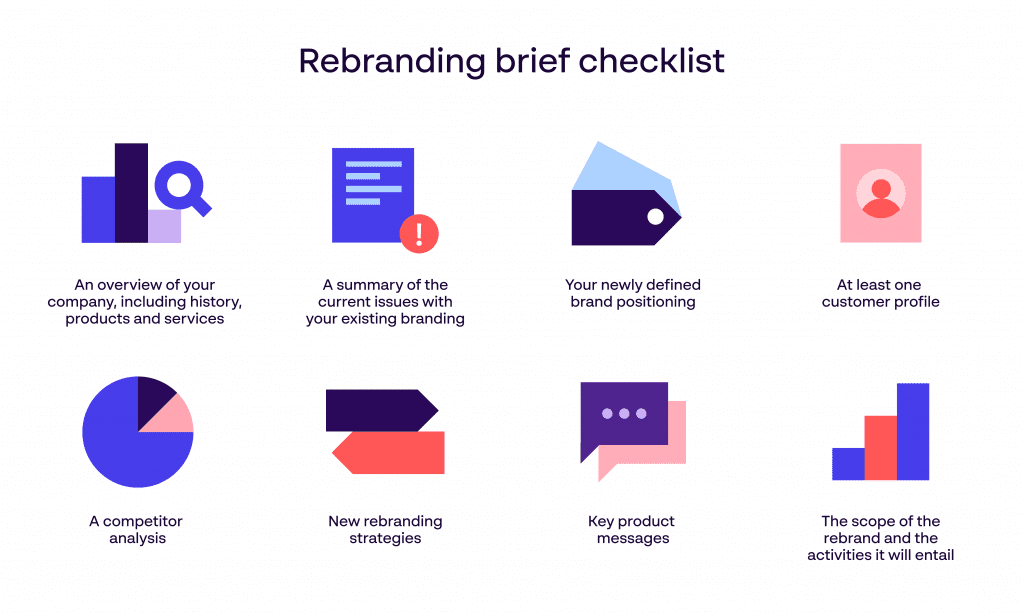 Use your rebrand as a means of generating publicity and engaging with customers. For example, if you have a mailing list, send them a few teaser emails in the run-up to the launch, hinting at the changes to come. Let them know the reason for your rebrand – most people do not like arbitrary change, and will be more inclined to trust you if you are transparent. Emphasise how and why the rebrand will benefit them.
After your rebrand
A rebranding strategy is not over when you go live. Continuous analysis of what you have achieved helps to improve brand performance over time. Get some feedback from your target audience and analyse your business performance to assess the impact of rebranding on your bottom line. You can do this informally by asking customers in person, or you can use online surveys and focus groups.
Rebranding can be a huge undertaking, but also marks a fresh, exciting phase in the life of your business. Done right, it will excite and re-engage your customers or leave you in a strong position to attract a new audience.

Making sure your rebrand works effectively and ensuring it is consistently applied means giving everybody in your organisation the ability to to deliver the new brand identity across multiple print and digital channels. You don't want old branding appearing on new collateral. BAM by Papirfly™ gives marketing teams everything they need to manage a brand in a single online portal.
Discover the power of our smart templates and the wider possibilities of BAM by booking your free personalised demo today.
The best way
to manage your brand.
See it in action.
Boosting revenues
Doing more for less
Activating brands on a global scale