With Brand Management and Papirfly by your side, you make sure you have full brand control, every day and in every channel.
A huge challenge for many organizations is how to keep track of branded material and digital assets. The system might be disorganised, and files spread all over, and as a result, unnecessary time is spent searching. Does this sound familiar?
Then a brand management solution might be just what you need. But how easy is it to use? And what are the benefits?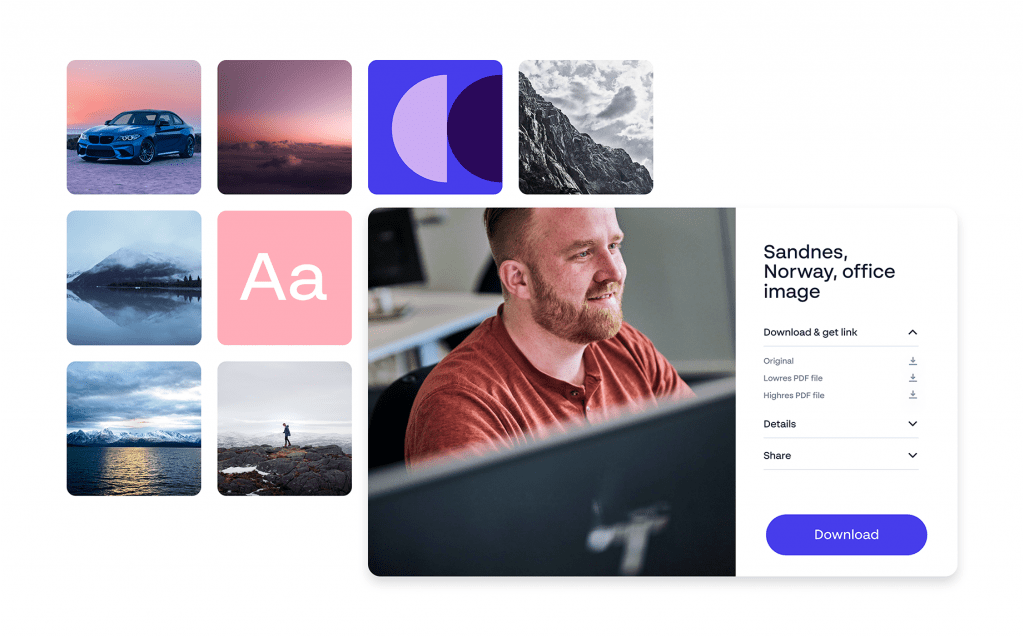 From chaos to full control
Most brands face numerous challenges such as visibility in multiple channels, continuous optimization of the brand and time to market. Brand guidelines may need to be adapted and followed and performance and delivery need to be analysed.
The list is long. In the middle of all the chaos, you need to ensure you have complete brand control. This includes assets, design templates, actual guidelines, not to mention all the email and phone requests that need to be answered. Do you have control of this today?
For most, this question does not need much reflection. You either have control of your brand or you have chaos.
With Papirfly's brand management platform, you can say goodbye to chaos and lower your shoulders. Our platform is created and designed to provide you and your organization with complete control of your brand. With a cloud-based platform, your organization has full flexibility and access. This eliminates challenges like outdated content and material in circulation, simultaneously you have a complete insight of how, when and where your brand is in use.
Spend your time empowering your brand instead of looking for assets
With a tight marketing budget and occasionally too many tasks on your plate, the saying: time is money, is highly relevant. You probably haven't logged how many hours your colleagues have spent looking for logos, templates or digital assets nor the time spent on waiting for a response on where to locate files. This can quickly become a vicious circle.
Colleagues may take matters into their own hands and become creative with assets themselves simply because they don't have the time nor the patience to wait. Both brand guidelines and the brand strategy are easily forgotten at times like these.
You probably agree that this is a waste of time.
Our platform considerably reduces this time and you are able to continuously present all details and content about your brand. Our platform collects and organizes intuitively and seamlessly, while you simultaneously share assets with colleagues and stakeholders with ease. Not only do you save your time, but your company's time as well. Why not spend that time strengthening your brand?
With our brand management platform you get;
Digital asset management
With DAM you are able to collect, organize and share all your organization's digital assets from one central location. This secures a consistent brand, and you save time and resources. Our Media Bank is the driving force in our brand management solution.
Online brand guidelines
Brand HUB gives life to your brand and helps to communicate your brand identity and strategy across your organization with ease. As well as, securing brand consistency regardless of placement or channel.
Launching a brand is important, avoid failing. In Brand HUB accurate brand control is established to ensure your launch goes as planned, including reaching your target groups. Create and execute brand launches with ease.
Digital design templates
Template Studio secures brand consistency 24/7 with pre-made templates. Your entire organization has access and the ability to create material without needing design skills or harming your brand.
Display ad creator
Display Ads make you into a professional banner ad designer in seconds. With pre-made templates, you can create, publish and control your banner advertising with ease. All in one single location. Your ads will look stunning, and always relevant.
Activity planner
Marketing Planner ensures that you have an effective activity plan that precisely reaches your target and objectives.
Web shop
Through Marketing Shop, your organization is only a keystroke away from offering branded items such as marketing material or giveaways, with simplicity. The web shop can connect to local vendors for print or order, enabling seamless logistics that saves time and resources.
Easy and time saving
With brand management and Papirfly by your side, you can rest assured you have the brand control you need. Along with saving time, you'll have a solution that is simple to use for your entire organization. Are you ready to let go of your digital assets and lose control, or do you want to learn more about our solutions? Don't hesitate to contact us, and we'll be in touch for a noncommittal chat.