Brand development is a cornerstone of business growth. With the sheer scale and complexity of developing a brand, which only increases as the brand grows bigger, an organised approach is necessary to be successful. Between brand guidelines, digital assets and campaign planning, there are a lot of moving parts among a rising number of employees and stakeholders. Keeping it all organised and under control only becomes more challenging as the scale of your brand increases, unless you have a good software solution in place to simplify the brand development process as a whole.
A single source of truth

It can't be understated how important it is to get your digital assets organised, and make them easily accessible for the people that need them in your company. If your files and assets are in disarray and spread in all directions, stored on the designer's computer or in a mess of folders in a cloud storage service, a lot of time is wasted trying to track them down.
There might even be old versions floating around that employees will come across. If they don't find the right assets, they might resort to using outdated material or creating their own from scratch that breaks with brand guidelines. The consequence? Weaker brand recognition in the market due to inconsistent and ambiguous presentation, which in turn leads to loss of revenue.

With Papirfly's Brand Hub you get a single source of truth that stores everything in one place, and is accessible by all employees and stakeholders. No more wasting time searching for missing files, and no risk of having old and outdated material in circulation, causing harm to your brand. When you can be certain that every asset is always on-brand and up to date, you can focus on brand development instead.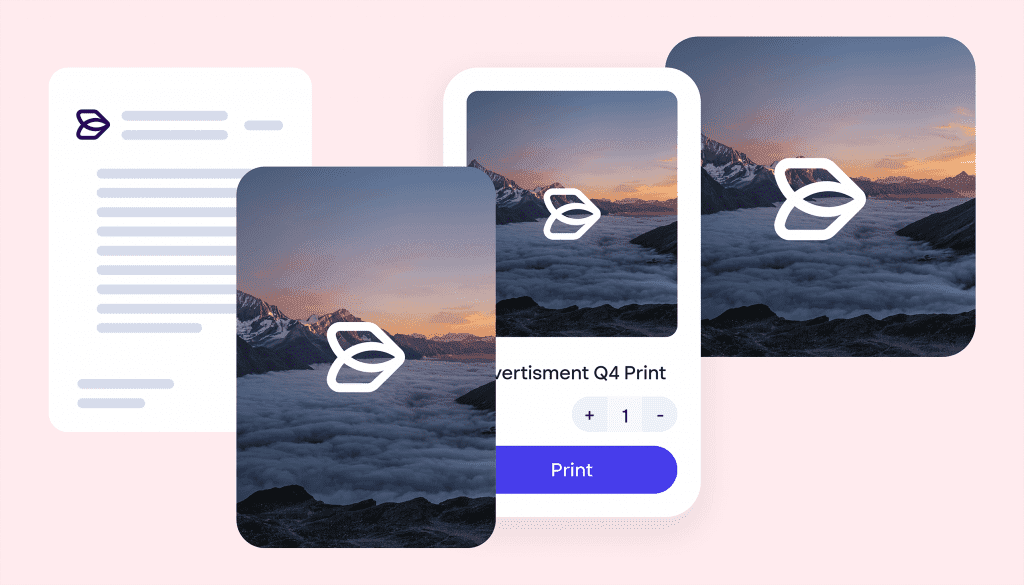 Central control – local empowerment
CEO of Jaguar Land Rover Ralf Speth once said: "If you think good design is expensive, you should look at the cost of bad design". The second someone can't find digital assets or the material they need for a new campaign, they will most likely create something themselves. These assets can quickly end up breaking with brand guidelines and dilute your brand, and so this situation must be avoided to preserve your brand's integrity.
Our platform not only gives you complete control of your brand, it also empowers permitted users to create and tweak marketing material using your digital assets. By making your brand templates available online and linked to your brand guidelines, your graphical assets are ready for self-service across all your markets and time zones, with no risk of off-brand material being created and published.
Always available
An online solution simplifies brand development. It provides greater flexibility and empowers your employees to be more autonomous, so that your marketing team can focus more on brand strategy and campaign planning.
This also allows brand managers to present and share all details and content related to the brand with ease across the entire organisation and to collaborators.
Control your brand in real time
If you are responsible for brand development, our brand management platform will provide you full control. Changes in your brand guidelines happen in real time and you always have full insight into how, when and where your content is used. In addition, we have solutions that allow you to create and execute branding initiatives with simplicity and make sure your launch is smoothly completed and reaches your designated target groups – always on brand.
Brand Hub – One home for your brand
One single source of truth. This is Brand Hub – your online portal connecting your people with every aspect of your brand.
A marketing portal where brand assets can be accessed, brand guidelines can be understood and the tone of voice, values and personality of your brand is there for everyone to see.
Showcase brand guidelines with clear examples for employees at all levels of the organisation, across every location.
Easy to use and update in real time, build your Brand Hub to your own specifications with the help of modules and pre-built functionalities.
Connect with other tools in Papirfly's BAM platform to unleash the full benefits, with features including Digital Asset Management, Template Studio, Marketing Planner, Collaboration Tool and Reporting and Analytics – everything you need to activate your brand.
Brand Hub is a home for your brand – a base of operations from which you can manage your brand and work on brand development with greater efficiency and coordination. Transform the way you work and help your brand come alive with Brand Hub.
If you want to read in more detail about what Brand Hub can do, and the problems it will help you to solve, download our brochure here.
The best way
to manage your brand.
See it in action.
Boosting revenues
Doing more for less
Activating brands on a global scale